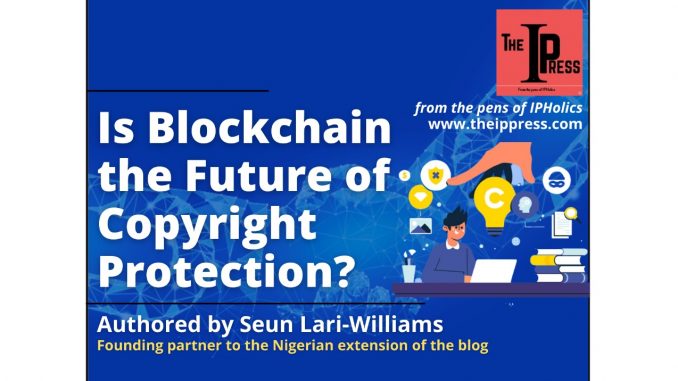 Introduction
There is no gainsaying the fact that the lack of adequate protection of copyright in Nigeria is heightened in this era of the digital revolution, which has little or no respect for territorial borders. As it stands, once a copyrighted material is uploaded on the internet, it is virtually impossible to monitor or maintain substantial control of it. The situation is made complex for both the platforms and the copyright owners by the general non-existence of copyright databases, unlike other IP rights, like patents. The need for an independent, automated, verification technology is not peculiar to copyrights, and other domains (like virtual currency transactions) are beginning to adopt the use of blockchain technology to serve this purpose. This article provides a brief insight into the possibility of adopting the blockchain technology for stronger copyright protection and easier enforcement.
The Need for Better Copyright Protection
As is the situation in several jurisdictions, in Nigeria, copyright works need not be registered to be protected.[1] However, even if it were, this would not necessarily stop an infringer from unlawfully uploading a copyrighted work. This is because save merely asking whether the content one is uploading is theirs, online media platforms usually require no other proof of ownership from an uploader. As such, matters such as content security, copyright protection and piracy tracing remain a pain in the neck for owners and distributors of content. For example, it was recently reported[2] that an aspiring Nigerian musician – Wisekid, copied an album from one of Africa's biggest artists – Wizkid, passing it off as his own and earning substantial revenue on platforms such as Apple Music, Amazon and Tidal. If well-known and successful creators like Wizkid could struggle with copyright protection on the internet, then what about everyone else?
Presumably introduced to tackle problems such as this, in Nigeria, the Musical Copyright Society of Nigeria (MCSN), a collective management organization, created the GOCREATE App. According to MCSN, this app exists to, amongst other things, aid the tracking and monitoring of musical works.[3] Being new, its efficacy in solving this problem is yet to be tested.
On its part, the digital platform, YouTube, came up with Content ID, an automated copyright management system which automatically finds videos that use a copyright owner's material and lets them claim it, instead of submitting a copyright takedown notice.[4]However, YouTube only grants Content ID to copyright owners who meet specific criteria. According to its website, to be approved for this, one "must own exclusive rights to a substantial body of original material that is frequently uploaded by the YouTube creator community."[5]
Since copyrighted works include more than just works in the creative industry, a more expansive and robust protection is needed to protect authors. Could Blockchain make all the difference?
While the term "blockchain" is more known in the realm of cryptocurrencies,[6] not much is known regarding its connection with intellectual property. Certain authors hold the view that blockchain technology can be applied in various IP-related fields (from establishing an IP right to enforcement).[7] A major reason for this view is that a blockchain registration system provides an interoperable database that costs little to maintain. According to Andrew Hayward, "Blockchain uses a decentralized, distributed model that creates a ledger with an immutable record of entries, verified by consensus."[8]
It would seem that blockchain is even more needed for copyright than other IPs as copyright laws generally do not require registration as a prerequisite for protection. In this regard, Hayward added that artists and creators would benefit from this because blockchain not only timestamps a creation (and later revisions) on the ledger, providing proof of ownership of that creation, but also makes same public, effectively providing immunity from tampering or modification.
A study by Amna Qureshi and David Megías[9], concludes that "blockchain has an excellent potential to be broadly applied in copyright protection and management applications." According to the study, blockchain makes it possible to "upload copyrighted content, control licensing/copyright options, manage distribution, trace sources of piracy, and receive payments upon content usage." Also, a blockchain may be linked to a smart contract, in which case parties to an IP contract could be provided with a transparent, verifiable, tamper-proof register to record the contract's execution.
However, experts have also warned that "there are still many open issues that need to be further researched and analyzed in order to create workable copyright protection applications that can fully benefit from the use of the blockchain technology."[10] Thus, being an incorruptible digital ledger that allows recording transactions and tracking assets in a business network, there is really no strong reason why blockchain should not be adopted by digital media platforms. In cases such as Wizkid's, where someone tries to register an already-listed work, this could be prevented, and the original owner alerted immediately.
While this may all sound futuristic, blockchain is already being used to protect and enforce IP. For example, companies such as UJO use blockchain and smart contracts to track music and automatically split payments among collaborators.[11] Also, courts in China have implemented a blockchain-based system for proving ownership.[12] To get better protection, all authors have to do is simply upload their literary works or articles to a blockchain-based database which automatically generates a string of electronic ID for the content and stores related data such as the time, location and identity of the content creator.[13]
Legal Issues Arising
As blockchain is still a relatively new technology, its legal status remains unclear in Nigeria.[14] Questions that may arise include whether this technology can be used for the protection and enforcement of legal and property rights, and whether a governmental authority or court could take a record stored in blockchain as admissible evidence.[15]
Another key issue is whether blockchain systems can sufficiently accommodate legitimate instances of fair use. This technology might be too mechanical to make such judgment calls regarding whether a use is fair (or falls within a limitation or exception).
Since there is currently nothing in the law prohibiting its use, it is submitted that creators may adopt the use of blockchain. However, it is advised that any blockchain-based registry where anyone could upload rights management information should work with relevant IP agencies and/or Collective Management Organizations to minimize problems such as incorrect entries into the ledgers.[16]
Stakeholders in the Nigerian creative industry (as well as other developing countries) are urged to look into adopting this new technology, as it promises to greatly reduce content infringement and enable easier enforcement.[17]
Conclusion
Although Nigerian Copyright law needs to be radically modernized, not all its solutions need come from copyright law. The promises of blockchain technology are worth considering as they may well provide the long-awaited effective and efficient solutions to problems arising from proof, licensing, and enforcement of copyright.
---
[1] See Section 1 of the Copyright Act of the Federal Republic of Nigeria
[2] Ernesto Van der Sar, "Nigerian 'Scam Artist' Used Apple, Amazon and Tidal to Cash in on Pirated Music", 10 April 2021, available: https://torrentfreak.com/nigerian-scam-artist-used-apple-amazon-and-tidal-to-cash-in-on-pirated-music-210410/ (accessed 29 April 2021)
[3] Business Day, "Nigerian Music Industry Embraces MCSN's GOCREATE App", 1 April 2021, available: https://businessday.ng/life-arts/article/nigerian-music-industry-embraces-mcsns-gocreate-app/ (accessed 29 April 2021)
[4] YouTube Creator Academy, "Protect Your Copyrighted Content on YouTube", available: https://rb.gy/84mjrl (accessed 29 April 2021)
[5]See YouTube Help Center, available: https://support.google.com/youtube/answer/2797370?hl=en#:~:text=YouTube%20only%20grants%20Content%20ID,by%20the%20YouTube%20creator%20community (accessed 30 April 2021)
[6] The recent ban on cryptocurrency transactions in Nigeria should not imply the abandonment of the underlying blockchain technology.
[7] Gönenç Gürkaynak, Ilay Yılmaz, Burak Yesilaltay, Berk Bengi, "Intellectual Property Law and Practice in the Blockchain Realm", Computer Law & Security Review 34 (2018) 847–862
[8] See blogpost by Andrew Hayward, "How Blockchain Copyright Protection will thwart Pirates", 12 Jan 2020, available: https://decrypt.co/16216/how-blockchain-copyright-protection-will-thwart-pirates (accessed 29 April 2021)
[9] Universitat Oberta de Catalunya, "Blockchain-based copyright protection", 17 Feb 2021, available: https://bit.ly/33073Qk (accessed 29 April 2021)
[10] Amna Qureshi and David Megías, Ibid
[11] See https://ujomusic.com/ (accessed 2 May 2021)
[12] Ledger Insights, "China Using BlockChain Evidence for Copyright Infringement", 29 Nov 2019, available: https://www.ledgerinsights.com/blockchain-intellectual-property-protection-china/ (accessed 29 April 2021)
[13] Ann Rose, "Blockchain: Transforming the registration of IP rights and strengthening the Protection of Unregistered IP Rights", July 2020, available: https://www.wipo.int/wipo_magazine_digital/en/2020/article_0002.html (accessed 30 April 2021)
[14] Chijioke Ohuocha, "Nigeria needs to regulate cryptocurrencies, not ban them: Vice President", Reuters, 26 Feb 2021, available: https://www.reuters.com/article/us-nigeria-crypto-currency-idUSKBN2AQ25U (accessed 2 May 2021)
[15] Gönenç Gürkaynak, Ilay Yılmaz, Burak Yesilaltay, Berk Bengi, "Intellectual Property Law and Practice in the Blockchain Realm", Computer Law & Security Review 34 (2018) 847–862
[16] Supra at footnote 10
[17] Supra at footnote 11