Thank you for registering for our courses!
Certificate Course on IP and Fintech- 2nd September 2022 to 24th September 2023
Instructors:
Mr. Shubham Arora, Legal Counsel Vegapay, Ex- BharatPe, Ex- Mobikwik, Ex- Grofers.
Ms. Palak Pathak – Legal Counsel of Paytm.
Ms. Shreya Suri – Partner IndusLaw
Ms. Anshika Shukla – Legal Counsel of CoinDCX
Ms. Udita Kanwar Chavan – Advocate, IP Laws
Mr. Subhash Bhutoria, Founder at Law SB, Forbes India Leading Individual Lawyer.
Workshop on Giving wings to your flight to LL.M. (19th August 2023)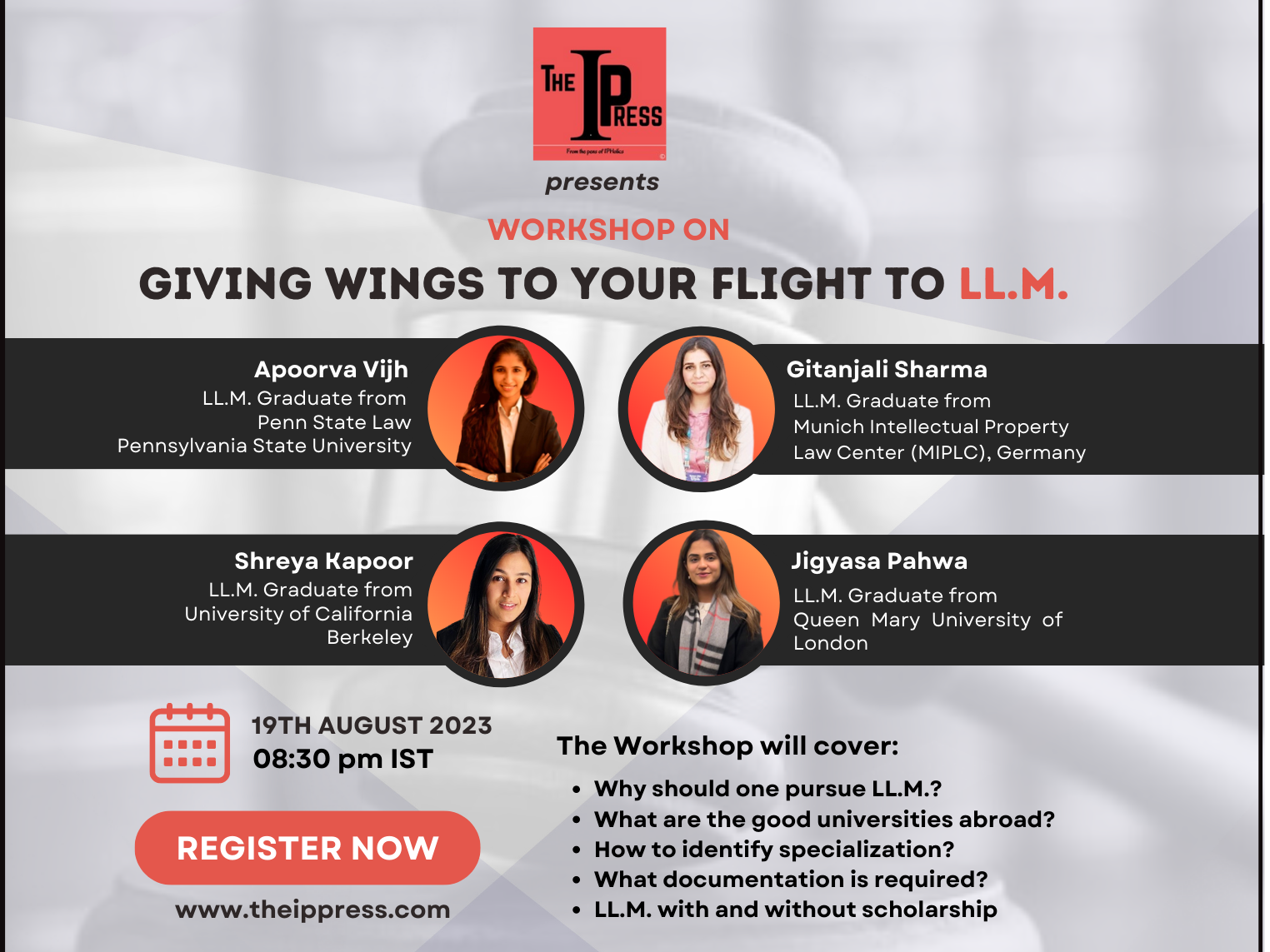 Certificate Course on Practical Insights into the Copyright Law (29th July 2023- 20th August 2023)
Certificate course on Sports Law (15th July 2023 to 6th August 2023)
Certificate Course on Fashion Law- The Legal Side of the Runway (24th June 2023 to 18th July 2023)
Panel Discussion on  Is there any IP incentive available for AI-created work and AI-generated innovations?- 23rd April 2023
Certificate Course on Securing Cyberspace: IPR, Data Privacy & Protection of Data in Cyberspace
22nd April to 7th May 2023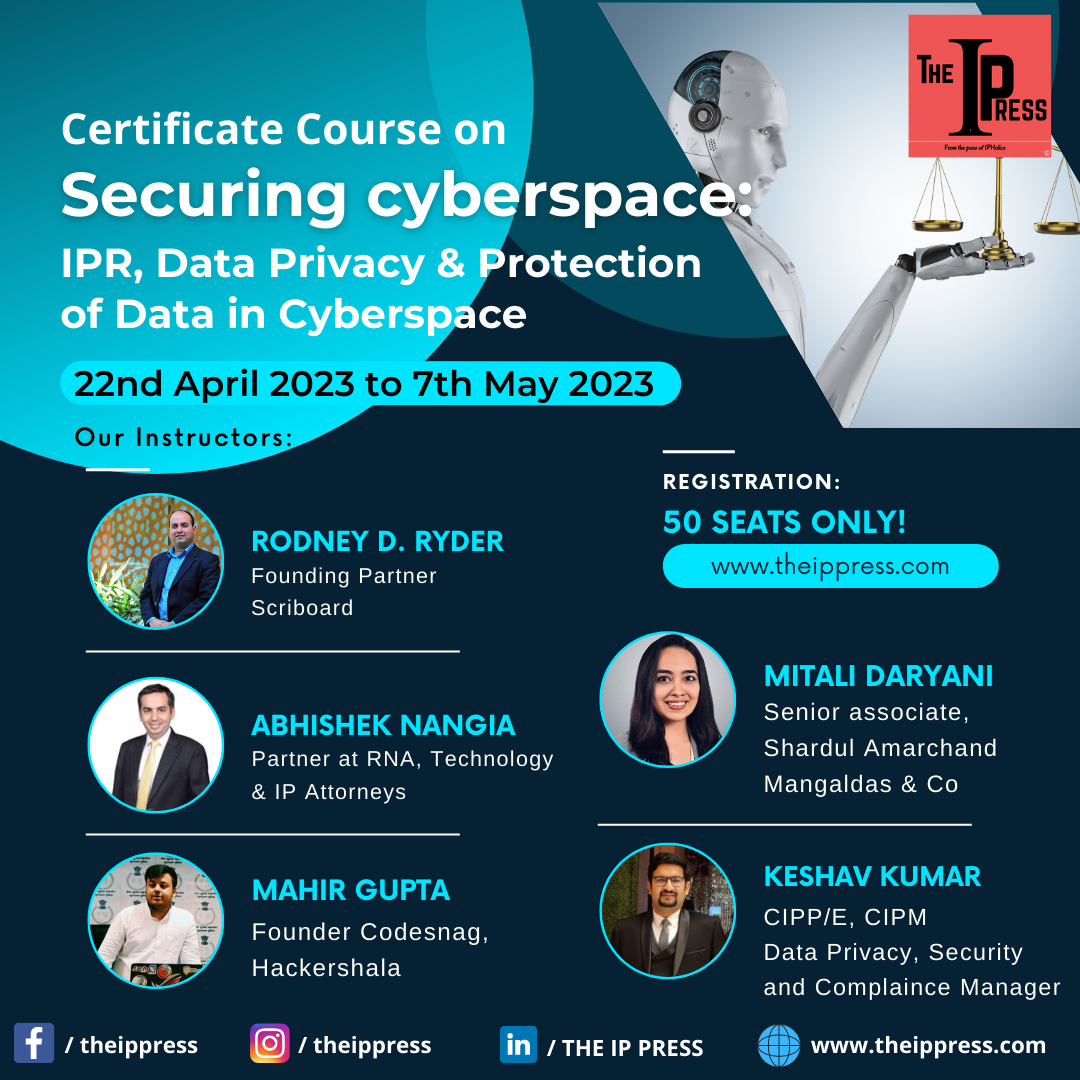 Crash Course on Patent Agent Examination 2023
25th March 2023 to 30th April 2023
Certificate course on Copyright Law
7th January 2023- 29th January 2023
SPEAKERS
Mr. Vaibhav Vutts, Founder Partner, Vutts & Associates LLP
Adv. M.Elamparithy, Partner at Krishna & Saurastri Associates LLP
Adv. Pooja Jain, Partner & Founder, MB Jain & Partners
Mr. Santosh Mane, Director Legal (HoD), Emcure Pharmaceuticals Limited, Pune
Ms. Isheta T Batra, IP & Media Counsel & Founder of TrailBlazer Advocates
Adv. Priti Girish Vyas, Corporate Lawyer with more than 20 years of practice
Ms. Swati Mittal, Senior Associate, IP Litigation at LexOrbis
Ms. Anushka Sachdev, Recently completed her LL.M. from Munich Intellectual Property Law Center | Ex-associate at Luthra & Luthra and Trilegal.
Free Certificate course on Trademark Law
10th December 2022 to 11th December 2022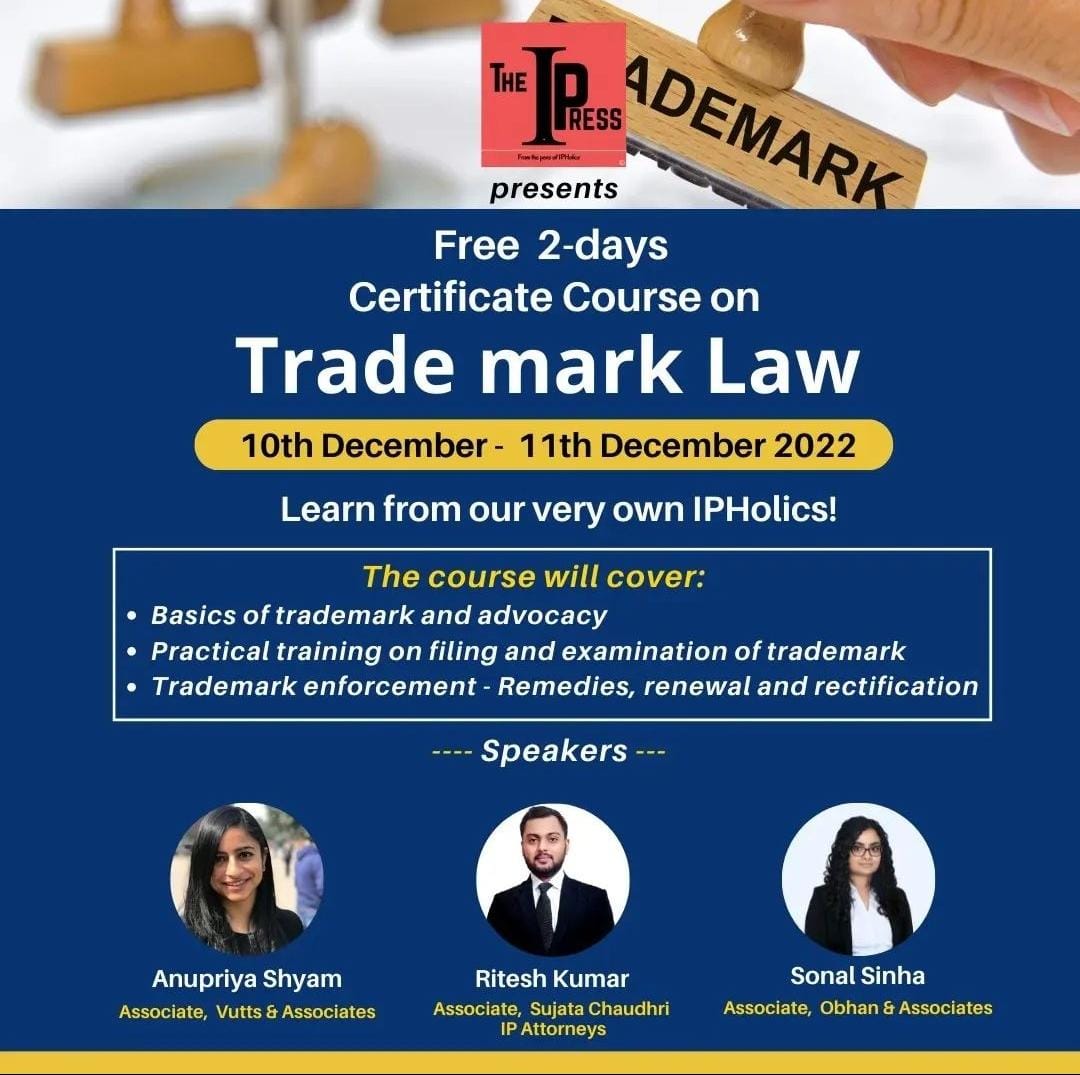 Free Certificate course on Basics of IPR
4th November to 6th November 2022
Certificate Course on Fashion Law

24th September 2022- 21st August 2022
Certificate Course on IP and Fintech by The IP Press [50 seats only]

20th August to 17th September 2022
Certificate Course on Trade mark Law and Advocacy
16th July 2022- 21st August 2022
Certificate Course on Sports Law
4th June 2022 -4th July 2022
Crash course on Patent Agent Preparation by The IP Press
Paper I & II + Interview preparation
15 February 2022 to 15 April 2022