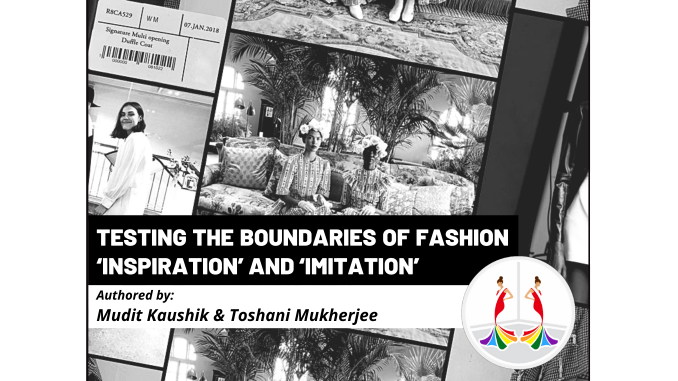 In today's world, we find multitudinous celebrated fashion houses, globally renowned designers, and fast fashion brands showcase traditional artwork, textile, weaving techniques and styles in their couture. More often than not, members of the fashion industry take inspiration from the sundry cultural artifacts of indigenous communities from across the world and merely 'amp' it up by adding stylistic elements. But how often are these 'inspired' works of fashion legally ethical, giving due recognition to the local artisans, ethnic weavers, knitters and craftsmen? Are these creations of fashion a result of cultural appropriation or cultural appreciation? In this piece, we explore the intellectual property protection of age-old local crafts and the artisans that play an important role in the new age fashion industry.
While the Indian legal framework does not have any specific carved-out fashion legislation, per se, as on date – the Copyright Act, 1957 ["Copyright Act"], Designs Act, 2000 ["Designs Act"] and the Geographical Indication of Goods Act, 1999 ["GI Act"] are considered to be the most widely applicable. Although the said legislations are aimed at protecting distinct elements of a fashion piece [for instance, an apparel, shoe or a piece of jewellery], their roles are not watertight compartments. The texture, artistic impression of a fabric, visual appeal as well as physical configuration of the product are all protected by way of an interplay between the said legislations. That said, the lack of well-defined fashion law guidelines and rules can be identified through the large-scale counterfeit, plagiarised products we see in the market today – a rip off of ethnic artwork as well as works of designers in their nascent phase.
Multiple handicrafts and handlooms of Indian states today stand protected as a 'geographical indication', with a certification of originality – from Chanderi sarees, Mysore silk, Patola sarees, Kota doria to Phulkari embroidery, Kashmir Pashmina and Gadwal sarees. While the number of geographical indicator protections is plenty and the initial awareness of the same is impressive – the menace of plagiarism of Indian art by couture houses and designers is far from being controlled. Similarly, many young Indian designers have been victims of copying snafus by multi-national fashion houses, despite having copyrights in their original artwork/ design. A couple of instances of rip-offs have been showcased in the below table: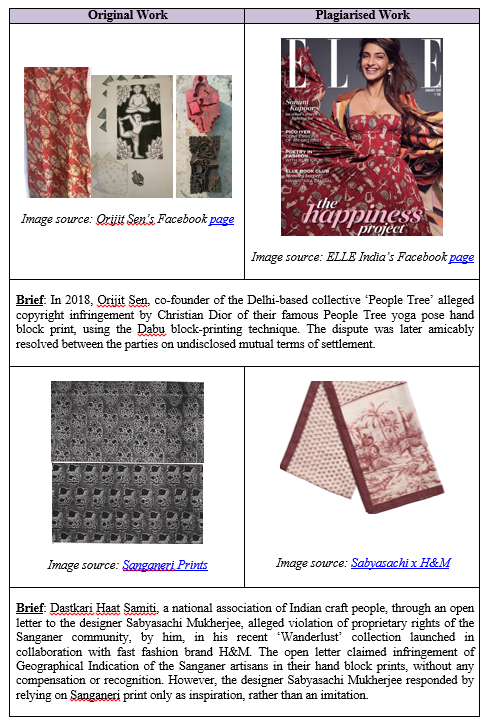 The above is an apparent representation of how 'inspiration' can go overboard and become an 'imitation'. Nonetheless, there have also been times when international fashion corporations turned towards ethnic craft only to utilize as their creative mood-board. One such distinctive example is that of French fashion house Hermès' 2008 Spring/ Summer collection which featured stylized Indian saris, turbans and Nehru jackets, without violating intellectual property rights in any way. A few runway snaps from the 2008 Indian fashion inspired collection have been attached below [image source]: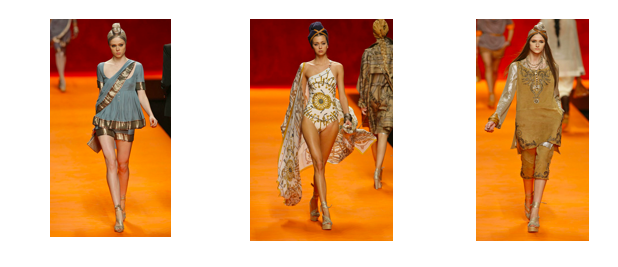 From the above elucidation, it would be safe to infer that the line between 'inspiration' and 'imitation' in the fashion industry is blurred, the problem of which is alleviated owing to the absence of comprehensive guidelines and legal precedents. Needless to mention, the said debate is extensive, and hence, we have oriented our moot point to the glaring loopholes in the Designs Act, Copyright Act and the GI Act when read in conjunction with plagiarism possibilities in fashion, specific to India.
Copyright – For a work to fall under the ambit of copyright protection, the same should qualify as a 'copyrightable subject matter'. As an interplay with fashion law, works of art or 'artistic work' under Section 2(c) of the Copyright Act is usually sought protection. For instance, if the above referred instances of Dabu inspired Yoga-pose block prints or the Sanganeri hand-block prints are to be considered – each block print would qualify as 'copyrightable subject matter'.
More often than not, when such traditional forms of indigenous work are looked at, the 'owner' of the craft is usually a group/ association of communities. Hence, the ownership of the copyrighted artwork is disputed. Moreover, the most prominent loophole in obtaining copyright protection of an artwork/ design in a piece of couture is that the validity of the registration ceases after the reproduction of a mere 50 pieces of the artwork – thereby defeating the purpose of it all.
Design – On the other hand the Designs Act brings under its umbrella protection of the design's industrial implementation, i.e., the 'shape, configuration, pattern, ornament' of the product. That said, a product cannot have registrations both under the Copyright Act and the Designs Act. In the same vein, due to the lack of judicial precedence, design piracy is a field that continues to be hungry for clarity and guidelines. Hence, while adjudging designer knockoffs, counterfeits and original pieces, there is often an unresolvable ambiguity. Due to the same, designer outfit counterfeits and 'original replicas' are openly sold across markets with hardly any legal repercussions.
Geographical Indicators – Notwithstanding the above, in our opinion, registration under the GI Act presently offers the most holistic protection to indigenous and cultural techniques and artworks. The geographical indicator tag, once granted, provides the craftsmen/ artisan groups with the exclusive right to practice their unique techniques. This, in turn, has helped multiple artisanal communities economically, as fashion corporations obtain licenses from them to industrially produce clothes using their geographical indicator. The most prominent instances of such financial boost and expansion can be seen through the Ajrak and Bagru print tags, the geographical indicator of which are widely used by fast fashion brands, designers and global fashion brands.
The significance of the GI Act to local communities is definitely undeniable;however, the same is gradually becoming antiquated due to cultural appropriation turning into cultural appreciation. Lack of beneficiary awareness, marketing opportunities and financial backing by governments to the local artisans and their craft is leading to a downfall and an inordinate increase in geographical indicator infringement. Furthermore, the long-drawn, time consuming and cost exhaustive processes make the legal recourse unattainable for many small artisanal groups.
Keeping in mind the more or less non-structured and unregulated legal framework in fashion in India, we must look at modern, out of the box recourses to protect our up-and-coming designers and the local traditional artisans from widespread violation of their rights. While statutory remedies are unparalleled, we can turn towards other interim, inexpensive yet effective options. Now more than ever, social media has become a whistle-blowing platform and to call out copying snafus. Anonymous fashion watchdog Instagram accounts, Diet Prada and Diet Sabya, are possibly the most popular for calling out appropriations, blatant imitations and plagiarism in fashion. As a part of the growing social community, we can definitely help increase awareness, build a brand image of the local designers and artisans and increase their traffic; while they simultaneously work on obtaining the requisite intellectual property protection.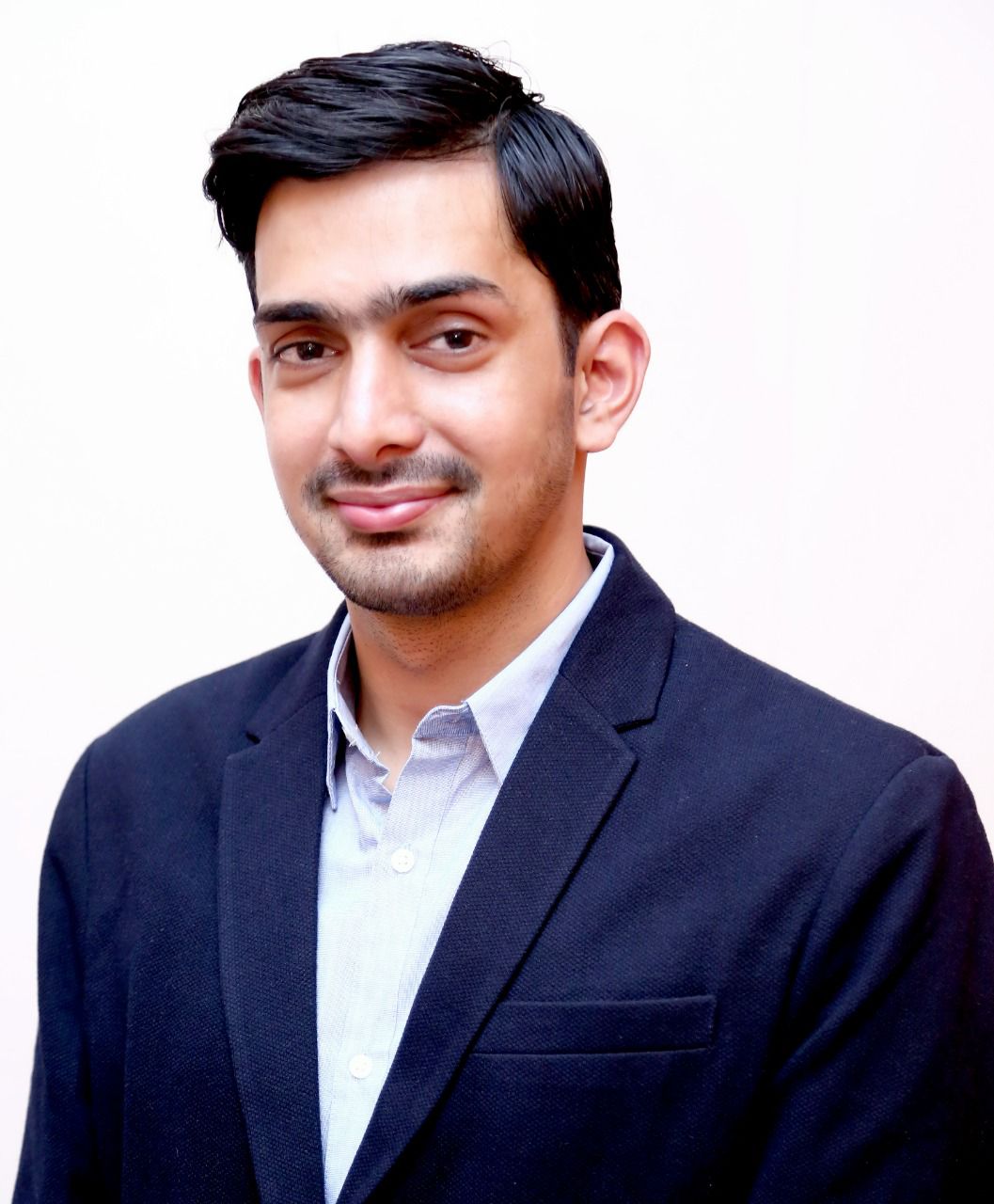 Mudit Kaushik
Guest Author
Counsel, ZeusIP Advocates LLP.
Mudit Kaushik is an IP and Tech law lawyer skilled in pre-filing strategies, prosecution, opposition, brand enforcement, data protection laws, and domain name disputes. Mudit is presently working as a Counsel at ZeusIP Advocates LLP.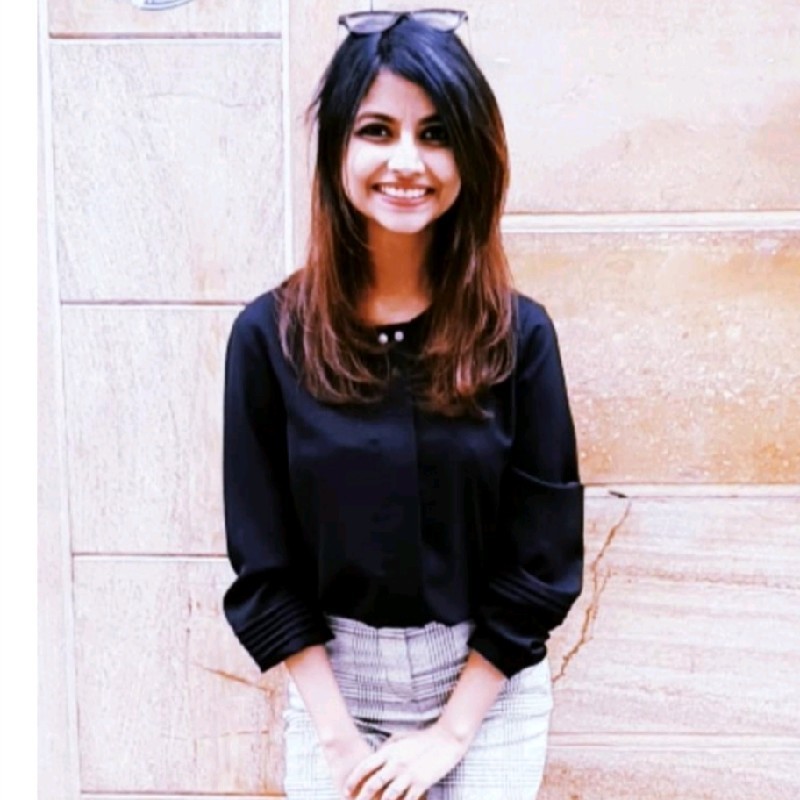 Toshani Mukherjee
Guest Author
Toshani Mukherjee is an alumnus of National Law University, Odisha and presently working as a trade mark associate at ZeusIP Advocates LLP.