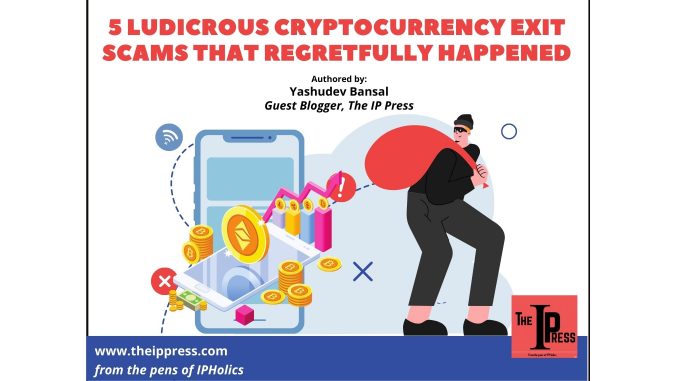 Exit scams are always awful for everyone not only for the person who has loosed his money but for the group who has committed this scam, either is full time imprisonment or they have to on run for their rest of the life. Just like if you buy something from a person who looks shady or unsecured site and you do not get what you dreamt of, you have been exit scammed
What are exit scams
When a reputable company stops shipping orders while still getting paid for new ones. Customers who trusted the company may not realize that orders are not being fulfilled until the company has already vanished. If the entity had a good reputation, it might take some time before it is widely known that orders are not shipping, allowing the entity to flee with the money paid for unshipped orders.
In contrast, consumers can also engage in exit scams if they obtain goods and services that they do not intend to pay for while covertly planning to close their business and/or flee. These kinds of situations do not happen as frequently though. Additionally, it's usual for a procurer to leave the office of business due to insolvency they did not wish to occur.
So how do they relate to cryptocurrency?
A cryptocurrency exit scam occurs when the developers of that particular cryptocurrency withdraw their funds and abandon the ongoing project to make money from their respective investors.
A cryptocurrency launch might be followed by an exit scam. The process begins with the project's developers vigorously marketing it to draw investors. This sometimes involves making large profit guarantees, posting on social media, and employing influencers to market the coin.
Once investors have made investments, the developers just take the money and vanish. Since it is discovered to be a hoax, the value of the cryptocurrency plummets, and those who invested lose all of their money. There may be additional people participating in bitcoin exit scams in addition to the creators. The fraud may have promoters and perhaps early investors involved.
Now that we understood what Exit Scams are , let us look into the biggest exit scams of all time.
One Coin
Thodex
Africrypt Exchange
bit connect
darknet markets
One Coin
One-coin sponsors significant conferences all over the world to promote it as an excellent cryptocurrency to invest in, with the theory being that the more you put in, the more you'll profit over time. People then purchased one coin. plenty of it. And this continued for a very long time. People made payments but received nothing in return. There is no means to exchange it, no blockchain, and no way to sell your coins. The only option is to purchase it. And over the course of five years, nearly 3 million people purchased one coin. In 2017, however, the founder Ruja Ignatova escaped shortly after a warrant for her arrest was issued. The website then went down in 2019. Still unknown of Ruja's whereabouts and One coin's earnings during this entire incident. However, according to conservative estimates, they took at least $4 billion. There were some persons involved who were detained, and there are a ton of other nuances to this story.
To prevent from this kind of scams one knows about what Ponzi scheme and a pyramid scheme are, and try to search for signals that an investment might be one of those to help you avoid getting conned in this way. Be extremely wary of any company that asserts that the profits on their cryptocurrency are guaranteed. That usually raises a red flag. Do your own research and disregard endorsements from famous people.
Thodex
Turkish cryptocurrency exchange Thodex announced in April 2021 that it was having trouble processing transactions in a complex manner. Shortly after trading was suspended, the company's creator Faruk Fatih Ozer allegedly left the country with up to $2 billion taken from about 400,000 Thodex investors. Authorities have verified that Ozer removed at least $30 million from the exchange. Allegations are still up for debate, and details are still being worked out.
Africrypt Exchange
Two young brothers, age 18 and 21, launched the South African-based exchange known as Africrypt. The business stopped account withdrawals in April 2021 while being unclear about a "hack." The two brothers then vanished, and the website went dark. According to a lawsuit, the two brothers used a Ponzi scheme to raise the money and then stole $3.6 billion in Bitcoin from investors. In an interview with the Wall Street Journal, the brothers refuted the accusations, claiming that the exchange handled no more than $200 million in trade volume at its fastest, and that the highest money ever lost was only approximately $5 million. The financial regulatory body of South Africa says it's not clear if the crime fits under its purview but has dubbed it a fraud. The two brothers remain missing after fleeing the country with the money.
Bit connect
Starting in 2016, this UK-based exchange quickly expanded in the cryptocurrency industry as investors went in on the promise of large returns. The company launched an ICO in 2017, and after engaging in a vigorous social media marketing effort, it soon boasted a market valuation of over $2.6 billion. Bit Connect, which offered its own proprietary coin of the same name and appeared to be patterned after a Ponzi scam, would eventually rise to become one of the top 20 exchanges in the world. However, the exchange stopped trading and lending on its platform in January 2018 after the UK government and securities regulators from Texas and North Carolina issued cease and desist orders against the company charging fraudulent conduct, Although the organization handled investments worth up to $2.6 billion, it is unknown just how much money they were able to pocket. It's safe to assume they probably defrauded close to $2.6 billion given that they had a market cap of $2.6 billion and appeared to have gotten off with nearly all the money invested. This is one of the greatest cryptocurrency-based scams in history, though there is much more to the story.
Darknets markets
Darknet markets are darknet websites where purchasers can go to buy illegal things listed for sale by sellers. include medicines. Now there is an escrow service when you purchase stuff from here. Your bitcoin or other cryptocurrency is sent to the website, which holds it until the seller can demonstrate that they shipped the goods. The money is then made available. This makes it more difficult for someone to con you online. But it also means that the darknet market place is always holding a significant amount of the cryptocurrency belonging to its customers. A darknet market place called Evolution existed in 2016 and was rather popular at the time. The escrow feature on the website was abruptly frozen without any prior notice, making the whole site down. then the entire website crashed. Because there was $12 million in escrow accounts at the time and it appeared that administrators made off with everyone's money, it is thought that this was an exit scam. There are darknet markets that operated for a while before abruptly closing, taking with them all the escrow cash. However, a site's abrupt closure does not necessarily indicate that an exit fraud is taking place. The only problem is that the arrests don't reach the press and no one knows why the darknet market was shut down when these operators are occasionally detained by the federal government. It's quite difficult since there is a lot of speculation and the owners of these places are highly secretive.
There are many examples of the darknet stories want to read further you can view the sheep market scam. Invest your money safely as we know that returns in the crypto are greater than the market stocks investment but it's said that the markets are related to the subject risk study before investing, similar goes for the crypto read the provided white paper of the crypto before investing.
This is all for today in with TOP exit scams. If there any doubt or you do not agree with some points in the blog do drop your opinion in the comment box.
Yashudev Bansal
Author
Hi, this is Yashudev Bansal final year student of BTech LLB- specialization in cyber law. I love being a cyber security enthusiast and want to write about the recent incidents that are happening on daily basis. I hope with my blogs I am able to bring some awareness to society.