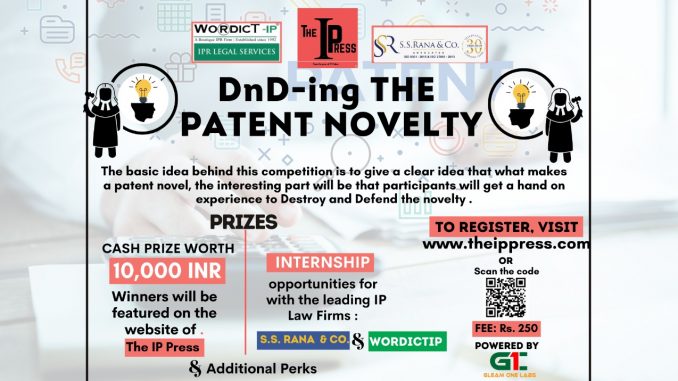 Hello IPholics! Here is some information about the DnD-ing the Patent Novelty at the IP Expo along with associated guidelines. Co-participation is allowed
Patent Application: We will provide you with a Patent Application on 24th September 2020
This competition is divided into three rounds:
Round 1: Conduct a patent novelty search to identify the novelty of the patent application. You can use any patent database for the same. Submit your novelty opinion – in less than 500 words- by 8:00 PM of Day 1 (September 24, 2020).
Novelty opinions of both the team will be exchanged by 6:00 am of Day 2
Round 2: Destroying the novelty of counter Patent: Your patent novelty document will be exchanged with another team/participant and they will conduct the prior art search to DESTROY the novelty of your patent application in light of your novelty opinion. Similarly, you will destroy the novelty opinion of the opposite team in less than 800 words.
You will submit your opinion on Destroying the novelty by 8:00 PM of Day 2 (September 25, 2020).
Round 3: Defending the novelty of your Patent Application: Your team will study the novelty destroying opinion of the opposite team and will DEFEND their novelty in less than 500 words by 08:00 PM of Day 3 (September 26, 2020).
You can use the following to present your opinion:
Prior Art Search
Closest Prior Art ( Patent / Non Patent Literature)
Claim Mapping of present Patent with that of closest prior art
Novelty Explanation (What is the novelty in the present patent)
Product mapping (What are the relevant or similar products available in the market)
Winners and outstanding deserving participants shall be rewarded with cash prize worth 10,000 INR and internship opportunities with S.S Rana and Co. and WORDICTIP, the partners of IP Expo.

The winners from this event shall be published on The IP Press.

Register and await the kick-start of the IP EXPO 2020. It is bound to give you immense learning opportunities and experience, combined with guaranteed fun and excitement.
Please click here for registration.