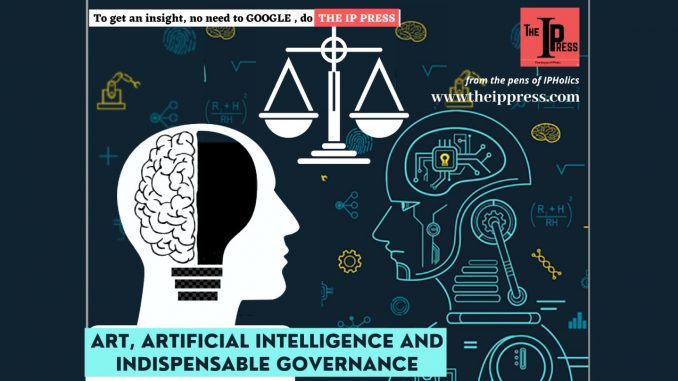 If I create from the heart, nearly everything works; if from the head, almost nothing – Marc Chagall
Relation between Art and Law
'ART'- this 3-letter word is capable of elucidating myriad feelings and expressions. Right from a child who studies in kindergarten to a golden ager who has experienced life from all slants, everyone has their own set of words to define the term 'Art'. Colour pencils, crayons and Lego blocks are some of the tools which a child uses to create his works of art. Right from this point of time, a person introspects himself and goes ahead with expressing what he feels. Gradually, what changes is the outlook and manner of expressing his art works. Thus, art is devoid of any eligibility criteria. However, it is pertinent to note that though the concept of art is quite abstract in nature, it does find a constitutional validity. Article 19(1)(a) of the Constitution of India provides freedom of speech and expression to its citizens and at the same time, art has been considered as an important tool of expression by the Indian judiciary as well[1]. Further, on a vocational note, art also finds constitutional validity in terms of Article 19(1)(g), which states that all the citizens have right to practise any profession, or to carry on any occupation, trade and business. Thus, it can be said that art has a legal sanctity in the Indian jurisdiction.
Interjection between Art and Technology
Canvas forms an integral element of visual art. Since the era of Ajanta and Elora, there has been a significant shift in the tools and canvases used to depict art works. Technology has become an indispensable part of our lives. With the passage of time, technology itself has undergone unimaginable upgradation, which today is commonly referred to as Artificial Intelligence (AI) and Machine Learning (ML). It is due to this upgradation that the art industry has witnessed a transition from use of tangible tools and canvases to mainframe art processors.
Application of AI and ML in art works is unfathomable, until one gets a real time exposure. At this point, it is worth mentioning that a major auction house in New York sold an AI generated art print for a whooping amount of $432,500. The artwork, called "Portrait of Edmond Belamy," was made by a ML algorithm. The AI system was created by members of an art collective called Obvious in Paris, France[2]. In another piece of art work, an AI artist named Mario Klingemann created a pioneering work of art through artificial intelligence. As a completely autonomous code, it uses a complex system of neural networks to generate a never-ending stream of portraits of male and female faces created by a machine. The artwork is presented as an installation piece. The AI set-up is placed in a custom-made wooden cabinet, connected to two framed screens. His artwork "Memories of Passersby I" does not consist of a database. Instead, it is an AI-brain, developed and trained by Mr. Klingemann, which creates altogether new portraits, pixel by pixel, in real time. The outputs displayed on the screen are not random or programmed combinations of existing images, but a unique art work by the AI[3]. The application of AI in visual arts industry is not limited to creation of art works. Museums are utilizing AI in the form of Chatbot, a software robot that serves the visitors by personalizing their tour and interacting with audiences through intelligent customer service[4]. However, one doesn't need to venture out looking for AI based art museums to experience the interjection between art and technology. This can be very well experienced by using our smartphones. A Japanese full-stack developer, popularly known by the name AI Gahuku hasdeveloped an AI app that turns one's picture into a Renaissance painting[5]. Thus, in light of the above real time instances, it can be said that art and technology have developed a strong bond with each other.
Indispensable Governance
Given the unpredictable nature of humans as well as complexity of technology, governance of the duo becomes indispensable. The primary issue at hand is the ownership of such intellectual works. This issue becomes critical as the ownership of intellectual property in such works grants the original creator or the legitimate owner, an exclusive right to commercially utilize the work[6]. As per Sections 2(c) and 13(1)(a) of the Copyright Act, 1957, artistic works are eligible to secure protection under the said Act. As far as the ownership of such artistic works is concerned, it is pertinent to refer to Sections 2(d)(iii) and 2(d)(vi). The former states that the artist of such artistic works shall be the author, while according to the latter, for the artistic work which is computer-generated, the person who causes the work to be created shall be the author, though the Act remains silent regarding the scope of computer-generated works. The relevance of analyzing the concept of authorship is to establish the first ownership in accordance with Section 17 of the Act. The above provisions make it clear that the Indian Copyright legislation does not recognize an AI software as the author of any work, even though it would be, in fact, solely created by the software without any manual intervention at that time. However, the source code of such a software is eligible to secure copyright protection as a literary work. As per Section 2(d)(i) of the Act, the person who creates the code shall be the author and the owner of the copyright. Another vital issue which can crop up in AI generated art works is that of breach of moral rights[7]. Remember what Mr. Bean did with the 'Whistler's Mother painting' in his movie?[8] Any such acts which distort or mutilate the original artwork in such manner which would cause prejudice to the reputation and honor of the original artist, even if such artwork is no more the official property of the first author, would amount to breach of moral rights, which the author reserves to enforce anytime. Since AI needs to be programmed and trained to act on its own, care must be taken that one's AI does not fetch any prior art works belonging to other artists, and use it in a prejudicial manner. Further, in case of moving art works, for instance those created by Mario Klingemann, establishing copyright is a challenging task as new works are created every time. In such cases, the AI needs to be programmed in such a manner where it can preserve every work that it creates, so as to enable its existence.
A number of new-age entrepreneurs understand the importance of brand names and trademarks. Thus, a need for creative and artistic logos is often felt and materialized by utilizing AI-powered logo generators available on the internet. Such platforms create artistic logos for various purposes. All it requires is certain basic information as input and on that basis, it creates a unique logo/label. Since a logo can be the subject matter of both, copyright as well as trademark, it is a serious concern as to what should be the strategy to protect such works in one's favor. If such work is not strategically protected, there is a probability of such work being noticed and utilized by others, as the internet is an ever-growing universe without watch guards. In order to safeguard the interests of the author of the AI software as well as the end-users, such platforms must ensure that appropriate disclaimers and assignment clauses in the end-user policies are incorporated so as to avoid infringing any third-party rights[9]&[10].
Though AI has proved to make human-life more hassle-free, it also has the tendency to land you behind the bars. Since AI functions as per its own learnings, there arises a possibility as to similarities in work generated by different AIs. In such cases, the author of such works can be sued for infringement of copyright and/or trademark. In such circumstances, there exists no safe harbor provisions to escape the liability. Further, since AI generated art works lack human intervention, the works could possibly result in racial discrimination, obscenity, defamation, etc. Such results could attract the penal provisions contained in the Indian Penal Code. Further, the museums that employ AI guides need to ensure that it complies with the data privacy regime, as such AIs get access to the visitors' electronic device and the data therein in order to facilitate its role of guiding the visitors. Thus, knowing the nature and repercussions of utilizing AI has become indispensable in this tech-driven epoch.
---
[1] Maqbool Fida Husain vs Raj Kumar Pandey
[2] https://learningenglish.voanews.com/a/first-ai-created-art-work-sells-for-432-500-in-new-york/4630694.html
[3] https://medium.com/dipchain/mario-klingemann-memories-of-passersby-i-c73f72675743
[4] https://amt-lab.org/blog/2020/4/a-general-look-on-artificial-intelligence-used-in-museum-audience-engagement
[5] https://www.boredpanda.com/ai-gahaku-turn-photos-into-renaissance-paintings/?utm_source=google&utm_medium=organic&utm_campaign=organic
[6] Section 14, Copyright Act, 1957
[7] Section 57, Copyright Act, 1957
[8] https://www.youtube.com/watch?v=QTli1HU9axY
[9] https://www.logoai.com/term