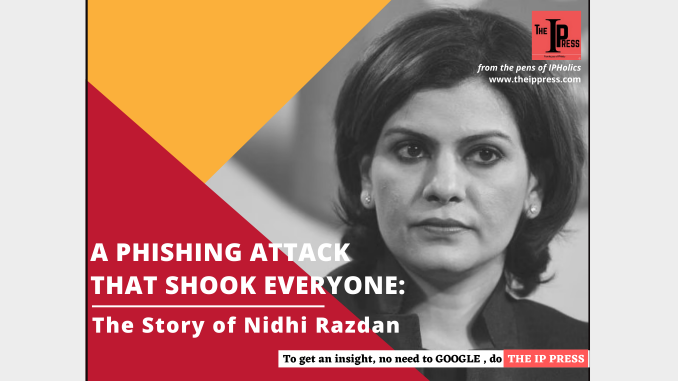 If you are an intense social media user, you must have come across a name – Nidhi Razdan in the past few days. Along with the name, you might as well have seen words like victim, phishing, fraudster, scam, and Harvard.
So, who is Nidhi Razdan?
Nidhi is an Indian journalist and television personality. She was the executive editor of NDTV and the lead anchor of various shows on NDTV 24×7. [1]She was also the former editor-in-chief of the Indian Press Trust News Agency. [2]Razdan has also been presented with many prestigious awards like Teacher's Achievement Award (TAA) for Communication (Electronic Journalism), 2011, The Jammu and Kashmir State government award for excellence in journalism, and News Show Host of the Year 2010 – English, at the Indian News Broadcasting Awards, etc. [3]
What's all the fuss about?
On 13th June 2020, Nidhi announced on Twitter that she quit NDTV to teach at the Faculty of Arts and Sciences, Harvard as an Associate Professor of Journalism.
Followed by the announcement, Nidhi changed her Twitter bio to "Associate Professor, Journalism @Harvard". This, it turned out was a scam and that she was never offered such a position at the prestigious University.
On 15th January 2021 Nidhi made an official statement that she had been a victim of a very serious and sophisticated phishing scam and she was never offered a teaching position at Harvard.
This incident became social media's favourite topic of discussion since it it involved a prestigious institution like Harvard and a journalist with over two decades of experience. Instagramers couldn't get over the memes and Twitteratis had their research and question game on.
Details about the matter
It all started in November 2019, when Nidhi was asked to be a speaker at an event organized in early 2020 by the Harvard Kennedy School and apparently one of the organizers contacted her and told her about a vacancy for a teaching position in the journalism degree program at Harvard Extension School. She followed the lead, submitted her CV, had an online 90-minute-long interview, and got an email with an offer letter and agreement from Harvard HR. The online classes were scheduled to begin from September 2020, which was postponed to October and then January 2021. Meanwhile, she appeared on NDTV debates as Associate Professor, Harvard faculty and even appeared as a guest speaker at various events like career counselling for young journalist organised by iDreamCareer.com, another one organized by the series and was called to talk on the state of Indian Media by Carnegie Endowment's International Podcast with the same designation. Then, in January 2021 she wrote to the office of the Dean of the Graduate School of Arts and Sciences to find that the HR did not exist nor did her record of appointment at Harvard.
Nidhi's side of the story seems pretty clear and believable but it still rings some bells, for example, even though classes had been put off for a while, everyone around the globe has continued working from home. While everything from virtual meetings to webinars and even virtual graduation ceremonies were being conducted online, is it possible that not once in 8-10 months did anyone from Harvard schedule a meeting or orientation for the faculties of the University? Wasn't a single virtual meet with her colleagues or the Dean organized?
We are not here to have a trial on whether she was right or wrong, but to understand when to stop and think about what's happening when to question and not blindly believe in everything you see so that this does not happen with you.
Understanding what is a phishing scam?
Phishing is a type of a cyber-attack that uses masked email as a tool to trick the recipients into sharing their financial and/or personal information or installing malware. Phishing scams send emails that resemble respectable organizations that lead the targets to malicious websites that often act as legitimate sites where they are requested to enter login credentials and other personal details that can be misused by the attacker. It is one of the oldest forms of cyber-attacks, dating back to the 1990s, and is still one of the most common and pervasive attacks. They are evolving with more and more sophisticated phishing messages and techniques.
As per a 2020 report, attackers spoof prominent brands login pages for phishing, Paypal tops this list with around 11,000 fake login pages. Apart from these, 2020 saw a no. of phishing attacks using pandemic to target users.
Phishing has been there since the 1990s and is becoming better since then, the best that you can do is to keep yourself and your machines updated and stay aware and awake.
Conclusion and Take-Aways From This Incident
We all think of the Internet as that perfect place, where we can have anything and everything in the comfort of our cosy space. This incident reminds us of the fact that the Internet is not always pleasant and may cause some serious damage. We might never learn who was behind this scam, but what we can learn and understand from this incident is that:
We must be very careful about any E-mail or message that asks to share personal information.
Check for spelling mistakes, grammatical errors, or any other discrepancies in the message or website URL.
When in doubt, verify the legitimacy of the website or the contents of the message by contacting the company directly.
Do not consider something too good to be true.
Keep all your devices up to date.
Make sure to have strong and unique passwords for different accounts.
Nidhi Razdan may not be a teacher at Harvard, yet she taught us all a lesson for a lifetime. Today, everything is online, be it education, work, banking, shopping or health, thus being cyber secure is most important. The more our life becomes digital, the more the risk of a cyber attack will increase. Just as the Internet has become a part of our life, we must also make cybersecurity an integral part of our lives.
---
[1] https://en.wikipedia.org/wiki/Nidhi_Razdan#cite_ref-19
[2] https://en.wikipedia.org/wiki/Nidhi_Razdan#Career