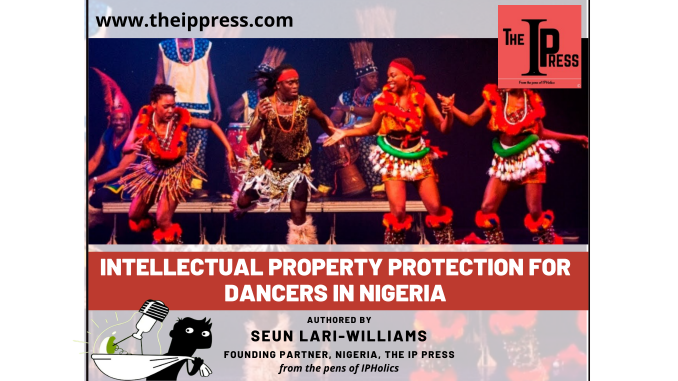 Galala, Suo, Alanta, Azonto, Skelewu, Shoki, Shaka-shaku… It goes without saying that Nigerians are great at conceiving and creating dances, pattern of steps, movements and gestures. Even the international scene has been infected with our dance moves. Evidence of this includes the numerous Instagram accounts of non-Nigerians performing popular Nigerian dances. Another is the exploits of Stephen "Papi" Ojo, the Nigerian dancer who has worked with famous artists such as Beyoncé, Rihanna and Janet Jackson. This article explores the intersection between dance and law, with a particular focus on the legal requirements for the protection of dance in Nigeria.
What does dance have to do with intellectual property?
According to the Nigerian Copyright Act, choreography is deemed an artistic work (see Section 39). This means as long as the provisions of the law are met, dance steps can very well be a product comparable to works of architecture and painting. However, as the word "choreography" is used rather than "dance", the latter must be examined in order to determine exactly what kind of dance may be protected under Nigerian law.
According to the said Section 39, "choreographic work" is defined as "a composition of movements for dancing or any other patterned succession of gestures mostly created to accompanying music." In light of the above definition, it is doubtful that just any dance move may qualify as choreographic work under Nigerian law. It would seem that to qualify, such dance must involve a combination of several moves. However, it is not clear how many moves such a composition must have.
Although of persuasive authority only, the U.S case of Alfonso Ribeiro ( who played Carlton in the sitcom – The Fresh Prince of Bel-Air) is instructive in this respect. Remember Carlton's famous dance in Fresh Prince of Belair? In 2019, actor, Alfonso Ribeiro brought an action against video game makers whose characters and avatars perform "The Carlton" — a dance he popularized on the sitcom. The Court held that same could not be protected and that one cannot protect a single dance move under copyright law. It added that only choreography as a whole can be protected. However, the foregoing does not imply that such choreography must be done by recognized professional dancers. Absolutely anyone can come up with a dance routine.
How Does Copyright Protect Choreography?
As stated earlier, choreography falls under the heading of "literary work" which includes, irrespective of literary quality, any of the following works or works similar thereto— (a) novels, stories and poetical works; (b) plays, stage directions, film scenarios and broadcasting scripts; (c) choreographic works; etc. To qualify for copyright protection, a choreographic work must be original and in a material form (in order to satisfy the fixation requirement). The "material form" requirement implies that the choreography has to be written down, recorded on video or documented in some manner.
How Do You Get Copyright Protection?
As is the case with most countries, in Nigeria, copyright automatically attaches to an original work so there is no need to register for protection. However, it is deemed a wise 'move' for professionals to register their moves in as many jurisdictions as possible. This way, it is easier to prove ownership should disputes arise.
Who Owns the Copyright?
As a general rule, the choreographer is deemed the owner of the copyright, however, there are exceptions to this. For example, if such a choreographer is an employee of a business (e.g. a dance group/organization), or was commissioned to develop the choreography for a music video or other purposes, and their contracts stipulate that the copyright in the moves shall belong to the employer or project commissioner, then it shall so belong (See Section 9 of the Copyright Act).
What Rights Does Copyright in Choreography/Dance moves Give?
As with every other copyrightable work, being the owner of copyright in a choreography grants one the exclusive right of exploitation. For example, you can monetize your work by reproducing and distributing the work or otherwise making it available to the public at a fee, granting licenses to others for the imitation of the dance routine in videos, etc. This is where the majority of creators of dance routines in Nigeria lag behind; mostly due to a lack of knowledge of their rights and means of exploitation.
Conclusion
Nigeria is not known for many scientific breakthroughs and inventions, but its breakthroughs in the creative industry is undeniable. But creating great works of art is not enough. Creatives must also learn about their IP rights. On the other hand, the government is urged to make it easier to enforce such rights. And with that, maybe one day, Nigeria's professional dancers/choreographers too can do like Beyoncé who started a company that licenses dances (in the same way a music publisher does where it will broker licensing deals and protect IP).
The intention of this article is to provide general information to the subject matter. Legal advice should be sought about your specific circumstances.