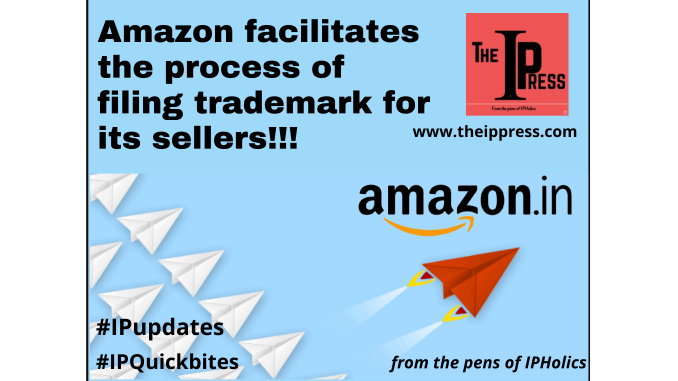 On 4th July 2021, amazon announced to launch an IP Accelerator Program which will help sellers to secure trademarks. Here, sellers are those individuals and businesses who sell their products and inventory in amazon stores like amazon.com. From being the intermediary between millions of merchants and e-consumers for various commodities like books, electronics, music, films, and many more, Amazon will now be providing access to services of recognized specialists in intellectual property and legal specialised firms to its sellers through this Intellectual Property Accelerator Programme.
What will this accelerator program do?
The program will assist the sellers to protect their intellectual property right by ensuring an authentic and genuine purchasing experience for sellers and the firms. It will assist by creating a network of well-reputed IP firms with sellers.
As per the release, the sellers can also avail themselves the Amazon.in's brand protection services which will help to protect their brand before the trademark is officially registered. If a seller files a trademark registration using an IP accelerator law firm, the seller will be able to enroll in Brand Registry and will have various brand protection and brand-building benefits.
How can sellers access this program?
As per the release, sellers can access this program on Amazon's Service Provider Network (SPN). The seller listed in the SPN will not incur any additional cost. IP Accelerator is a free program. Amazon does not charge a fee to connect the sellers with law firms. When sellers will select a firm, they will work with and pay the firm directly.
Mary Beth Westmoreland, vice-president, technology, brand protection at Amazon, said "…we are excited to offer the advantages of this program to our Indian businesses… Our Intellectual Property Accelerator Program enables businesses to protect their intellectual property, which in turn helps to ensure an authentic shopping experience for everyone," Westmoreland added.
This is not the first time that Amazon has launched such a program, in 2019, a similar program was launched in the United States and then it was expanded to Europe, Japan, and Canada, and now, finally, in India. Before launching it in India, this program was pilot-launched in 2020 and as a result, it received positive feedback from sellers. Till now, six IP law firms have signed up as the service providers as part of the IP accelerator program namely, Hasan and Singh, Lexorbis, Sujata Chaudhri IP Attorneys, Amitabha Sen & co., Remfry & Sagar, H K Acharya & Company.
Sujata Chaudhri, the Managing Partner at Sujata Chaudhri IP Attorneys, one of the law firms enrolled under the program, said: "We are sure this program will create an excellent platform for the small, medium, and start-up firms in India to get connected with a proven and trusted network of Intellectual Property (IP) law firms in India thereby giving access to various brand protection tools. We look forward to an engaging association with sellers on Amazon.in."
Pranav Bhasin, Director, MSME & Selling Partner experience, Amazon India said "Establishing IP rights is essential for businesses of all sizes to differentiate their products, earn customer trust and grow their business…We are excited to launch the IP Accelerator program in India, to support lakhs of sellers, especially small and medium-sized sellers with nascent brands, in establishing IP protection,"
This program by Amazon will definitely boost the IP protection for sellers. It will help in the awareness of the protection of intellectual property rights and will make businesses more mindful before investing in brand names. In India, the small, medium, and start-up businesses do not include IP protection in their priority list, this initiative can fill in the gap between businesses and IP protection… Stay tuned for more updates!