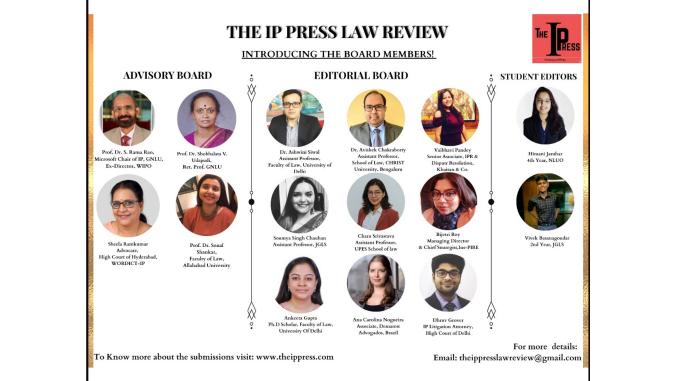 "Alone we can do so little; together we can do so much." – Helen Keller
The IP Press is thrilled to introduce you to our Board members of The IP Press Law Review. It is an initiative to extend our objectives of spreading awareness on the issues concerning intellectual property rights and related laws by promoting study and research in this dynamic field of law. The Journal will be a reflection of some of the key concerns of the Intellectual property regime both under national and international parlance.
Advisory Board:
Prof. Dr. S. Rama Rao
Microsoft Chair of IP GNLU
Ex-Director WIPO
Prof. Dr. Shobhalata V. Udapudi
Ret. Prof. GNLU
Prof. Dr. Sonal Shankar
Faculty of Law Allahabad University
Sheela Ramkumar
Advocate High Court of Hyderabad
WORDICT- IP
Editorial Board
Charu Srivastava
Assistant Professor, UPES School of Law
Dr. Ashwini Siwal
Assistant Professor
Faculty of Law, University of Delhi
Dr. Avishek Chakraborty
Assistant Professor,School of Law, CHRIST University, Bengaluru
Ana Carolina Nogueira
Associate at Demarest Advogados, Brazil
Vaibhavi Pandey
Senior Associate, IPR & Dispute Resolution Khaitan & Co
Ankeeta Gupta
Ph.D scholar, Faculty of Law, University of Delhi
Bijetri Roy
Managing Director & Chief Strategist, Ins-PIRE
Soumya Singh Chauhan
Assistant Professor, Jindal Global Law School
Dhruv Grover
IP litigation Attorney High Court of Delhi
Student Editors
Himani Jaruhar
National Law University, Odisha
Vivek Basanagoudar
Jindal Global Law School
The IP Press is accepting submissions for the first issue of their journal The IP Press Law Review. For further details, refer to the brochure here.