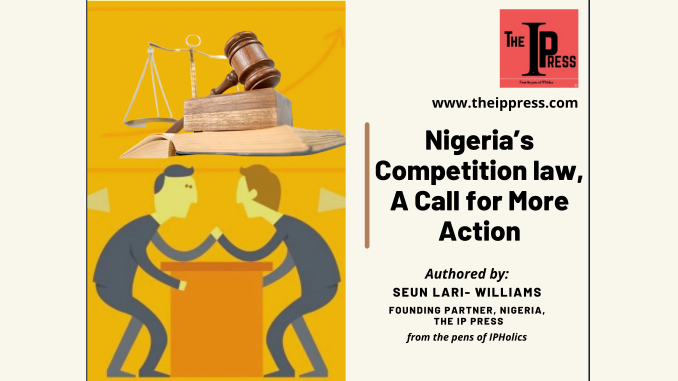 Introduction
In January 2019, Nigeria signed its first comprehensive competition law.[1] Prior to this, there was no single legislation encapsulating the principles and tenets of competition law, although few laws such as the Nigerian Communications Act and the Investment and Securities Act promoted competition solely in their respective sectors.[2] This article looks at recent happenings in Nigeria's competition law space and concludes that notwithstanding the fact that it might be rather early in the day, given the enormous powers it has and its lateness to the scene, the FCCPC must begin performing its urgent tasks.
Objectives of the law
The Act establishes the Federal Competition and Consumer Protection Commission (FCCPC) as the body tasked with several duties including developing and promoting fair, efficient, and competitive markets in the Nigerian economy.[3] It has the duty of enforcing both competition law and consumer protection law and enjoys supremacy over any other law in all matters relating to competition and consumer protection (subject only to the Constitution of the Federal Republic of Nigeria).
Section 1 of the Federal Competition And Consumer Protection Act, 2018 (the Act) provides that its objectives are to (a) promote and maintain competitive markets in the Nigerian economy; (b) promote economic efficiency; (c) protect and promote the interests and welfare of consumers by providing consumers with wider variety of quality products at competitive prices; (d) prohibit restrictive or unfair business practices which prevent, restrict or distort competition or constitute an abuse of a dominant position of market power in Nigeria; and (e) contribute to the sustainable development of the Nigerian economy.
Competition law in the news
So far, the biggest news regarding competition law remains the pre-Act case against Nigeria's largest digital satellite television company, MultiChoice Nigeria, owners of DStv,[4] which was filed in 2018. Following a petition filed by the Attorney General of the Federation against the company,[5] the Federal High Court considered issues including whether the company abused its dominant position by allegedly excessively increasing its monthly subscription fees. On this point, the court expressed its regret on the absence of a comprehensive competition law to address such issues. As such, the remedies granted in this case were limited to orders touching on the protection of consumer rights.[6]
On 1 September 2020, barely a year after the new competition law was filed, the FCCPC issued a press release stating that it has opened an investigation into competition law in the Pay TV Industry.[7] The status of this investigation is unknown.
Also, on 14 December 2020, the Federal High Court struck out a case filed by British American Tobacco Nigeria (BATN) against the FCCPC on the ground that its case was "premature and lacking merit."[8] BATN had sought an injunction preventing the FCCPC from investigating it for certain breaches, including anti-competition violations.
Markets in need of urgent intervention
While the foregoing developments in the entertainment and tobacco industries may be laudable, there are other sectors/markets that present arguably more pressing issues for competition law in Nigeria, and intervention into which is likely to have greater and more immediate positive impact on Nigerians.
For one, there is the issue of rising food prices at all levels of the supply chain in Nigeria. Cost of food items like flour, rice and wheat are very much above average in most parts of Nigeria and a lack of a competitive market is a major reason for this.[9] Indeed, as World Bank report states, that a lack of competition in food markets hurts the poorest households the most, and competition policy can deliver benefits for the poorest households and improve income distribution.[10]
Another pressing issue in Nigeria is the proliferation of "compulsory" trade associations. As this implies competitors coming together, anti-competitive practices tend to arise.[11] The line between legitimate discussions and anti-competitive behaviour can be blurry. Many associations, like those for lawyers, doctors, transporters, tailors, mechanics, and photographers, not only make it compulsory for practitioners of the profession or trade to join them, but they also tend to make discriminatory membership rules.[12]
Also, even before Nigeria's competition law was passed, there have been recurring names in competition law discussions. For example, the Nigerian conglomerate, Dangote, is a key player in most industries in Nigeria, from consumption to construction, and now to power, and it was said to have forced the cement price up in 2017.[13] There may be grounds to investigate companies such as these even if only to justify the subsidies and exemptions they enjoy.
Further, there is need for protection from the rising power of digital platforms, particularly the e-commerce platforms. Despite low digital literacy in Nigeria, e-commerce platforms like Jumia[14], Konga and Jiji are increasingly becoming more relevant.[15] And concerns about the welfare of retailers, service providers and intellectual property right holders are arising.[16] The FCCPC ought not to wait until they become super powerful before it begins to put out rules aiming to curb foreseeable excess powers.[17]
Lastly, following the ratification of Nigeria's membership of the African Continental Free Trade Area (AfCFTA), it would be important to get clarity on the extent of FCCPC's role in the context of this agreement. As AfCTA necessarily implies more competition and bigger markets, sound policies and enforcement will need to be introduced to protect Nigerians.
Conclusion
Since Nigeria signed its first comprehensive competition law, its citizens have been looking forward to experiencing the benefit promised by the law. While recognizing that the commission would need to face less political interference and gain more expertise, this article submits that the FCCPC needs to decide for itself quickly how to contextualize its competition law to meet Nigeria's challenges. To this end, it urges the commission to cooperate with other competition law authorities around the world and urges all levels and arms of the Nigerian government to give the commission the support it needs.[18]
---
[1] KPMG, 'Federal Competition and Consumer Protection Act', 21 March 2019. Available: https://home.kpmg/ng/en/home/insights/2019/03/Federal-Competition-and-Consumer-Protection-Act.html (accessed 10 September 2021)
[2] Simbarashe Tavuyanago (2020): The interface between competition law and consumer protection law: An analysis of the institutional framework in the Nigerian Federal Competition and Consumer Protection Act of 2019, South African Journal of International Affairs. Available: The interface between competition law and consumer protection law: An analysis of the institutional framework in the Nigerian Federal Competition and Consumer Protection Act of 2019: South African Journal of International Affairs: Vol 27, No 3 (tandfonline.com) (accessed 10 September 2021)
[3] The Federal Competition and Consumer Protection Commission, 'About the Commission', https://www.fccpc.gov.ng/about/commission/ (accessed 10 September 2021)
[4] This Day, 'FIRS vs. MultiChoice: Matters Arising' 18 July 2021, This Day Newspaper. Available: https://www.thisdaylive.com/index.php/2021/07/18/firs-vs-multichoice-matters-arising/ (accessed 10 September 2021)
[5] Aluko & Oyebode, 'Spotlight: Restrictive Agreements and Dominance in Nigeria', 21 April 2020, Lexology: https://www.lexology.com/library/detail.aspx?g=72c2c562-031e-48c4-aef1-d41178c6d3d8 (accessed 10 September 2021)
[6] Ibid
[7] FCCPC Press Release, 1 September 2020. https://www.fccpc.gov.ng/news-events/releases/2020/09/01/fccpc-opens-investigation-into-competition-and-possible-consumer-rights-violations-in-pay-tv-industry/ (accessed 10 September 2021)
[8] FCCPC, 'Court strikes out BATN's suit against FCCPC', 15 December 2020: https://www.fccpc.gov.ng/news-events/releases/2020/12/15/court-strikes-out-batns-suit-against-fccpc/ (accessed 10 September 2021)
[9] Africa News, 'Nigeria: Families struggle to survive as food prices soar' 4 July 2021: https://www.africanews.com/2021/07/03/nigeria-families-struggle-to-survive-as-food-prices-soar// (accessed 10 September 2021); See also, Channels Television interview of DG of NCCPC, available: https://www.youtube.com/watch?v=qoqoxEYFutA (accessed 10 September 2021)
[10] World Bank Group, 'Competition and Poverty: How Competition Affects the Distribution of Welfare', View Point, Public Policy for the Private Sector, Available: https://documents1.worldbank.org/curated/en/662481468180536669/pdf/104736-REPF-Competition-and-Poverty.pdf (accessed 10 September 2021)
[11] Liedekerke, Wolters, Waelbroeck, Kirkpatrick, 'Trade Associations and Competition Law Challenges For In-House Counsel': https://www.liedekerke.com/publications/445/insight-insight-brochure-trade-associations-v3.pdf
[12] Femi Falana, 'Limit of Compulsory Membership of Nigerian Bar Association', 20 August 2020, The News: https://thenewsnigeria.com.ng/2020/08/20/limit-of-compulsory-membership-of-nigerian-bar-association/ (accessed 10 September 2021)
[13] Oluchukwu Precious Obioma 'How Nigeria's new competition law will benefit the economy – and what to watch for', The Conversation, 14 September 2020. Available: https://theconversation.com/how-nigerias-new-competition-law-will-benefit-the-economy-and-what-to-watch-for-144379 (accessed 10 September 2021)
[14] Since April 2019, Jumia has been listed on the New York Stock Exchange (NYSE)
[15] International Trade Administration, 'Nigeria – Country Commercial Guide', eCommerce, 14 September 2020. Available: https://www.trade.gov/knowledge-product/nigeria-ecommerce (accessed 3 September 2021)
[16] Sonia Onyia, 'Nigeria: Liability Of Online Platforms For Defective Goods And Products,' 25 August 2021, Mondaq: https://www.mondaq.com/nigeria/dodd-frank-consumer-protection-act/1105138/liability-of-online-platforms-for-defective-goods-and-products (accessed 13 September 2021)
[17] Thomas Höppner, Philipp Westerhoff (Hausfeld), 'The EU's competition investigation into Amazon Marketplace', 30 Nov 2018, Kluwer Competition Law Blog: http://competitionlawblog.kluwercompetitionlaw.com/2018/11/30/the-eus-competition-investigation-into-amazon-marketplace/ (accessed 13 September 2021)
[18] Enyinnaya Uwadi 'Prospects and Challenges of Implementing Competition Law in Developing Countries: A Review of the Nigerian Federal Competition and Consumer Protection Act, 2019,' Thesis for: LLM International Commercial Law with Competition Law and Regulation, DOI:10.13140/RG.2.2.36356.65921