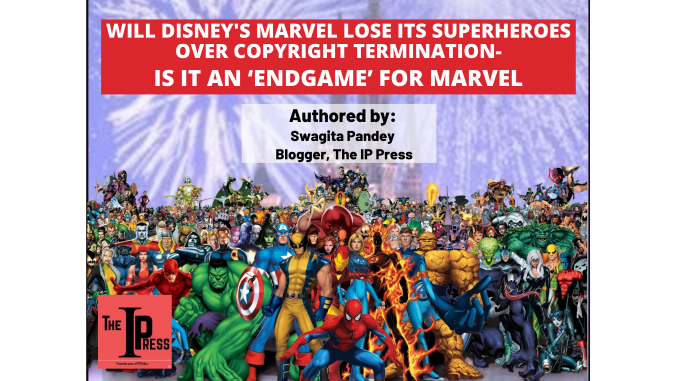 A Blockbuster flurry of lawsuits was filed on 24th September 2021 by Walt Disney's Marvel to decide future ownership and copyright of famous and well-known 'Avengers' characters including 'Spider-Man', 'Iron Man', 'Black Widow', and others. These lawsuits are
Marvel Characters Inc v. Lieber, U.S. District Court for the Southern District of New York, No. 1:21-cv-07955;
Marvel Characters Inc v. Ditko, U.S. District Court for the Southern District of New York, No. 1:21-cv-07957;
Marvel Characters Inc v. Dettwiler, U.S. District Court for the Southern District of New York, No. 1:21-cv-07959;
Marvel Characters Inc v. Colan, U.S. District Court for the Eastern District of New York, No. 1:21-cv-05316; and
Marvel Characters Inc v. Hart-Rico, U.S. District Court for the Central District of California, No. 2:21-cv-07624
These lawsuits are in response to several 'Copyright Termination' notices filed by writers and artists of characters like 'Spider-Man', 'Doctor Strange', 'Iron Man', 'Black Widow', 'Thor', 'Ant-Man', 'Falcon', 'Captain Marvel', and 'Blade' who are seeking 'Copyrights Termination' on these popular characters based on Marvel comics lately. The Copyright Termination notices issued by the writers and artists apparently terminate Marvel's rights along with all the characters, story elements, and/or indicia appearing therein, and all material they authored that was reasonably associated with these characters/work.
COPYRIGHT TERMINATION
As per 17 U.S. Code § 304, authors or their heirs, under certain circumstances, have the right to terminate the exclusive or non-exclusive grant of a transfer or license of an author's copyright in a work or of any right under a copyright. This provision under the U.S. Copyright code intends to protect authors and their heirs against unremunerative agreements by giving them an opportunity to share in the later economic success of their works by allowing authors or their heirs, during particular periods of time long after the original grant, to regain the previously granted copyright or copyright rights.
BRIEF NUANCES OF LAWSUITS
The Major Arguments of these Lawsuits are:
Marvel and its predecessors in interest have engaged numerous writers and artists to contribute to Marvel's comics who always had the right to exercise their creative control over their contributions and paid them a per-page rate for their contributions.
Any contributions made by any writer or artist were at Marvel's instance and expense, rendering their contributions work made for hire, to which the U.S. Copyright Act's termination provisions do not apply because termination rights do not exist for works made for hire.
The Works were made for hire because they were created at Marvel's instance and expense
Marvel had the right to exercise creative control over writers and artists contributions because when writers and artists worked for Marvel, Marvel paid them a per-page rate for their contributions and hence does not hold the copyright in the famous Marvel characters and comics on which they worked; rather, Marvel does.
WORK MADE FOR HIRE
If a work is made for hire, the employer or other person for whom the work was prepared is the initial owner of the copyright unless both parties involved have signed a written agreement to the contrary. In nutshell, an employer is considered the author even if an employee actually created the work. The employer can be a firm, an organization, or an individual. As per 17 US Code § 101, "work made for hire" can be divided into two parts as follows:
A work prepared by an employee within the scope of his or her employment.
A work specially ordered or commissioned for use as a contribution to a collective work, or as a part of a motion picture or other audiovisual work, as a translation, supplementary work, compilation, or as an instructional text, as a test, or as answer material for a test, or as an atlas.
IS IT AN 'ENDGAME' FOR MARVEL
Well, certainly not. Although, the Lawsuits seems to be an anachronistic and highly criticized interpretation of 'work made for hire' but the chances are that Marvel won't lose its rights in any of these characters even if the termination notices are ultimately deemed valid because none of the affected writers and artists created any of these characters by themselves. Instead, they're all 'joint works', to which several individuals contributed, and hence Marvel would still jointly hold rights to the famous and well-known 'Avengers' characters including 'Spider-Man', 'Iron Man', 'Black Widow', and others, which were clearly made on a work for hire basis.
Further, it is pertinent to note here that the termination only affects U.S. copyrights therefore No matter what the outcome of these lawsuits, Marvel's ability to fully exploit its foreign rights and retain all the profits will remain intact.
Disney is no stranger to IP fights. The company spent 18 years battling an infringement case involving 'Winnie the Pooh', ultimately winning. Disney pushed so hard for an extension of copyright terms in 1998 that the resulting law was derisively named the Mickey Mouse Protection Act. Hence, it's just another for Disney again.
Well, now it's the lawsuits and their potential effect that will decide the fate of the 'Avengers' superheroes which is now in the hands of the law.