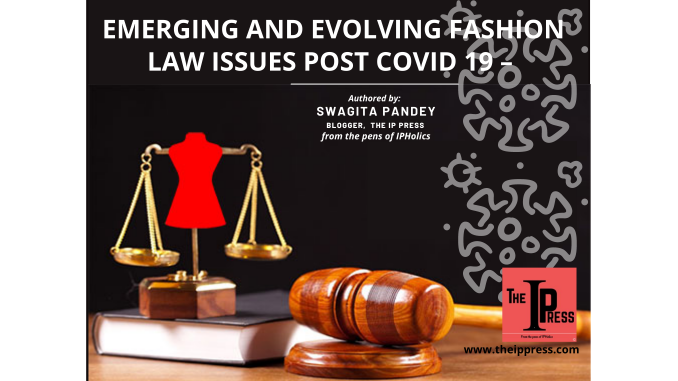 It is no secret that global Fashion Industry is the fastest growing sector that has adapted to the new consumer priorities. Digitalization has not just provided a nexus for growth but also accelerated most brands' plans to grow their own D2C e-commerce presence. In November 2021, WIPO's World Intellectual Property Indicators Report (WIPI) reported that COVID-19 pandemic has not stopped Fashion Industry from accelerating the productions of new goods and services followed by designing of trending TMs along the way. [1]
Herewith 'take a brief look to an array of interesting new Trademark filings and notable developments in Fashion Industry in year 2021:
Nike Files Trademark Application for 'Virtual Goods and Services'
Nike Inc, an American multinational corporation and leading sportswear brand has filed several Trademark Applications in USPTO as 'Proposed to be used basis' for word and device marks

for various virtual goods and services including shoes, clothes and accessories that can be used in online virtual environments. Virtual Goods are basically Class 09 and 41 along with Class 35 of the Nice Classification. Proposed class description as filed by Nike Inc are as below.
Class 09 – Downloadable virtual goods, namely, computer programs featuring footwear, clothing, headwear, eyewear, bags, sports bags, backpacks, sports equipment, art, toys, and accessories for use online and in online virtual worlds.
Class 35 – Retail store services featuring virtual goods, namely, footwear, clothing, headwear, eyewear sports bags, backpacks, sports equipment, art, toys and accessories for use online; on-line retail store services featuring virtual merchandise, namely, footwear, clothing, headwear, eyewear, bags, sports bags, backpacks, sports equipment, art, toys and accessories.
Class 41 – Entertainment services, namely, providing on-line, non-downloadable virtual footwear, clothing, headwear, eyewear, bags, sports bags, backpacks, sports equipment, art, toys, and accessories for use in virtual environments.
Chanel's new Trademark Applications grabs attention of Consumer and gives big time alert to Infringers
Chanel has filed a handful of interesting trademark applications in USPTO and gives clear intent that French luxury fashion house is now furiously all set to crack down on a bigger pool of infringing uses. In recent year, Chanel have filed trademark applications for

The application for above marks which did not come as surprise as IP rights at hand would enable Chanel to take some strong action on copycats that make, market, and sell counterfeit products. However, the new class of services i.e., for "Cleaning and repair of fashion and fashion accessories" in which Chanel intends to use these marks other than its regular class of service did came as a surprise.
Trademark Application for Kanye West and Yeezy x Gap collab
The Yeezy is set to launch their long-term partnership with Gap and Kanye West. The highly anticipated collaboration will make Yeezy style clothing more accessible and launch a new era of the brand. Accordingly, a Trademark Application is filed in USPTO for device mark

However, USPTO as of now has issued preliminary refusals, pointing to a previously issued registration for "YZY" for use on similar goods/services. Until now, Yeezy clothes have fallen into two categories, one – basics only discernible as Yeezy based on their shape or if recognized from a Kardashian Instagram post, and second Kanye West merch. It would certainly be interesting to see if USPTO gives green signal to this buzzing collab.
Virgil Abloh's trendsetting Label 'Off-White' files New Trademark Applications
Virgil Abloh, an American Fashion designer, CEO of a Milan based Fashion House label 'Off-White' and former artistic director for menswear collection of leading brand Louis Vuitton have filed Trademark Applications for marks "red zip tie", "PRODUCT BAG" and "FOR WALKING". However, USPTO have issued office action for all the three marks being generic, in response to it 'Off-White' has argued on following points:
The unique and unusual zip tie creates "the commercial impression of a trademark"
The marks serves as "as a strong source identifier" of the brand
The marks are elevated beyond being descriptive of the goods upon which it appears due to the "unique commercial impression created by Off-White's distinct use" of quotation marks.
As of date mark "red zip tie" is published for opposition, mark "PRODUCT BAG" is accepted and will soon be published for opposition and mark "FOR WALKING" is still at Office action stage. Produced below are the relevant screengrabs of use of these marks on germane good and products of 'Off-White':

Bottega Veneta Green or "Bottega Green" (as they say) setting up new example of trademark rights in a colour for use on products
Many Fashion brands in past have claimed their IP rights in the colour for example Tiffany blue, Hermès orange and Christian Louboutin red, similarly Bottega Veneta's signature "bright green hue", referred to as "Bottega Green", is a new development courtesy of now-departing creative director, Daniel Lee. "Bottega Green" is another memorable style contributions in recent year. So far Daniel Lee have not filed any application for claiming IP rights in "bright green hue" colour or "Bottega Green" for use on apparel and/or accessories yet, but the "Bottega Green" have already gained sufficient amount of goodwill and association with public at large for goods and services related to "Bottega Veneta" or "Daniel Lee's" apparel and/or accessories. It is evident from the fact that random google search for "Bottega Green" shows apparel and/or accessories related to "Bottega Veneta". The relevant screengrabs are produced herewith for reference: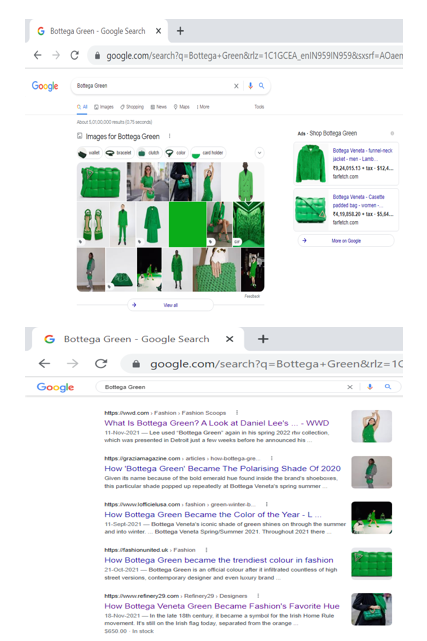 Prada seeks Trademark registration for its back Triangle Logo to Boost its IP Rights
Prada's black triangle logo has been readily coursing through its collections, albeit on its own. Now, Prada is looking to expand its rights in the triangle trademark. Prada filed a trademark application for registration of marks

in EU and USPTO. These applications may ultimately pave the way for the brand to claim potentially robust rights in its specific use of a completely blank triangle mark minus any other markings in connection with goods and services of classes 03, 04, 08, 09, 11, 14, 16, 18, 20, 21, 22, 24, 25, 26, 27, 28, 35 and 41of Nice Classification. But as it seems seeking registration for above marks is more than just an incremental right and likely to have a growth-oriented cash grab, too. Here and now an empty triangle appeared on the collection for the Prada's Spring/Winter show 2021 make complete sense. Few screengrabs from show are produced below: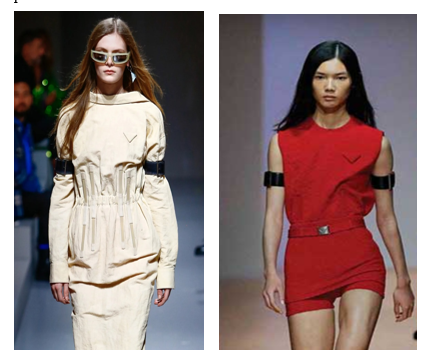 Kim Kardashian's brand 'Skims' files a new Trademark Application for mark "HIMS BY SKIMS"
Kim Kardashian's brand 'Skims' have filed a Trademark Application at USPTO for mark "HIMS BY SKIMS" in classes 25 and 35 of Nice Classification for "Hats; Leggings; Loungewear; Shapewear; Slippers; Socks; Sweatpants; T-shirts; Underwear; Boxer briefs; Boxer shorts; Hoodies" and "Retail store services featuring clothing, hats, footwear, fragrances, lotions, and accessories" respectively as "proposed to be used basis". At present, the Application is pending office action.
Puma SE vs. Nike Innovate CV (2021) [EWHC 1438 (Ch)]
Puma lodged an opposition to the trademark application for mark "footware" that Nike filed with the UKIPO in March 2019, arguing that the "footware" mark is an "ordinary descriptive term for the goods and services" of classes 09, 38 and 42 of Nice Classification. However, Puma and Nike appear to have resolved this battle over trademark "footware" this year, with Puma withdrawing the opposition against the Nike trademark in July 2021. Interestingly, Nike listed mark "footwear" for "computer hardware modules for receiving, processing, and transmitting data in Internet of things electronic devices;", "telecommunications services, namely, transmission of data by means of telecommunications networks, wireless communications networks and the Internet;" and "application service provider featuring application programming interface software for integration of third-party applications to allow an interactive user experience." Nike's Trademark application for mark "footware" is still pending before the USPTO.
As the world of Fashion Industry is growing, more and more legal issues are gliding down the runway. While we will keep on bringing Razor-sharp analysis on Fashion law and keep you abreast of all IP and fashion issues in and around, but in meantime keep your style game on and fashion on point.
---
[1] http://www.tuxmachines.org/aggregator/sources/48?cv=1&page=5&quicktabs_bottomtabs=3