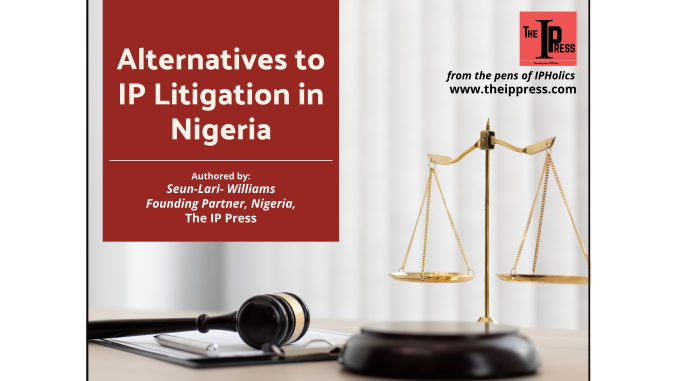 Former Chief Justice of the U.S. Supreme Court, Chief Justice Burger once said "that the notion that ordinary people want black-robed Judges and well-dressed lawyers and fine Courtrooms as settings to resolve their disputes is not correct. People with problems, like people with pains, want relief, and they want it as quickly and inexpensively as possible." Keep this statement at the back of your mind as I tell you a story.
King Sunny Ade (KSA) is arguably Nigeria's most decorated musician ever. The first Nigerian to be nominated for a Grammy Award (first in 1983, and again in 1998); KSA is to Nigerian Juju music what Bob Marley is to Jamaican reggae music. In 1970, KSA instituted a copyright infringement suit against his record label, alleging that its withholding of the master tapes of his recordings and his photographs after an alleged termination of their contract, amounted to an infringement of his copyright. After a legal battle that dragged for about 45 years (in-court till 1975, out of court from then till 1997, and a re-institution in 1997), in 2015, the Federal High Court delivered a widely publicised and celebrated judgment, awarding him 500 million Naira in damages. However, what first appeared as light at the end of his 40-year long tunnel turned out to be merely a spark. In 2016, the record label filed an appeal at the Court of Appeal, against the judgment of the Federal High Court. Again, he won, as the appeal was dismissed. Yet again, this was not the end: it is reported that in 2019, African Songs Limited (ASL) filed a further appeal at the Supreme Court of Nigeria – one of the most overworked courts in the world! With over 10,000 appeals pending in this court and with only 16 justices presiding, one can foresee that this appeal will not see the light of day anytime soon or perhaps even in the lifetime of the now 76 years old KSA.
It may surprise you to learn that KSA's case is not the exception. Quite a number of cases in Nigeria are up to 50 years old (for instance, land disputes)(Although, certain categories of cases are expedited e.g., election petition cases and criminal cases). Stakeholders in the intellectual property industry ought to be asking themselves this: if despite being expedited, Nigerian prisons are still filled with inmates awaiting trial, what hope does a copyright (or IP right) holder have in getting swift judgment from the courts? In addition to the unreasonable duration, other challenges that come with litigation include the tendency of litigation to disrupt ongoing commercial relationships, the complexity that multijurisdictional disputes may introduce, and the inability of most courts to provide the requisite speed, confidentiality, sectoral expertise and economical solutions (WIPO, 2021). This struggle not only paints a rather grim picture for businesses and rightholders alike, but is also a threat to Nigeria's booming creative and cultural sector.
The challenges of litigation for IP rights enforcement inevitably lead one to look to Alternative Dispute Resolution (ADR) options for solutions.
Use of ADR in Intellectual Property Rights Enforcement in Nigeria
In Nigeria, the laws regulating the enforcement of intellectual property rights can be found in various statutes including the following:
The Copyright Act
The Trademarks Act
The Patents and Designs Act
The Federal High Court (Civil Procedure) Rules
The Cybercrimes (Prohibition, Prevention, E.T.C.) Act of 2015.
There are many distinct types of ADR processes in use in Nigeria. Many of these have been developed as hybrids from the three basic models: processes involving only the disputing parties (negotiation), processes involving a neutral, non-decision-maker (mediation), and processes involving a decision-maker (arbitration).
Avenues and provisions for utilising ADR processes in IP disputes in the Nigerian regulatory and enforcement scenes are summarized below:
Trademark Act
Section 13(3) of the Trademarks Act of 1965 allows for the resolution of certain trademark disputes "in a manner approved by the Registrar." This implies that, before parties rush to court with a dispute, they may have to first ensure they exhaust local remedies provided by the registrar.
It is submitted that the Copyright Act ought to provide for ADR in the resolution of certain copyright disputes as well. For example, Collecting Societies may be empowered to resolve certain categories of disputes arising between artists or songwriters.
Uniform Domain Name Dispute Resolution Policy (UDRP)
Considering the global nature of the Internet, a few external authorities also make and enforce laws affecting IP in Nigeria. For example, for the purpose of resolving domain name disputes, the Internet Corporation for Assigned Names and Numbers (ICANN) established a set of principles known as the Uniform Dispute Resolution Policy (UDRP) for Domain Names.
ICANN, in collaboration with WIPO, thus provides a mechanism for quick, cheap and reasonable resolution of domain name conflicts outside of court system.
In the same vein, online dispute resolution (ODR) on internet platforms such as online marketplaces has become a popular phenomenon. As a country with millions of social media users, Notice and Takedown procedures are a familiar ADR tool in Nigeria.
Court Ordered ADR
Section 17 of the Federal High Court Act provides as follows:
'In any proceedings in the Court, the Court may promote reconciliation among the parties thereto and encourage and facilitate the amicable settlement thereof.
Accordingly, the court may direct parties to try to resolve their issues amicably using ADR mechanisms.
Rules of Professional Conduct (RPC)
Lawyers in Nigeria are enjoined by the RPC as follows: "Whenever the controversy will admit of fair settlement, the client should be advised to avoid or end litigation." This is an indirect encouragement to use other dispute resolution methods whenever possible. Thus, sometimes, a demand letter has proved to be all that was needed to prevent an expensive lawsuit. Issues regarding licensees or others unlawfully using copyrighted/trademarked material have been solved this way.
Typically, a demand letter is the first step you'll take in resolving an IP dispute. In your letter, you'll demand that the offending party cease infringing upon your IP. You'll also give details on your IP, what your rights are, how they were infringed, and how soon the offending party has to stop.
For intellectual property disputes, the most significant benefits often are conservation of resources, confidentiality, control over selecting and tailoring the process, selecting the neutral, and determining the outcome. In the context of music, an example of how selecting the neutral may be an advantage is having someone who knows music decide issues such as whether certain works are substantially similar.
Contract Law and Intellectual Property Licensing Agreements
A major example showing the use of ADR to resolve IP cases can be found in IP related agreements like franchising and licensing agreements. It is now common to see contracting parties in IP related transactions (and indeed all transactions) include an ADR provision for resolving disputes that may arise from the transaction, before resorting to litigation.
Conclusion
If, in a country that recognizes "big men", the celebrated King Sunny Ade can go through such difficulty to enforce his rights by means of litigation, can you imagine what mere mortals would face? Until the area of enforcement and remedy of IP violation become more practicable, IP rights will remain nothing but mere paper rights for most.
However, it must be added that the use of ADR methods in IP disputes is not without its own challenges. While the framework for arbitrating IP disputes is underdeveloped and urgently needs to be improved, scholars have argued that the public nature of judicial proceedings lead to authoritative opinions that serve as a concrete form of public notice on the boundary of property rights..
Other limitations include the fact that there are some disputes that can only be solved by formal litigation. Also, the decision of the arbitrator is binding only on the parties concerned. Lastly, as ADR is totally cooperation based, noncooperation by either of the parties makes it less appropriate. If the process fails, the parties may find themselves facing traditional litigation, which was what they were attempting to avoid in the first place.