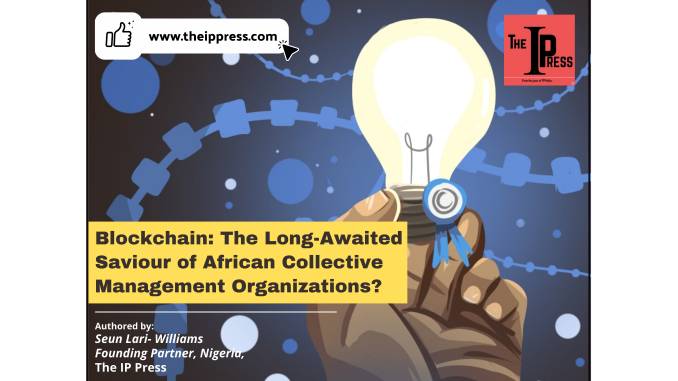 It is no secret that collective management organizations (CMOs) face numerous challenges. One of such is the issue of allegations of the nontransparent system of collection and distribution of
royalties.[1] CMOs in Africa are in an even worse situation as they face additional challenges including a lack of awareness of copyright laws by users and the general public, piracy of copyrighted works, and inadequate resources and manpower within the CMOs.[2]
As with many other fields, there is an appeal to new technologies for solutions. It has been suggested that solutions offered by blockchain technology can address many of the foregoing problems.
Proceeding from stating the purposes of a CMO, this article shall analyze some of the challenges they face and explore the solutions by blockchain.
Purpose of CMOs
The core task of a collecting society is the collection of high-volume, low-value royalties stemming from secondary uses (e.g., broadcasting, public performance, lending) of creative works.[3] Nowadays, we might look back and find it funny that technological developments such as photocopiers (which led to widespread unlicensed reproductions of works) made the role of these organisations even more critical. If people felt threatened by photocopying machines, they really had no idea what was coming.
As most artists are confronted with problems such as weak bargaining position when transacting with broadcasters or online music platforms (and the fact that transaction costs for collecting small royalties from many users of their work (e.g., bars, clubs, discotheques) are generally too high) thus, CMOs serve a crucial purpose in the music industry.
Challenges faced by CMOs
Although one cannot deny that CMOs benefit both rights holders and users of copyright-protected works, certain issues pose huge challenges to the functioning of CMOs. These include the emergence of digital service providers, the fast-growing streaming business, the users' licensing needs (which are not confined to national territories anymore) and the licensing process requiring authorizations for bundles of rights.[4]
As a result, CMOs have the challenge of incomplete and inaccurate Rights Management Information (i.e., information attached to a work, which identifies the author, terms, and conditions of use, or other information related to the copyright ownership).[5]
Some CMOs have also been criticized for their lack of transparency.[6] As CMOs deal with royalties that belong to rights holders, they must be trusted by their members and other stakeholders. Here, transparency is measured by the type, level and ease of access to information availed to internal and external stakeholders and, at times the public at large.[7] The Director General of the African Regional Intellectual Property Organization (ARIPO) explained that among other things, "inadequate availability of technologies" is to blame. Other criticisms include time lags in payment of royalties, inefficiency, etc.[8]
In addition to all the above challenges, CMOs in Nigeria have found it difficult to identify uses of works, track of uses of works, curb digital exploitation of music and video, and ensure transparent systems of reporting and distributing royalties.[9]
Further, Nigeria's biggest CMOs have been in and out of courts battling for legitimacy for years, leading to a rather unfortunate situation. The effect of this includes the confusion about who to pay royalties to: MCSN or COSON?[10]
How blockchain can help
According to Opal Gough, "blockchain technology's decentralised nature offers the music industry opportunity to develop an international industry database for musical compositions and sound recordings to streamline processes, remove inefficiencies and improve cash flow."[11]
CMOs basically run on information, and blockchain is ideal for delivering that information because it provides immediate, shared and completely transparent information stored on an immutable ledger that can be accessed by permissioned network members.[12] A blockchain network tracks orders, payments, accounts, production and much more.
With blockchain, the narrative that CMOs can only distribute royalties to reflect usage "as nearly as possible"[13] can be changed. This is because, with the instantaneous, comprehensive and real-time recording of usage that blockchain allows, royalties can be distributed to reflect usage with precision.[14]
In addition, the challenge of fragmentation of rights in a music, which often complicates the process of royalties distribution for CMOs can be addressed with blockchain. This is because all attendant rights in a work can be incorporated into smart contracts and in a transparent manner. With blockchain, members of CMOs can share a single view of the truth (thus, solving the problems of retroactive royalties and the black box).
Organizations around the world are already developing a blockchain that will "match, aggregate and qualify existing links between ISRCs and ISWCs to confirm correct ownership information and conflicts". These include IBM, the Society of Authors, SACEM, the American Society of Composers, Authors and Publishers (ASCAP) and PRS for Music (UK) to develop a blockchain.[15] African countries ought to take steps as well as they need this technology even more, especially considering the heightened challenges they face compared to other nations.
---
[1] Tresise, Annabel and Goldenfein, Jake and Hunter, Dan, 'What Blockchain Can and Can't Do for Copyright' (August 6, 2018). (2018) 28 Australian Intellectual Property Journal 144, Available at SSRN: https://ssrn.com/abstract=3227381
[2] Victor Nzomo, 'Is Lack of Transparency and Accountability to Blame for Poor Performance by African CMOs?' CIPIT 5 September 2016: https://cipit.strathmore.edu/is-lack-of-transparency-and-accountability-to-blame-for-poor-performance-by-african-cmos/ (accessed 1 July 2022)
[3] Haunss, Sebastian (2013), "The changing role of collecting societies in the internet", Internet Policy Review (30 September 2013) [http://bit.ly/16P1jlk]
[4] Lucius Klobucnik & Daniel Campello Queiroz 'The Role of Traditional CMOs in the Digital Era' EIPIN – IS Research Paper No. 19-05
[5] Finck, M., Moscon, V. 'Copyright Law on Blockchains: Between New Forms of Rights Administration and Digital Rights Management' 2.0. IIC 50, 77–108 (2019). https://doi.org/10.1007/s40319-018-00776-8
[6] Victor Nzomo, Is Lack of Transparency and Accountability to Blame for Poor Performance by African CMOs? 5 September 2016: https://cipit.strathmore.edu/is-lack-of-transparency-and-accountability-to-blame-for-poor-performance-by-african-cmos/
[7] Ibid at 5
[8] Annabel Tresise, Jake Goldenfein and Dan Hunter, 'What Blockchain Can and Can't Do for Copyright'
[9] Dorcas A. Odunaike, Comparative Analysis of Collective Administration of Performance in Australia And Nigeria,
[10] Olajide Oyewole, 'Nigeria: Collection Societies in Nigeria's Music Industry: The Case for Change'
12 September 2021: https://www.mondaq.com/nigeria/music-and-the-arts/1104488/collection-societies-in-nigeria39s-music-industry-the-case-for-change
[11] Opal Gough, Blockchain: a new opportunity for record labels, International Journal of Music Business Research, April 2018, vol. 7 no. 1
[12] IBM, 'What is Blockchain?': https://www.ibm.com/topics/what-is-blockchain
[13] Per Regulation 15(1) of the CMO Regulations, cited by Chijioke Okorie, 'Royalty distribution in Nigeria: Must collective management organisations distribute royalties only to members whose works were used?'
[14] Chijioke Okorie, 'Royalty distribution in Nigeria: Must collective management organisations distribute royalties only to members whose works were used? IPKitten: https://ipkitten.blogspot.com/2021/01/royalty-distribution-in-nigeria-must.html accessed 1 July 2022
[15] Opal Gough, Blockchain: a new opportunity for record labels, International Journal of Music Business Research, April 2018, vol. 7 no. 1