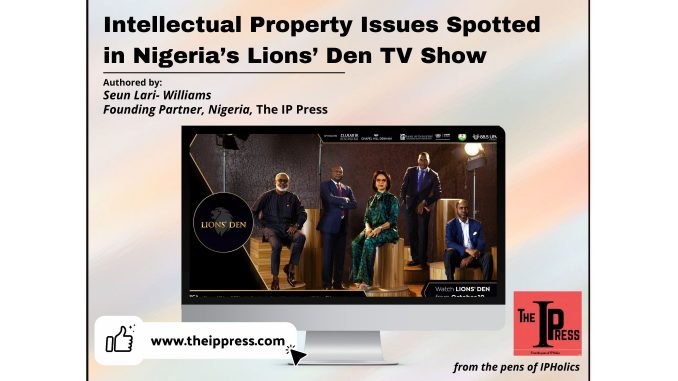 As all entrepreneurs know, there is often a long, bumpy road between the 'eureka-moment' and having a scalable business; and securing adequate finance for the business is arguably one of the biggest hurdles on that path. Sometimes, even getting a foot in the door to access potential investors proves daunting. It therefore comes as no surprise that TV shows like the US's Shark Tank, UK's Dragons' Den, Australia's Dragon's Den, and Nigeria's Lions' Den, amongst others, have recorded huge successes. However, while watching some episodes (especially of the Nigeria's Lions' Den), and admiring the ingenuity of some ideas presented, the zeal of the entrepreneurs, and the insights of the investors, this author spotted some intellectual property (IP) issues. In this article, such issues are discussed in the light of Nigerian law, practice and international standards.
Protecting Scents
On an episode of the show,[1] an entrepreneur pitched her scented candle business and stated that the way she "blends" the scents is what makes her stand out in the market. This leads to the question: how can a scent be protected under Nigerian IP law? While the composition of ingredients in a scent or perfume is patentable under US law, the Nigerian position on this is not clear. A way to protect such, however, is to keep it secret in order to gain a competitive edge. There are generally no restrictions to the type of information that constitutes a trade secret, as long as it is valuable. The entrepreneur in this case showed good business sense by not revealing her trade secret on TV when asked, despite being eager to win an investor's heart.
Olfactory marks (fragrance, scents or smells) may be protected as trademarks in certain jurisdictions. However, this question remains unclear in Nigeria.[2]
Nevertheless, depending on their designs, it may be possible to protect the shape of the bottle with an industrial design registration.[3]
Need to Focus on Global Patent Standards
In another episode[4], one of the entrepreneurs said about his product, among other things, that "… is the first of its kind in Nigeria and some parts of the world, and as such, we have a patent and trademark for operations in Nigeria". This leads to the question of what constitutes newness in an invention. Newness is usually gauged against the 'state of the art or existing knowledge base, and prior use. It is important to note that the test of newness under Nigerian law is universal, therefore a disclosure in another part of the world, no matter how remote, is anticipatory of any subsequent invention.[5]
As this company's product is new only in "some parts of the world," when the time comes to pursue rights outside Nigeria, the apparent deficiencies from its early days may come back to impede its patent portfolio.
And regarding trademarks, it may be wise to invest some time into checking search engines, online trademark registries (depending on where your target market is) etc., to check whether a chosen brand name/logo is already being used by a third party.
Industrial Design vs Patent
It is crucial to understand the difference between an industrial design (also known as design patent) and a patent. In an episode of UK's Dragons' Den, some entrepreneurs instantly dazzled the Dragons with their US patented cycle helmet, complete with integrated and re-chargeable lights. However, the Dragons excitement faded when they discovered the entrepreneur only had a design patent. In the US, a design patent protects the visual appearance of a product (like an industrial design registration in Nigeria). This means that the features and the way in which the helmet works were not covered. For this reason, none of the Dragons chose to invest.
This crucial distinction is often not made in Nigeria's Lion's Den, when an entrepreneur claims they have a patent. This can be problematic for the parties in the future.
Need to patent before talking to a manufacturer/supplier
Although Nigeria is largely an importer of technology and finished products, it also has inventors.[6] However, issues can arise when Nigerian companies/inventors outsource their manufacturing to manufacturers abroad, sharing their ideas and inventions before patenting. This often happens when an inventor wants a prototype.
In another episode, one of the judges spoke about how he had "basically designed" a product and then sent it off to be produced abroad. He was not clear about whether he had first applied for a patent for this product, but I think there is an issue here.
Nigerian patent laws do not require that you create or build your invention before filing a patent application. However, it requires that your invention be described to the level of detail in your patent application where one skilled in the technical area of your invention (skilled in the art) can recreate your invention without undue experimentation by reading your patent application.
At any rate, Nigeria operates a Deposit System of Patenting, as opposed to the Examination system which is obtainable in more industrialized countries.[7] By implication, no rigorous examination for the purpose of checking compliance with patentability requirements is undertaken. Rather, the decision of whether an invention is patentable is left to the court, should patentability be challenged. This dynamic must be kept in mind by a potential investor.
Regardless, it is essential to patent first if you have developed a product (including software) or a process that is patentable. This is especially because failure to maintain confidentiality could mean risking the possibility to patent it.[8]
Protection for Apps: Copyright vs Patents
Being categorized as copyrightable materials, apps and website content are automatically protected by law, with or without registration at the Nigerian Copyright Commission. Thus, source code, images, text are all yours so long as you created them. They cannot legally be copied or used without your permission. However, just because an app is copyright protected does not mean that it is not patentable. There are some instances where patent protection is possible for software.[9] As this can be tricky, the best thing to do is always to seek the advice of an IP lawyer when applying for patent protection.
Clarity about IP ownership
Investors ought to be interested in seeing that the company they are investing in owns all of the IP rights or at least has clear licences to use the IP rights. Often in start-ups, an entrepreneur will invent something which is technically owned by him/her/them as an individual(s). In order for the invention to be owned by the company, there must be a legal assignment from the inventor(s) to the company. An investor may even ask to see this agreement (as sometimes seen on Dragon's Den and Shark Tank). Care must also be taken to ensure IP rights are legally transferred through employment contracts (e.g., see the Nigerian Copyright law), design contracts and other contracts where individuals or third parties are developing IP for the company.
Conclusion
It goes without saying that the lions' den is a particularly dangerous, hostile, or oppressive place or situation. Although the lions on this show seem like nice people, it's a lions' den nonetheless; a place where valuable trade secrets are spilled to the world and great ideas "dashed out" to someone watching at home, some of whom have access to enormous resources, and who you cannot compete with.
On the other hand, if investors fail to ask the right questions, they could very well be the preys and not the predators.
---
[1] Scented Candles Huge Stock Throws Adenike Ogunlesi off | Ultima Lions Den https://www.youtube.com/watch?v=UhjA09IvgAk accessed 14 July 2022
[2] Chidera Emmanuel Chikere, 'The Protection of Olfactory Marks (Fragrance, Scents Or Smells) As Non-Traditional/Non-Conventional Trademark In Nigeria', 8 Jan 2020: https://www.linkedin.com/pulse/protection-olfactory-marks-fragrance-scents-smells-chikere-chidera/
[3] Adejoke Oyewunmi, Nigerian Law of Intellectual Property, (Unilag Press & Bookshop, 2015)
[4] Coupin Lions' Den Pitch – Watch Our Team Take On The Lions'(Ultima Studios)
https://www.youtube.com/watch?v=L66QlUizUYw accessed 14 July 2022
[5] Adejoke Oyewunmi, Nigerian Law of Intellectual Property, (UNILAG Press & Bookshop, 2015) page 150
[6] Adesina Ayobami Oyewale, 'Nigeria's Research System and the Culture of Patenting' National Centre for Technology Management, Obafemi Awolowo University,
[7] The Nigerian Law Guru, 'An Overview of the Law of Patents in Nigeria': http://www.nigerianlawguru.com/articles/intellectual%20property%20law/AN%20OVERVIEW%20OF%20THE%20LAW%20OF%20PATENTS%20IN%20NIGERIA.pdf accessed 17 July 2022
[8] A non-disclosure agreement may be signed by the parties also.
[9] In order to be patentable, such software must be new and inventive.