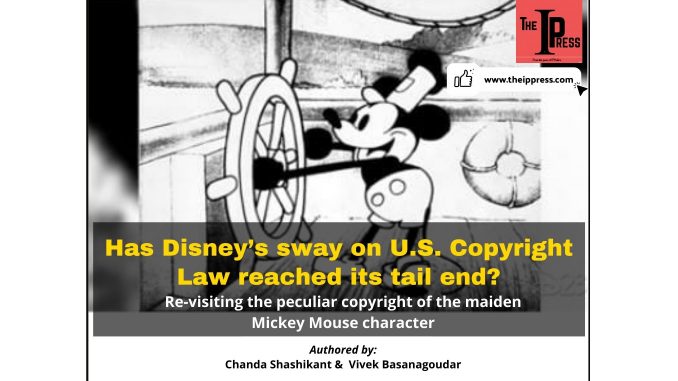 Introduction
Mickey Mouse, as we know the character today, debuted in Walt Disney's November 18, 1928, production of Steamboat Willie.[1] Generating over 19 billion dollars in the second quarter of 2022,[2] the entertainment conglomerate's success heavily relies on its innovation and creativity represented through its flagship characters. From broadcasting rights to merchandise licensing, Disney benefits largely from registered intellectual property which prompts one to imagine its trajectory in absence of the same. Time and again, Disney's copyrights have been on the verge of expiration but coincidentally U.S. legislation was amended, thereby providing the corporation with a lifeline (or lifetime) of extended protection. However, the maiden Mickey Mouse character is set to be freed into the public domain in 2024 and no case is being made to prolong its copyright, as was previously done. In this article, the authors aim to establish the background of copyright extensions granted through legislation, the nuances of the character in question, and thereafter examine the aftermath and available protection post expiration.
Length of U.S Copyright Protection: Influential Legislation or Legislation Influenced?
Before discussing the legislation, it is imperative to note that copyrights in general are exclusive rights that are granted to a creator for a fixed duration. Upon expiration, the work enters the public domain and restrictions previously imposed by the exclusive rights no longer bar others from copying, reusing, or deriving from the same through their own volition.[3] Preventing a copyright from expiring can only be done through renewal which is also temporary but over the last century or so, U.S. copyright legislation has been influenced to extend valuable copyrights such as that of Steamboat Willie.[4]
Subject to a large history of amendments, copyrights have been extended repeatedly, be it the general grant or the renewal (Figure 1 provided below depicts changes in legislation).[5] In 1790, the initial Copyright Act envisioned 14 years of protection which could further be renewed for another 14 years, bringing the sum to 28 years.[6] The 1831 Act allowed for 42 years of protection. However, at the time, copyright durations were not majorly recorded and were rarely renewed.[7]
The 1909 Copyright Act proves to be relevant to the Mickey Mouse debate as it was the first legislation governing the Steamboat Willie copyright which was produced in 1928. According to the same, a copyright was granted for a period of 28 years with a 28-year renewal option, compounding to 56 years of total protection. As per this trajectory, the Steamboat Willie copyright was set to expire in 1984.[8] Growing fears of losing such an asset led to Disney lobbying the Congress into introducing the Copyright Act of 1976 which extended the life of pre-existing copyrights from 56 to 75 years, thereby postponing the Steamboat Willie copyright's expiration to 2003.[9]
In the late 90s, Disney feared the expiration of copyrights over popular characters such as Mickey's in 2003, Pluto's in 2005, Goofy's in 2007 and Donald Duck's in 2009. The Copyright Term Extension Act of 1997 (famously known as the "Sonny Bono Copyright Term Extension Act" and infamously known as the "Mickey Mouse Protection Act") can indirectly be linked to Disney's actions by which the copyright period was further extended from 75 to 95 years. The Disney Political Action Committee reportedly injected 150,000 dollars into the direct campaign contributions of the bill,[10] leaving no room for failure, and guaranteeing the extension of the Steamboat Willie copyright to the end of 2023.

Currently, there seems to be no discussion around extensions and the influential copyright may ultimately meets its overdue end on January 1, 2024.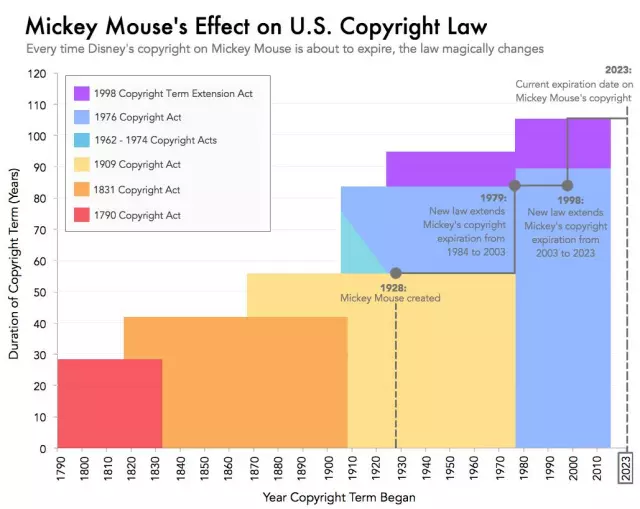 What next for Disney after Mickey enters the public domain? Remaining forms of protection and subsequent exploitation of the character
With some senators going so far as to propose retroactive reduction of copyright protection to 56 years,[11] it seems unlikely that history will repeat itself for Disney and its valuable copyrights. Accepting the prospect of Mickey Mouse entering the public domain in 2024, it is imperative to note that only the Steamboat Willie iteration of the character will be accessible to all. To clear ambiguity, the character whose copyright is set to expire (exhibit A),[12] evidently unique with oval dots for eyes, the monochrome format, and the absence of gloves, can clearly be distinguished from its modern counterpart (exhibit B).[13] Furthermore, all versions developed in between are also protected by relevant copyrights. The iconic gloves in The Opry House (exhibit C),[14] the first colourised character and red choirmaster clothes in The Band Concert (exhibit D),[15] and the sorcerer version in Fantasia (exhibit E)[16] can only be exploited after the expiration of their copyrights in 2025, 2031 and 2036 respectively.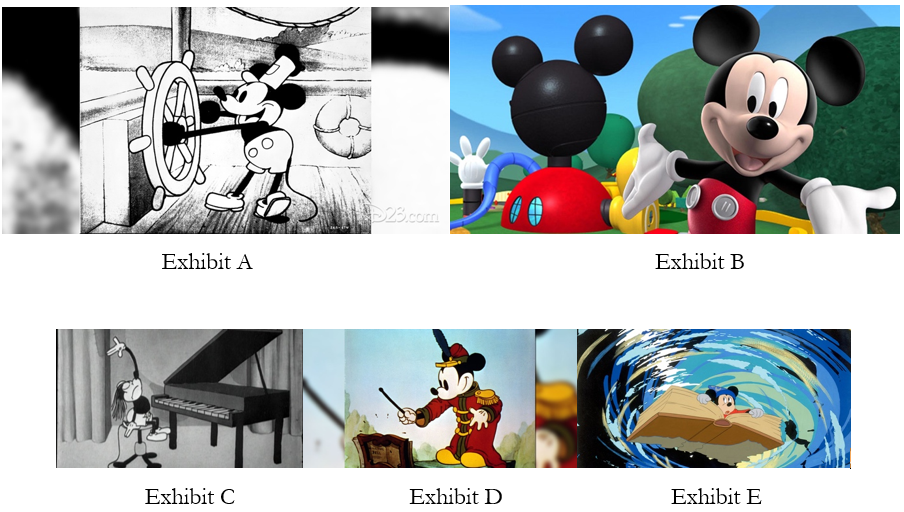 Disney can continue to monopolise the Steamboat Willie character through other means, specifically, by exercising their vast trademark protection which extends to around 21 active registered marks in more than 12 different classes.[17] Even if one were to create a derivate motion picture around the character and be free from copyright claims, if the term 'Mickey Mouse' or the well reputed logo (Exhibit F) is used,[18] a trademark infringement claim can be anticipated, with the said work to affect its official brand. In a very similar scenario, the United States District Court for the Southern District of New York in Frederick Warne & Co. v. Book Sales, Inc.[19] stated the following – "the fact that a copyrightable character or design has fallen into the public domain should not preclude protection under the trademark laws so long as it is shown to have acquired independent trademark significance, identifying in some way the source or sponsorship of the goods."

Conclusion
From the above, it is evident that copyright legislation has been influenced previously by Disney but this time around, chances of the same seem bleak. Characters including but not limited to Steamboat Willie Mickey Mouse, The Opry House Mickey House and The Wise Little Hen Donald Duck could all enter the public domain in the next five years and open them to new derivative works produced by small independent creators. Disney will have to fight it out in court and rely on its trademark protection to establish the secondary meaning of its enigmatic characters or surprise the world yet again with a copyright extension.
---
[1] Dave Smith, Steamboat Willie, Library of Congress, https://www.loc.gov/static/programs/national-film-preservation-board/documents/steamboat_willie.pdf (last visited Jul. 9, 2022).
[2] Disney, Trefis, https://www.trefis.com/company?hm=DIS.trefis (last visited Jul. 9, 2022).
[3] Module 1: Copyright and the Public Domain, Berkman Klein Center for Internet and Society, https://cyber.harvard.edu/copyrightforlibrarians/Module_1:_Copyright_and_the_Public_Domain (last visited Jul. 9, 2022).
[4] Zack Crockett, How Mickey Mouse Evades the Public Domain, Priceonmoics (Jan. 7, 2016), https://priceonomics.com/how-mickey-mouse-evades-the-public-domain/.
[5] Id.
[6] Copyright Timeline: A History of Copyright in the United States, Association of Research Libraries, https://www.arl.org/copyright-timeline/ (last visited Jul. 9, 2022).
[7] Supra note 5.
[8] Kaitlyn Hennessey, Intellectual Property—Mickey Mouse's Intellectual Property Adventure: What Disney's war on Copyrights has to do with Trademarks and Patents, 42 W. New. Eng. L. Rev. 25, 28 (2020).
[9] Disney's Influence on U.S. Copyright Law, Cardozo Law (Aug. 26, 2021), https://online.yu.edu/cardozo/blog/disney-influence-copyright-law.
[10] Phyllis Schlafly, Why Disney Has Clout with the Republican Congress, Eagle Forum (Nov. 25, 1998), https://eagleforum.org/column/1998/nov98/98-11-25.html.
[11] Hawley Introduces Bill to Strip Disney of Special Copyright Protections, Josh Hawley U.S. Senator for Missouri (May 10, 2022), https://www.hawley.senate.gov/hawley-introduces-bill-strip-disney-special-copyright-protections.
[12] Steamboat Willie (Film), D23 The Official Disney Fan Club, https://d23.com/a-to-z/steamboat-willie-film/ (last visited Jul. 9, 2022).
[13] Mickey Mouse Clubhouse (Television), D23 The Official Disney Fan Club, https://d23.com/a-to-z/mickey-mouse-clubhouse-television/ (last visited Jul. 9, 2022).
[14] The Opry House is Released, D23 The Official Disney Fan Club, https://d23.com/this-day/the-opry-house-is-released/ (last visited Jul. 9, 2022).
[15] Band Concert, The (Film), D23 The Official Disney Fan Club, https://d23.com/a-to-z/band-concert-the-film/ (last visited Jul. 9, 2022).
[16] Fantasia (Film), D23 The Official Disney Fan Club, https://d23.com/a-to-z/fantasia-film/ (last visited Jul. 9, 2022).
[17] Trademark Search conducted on the WIPO Global Brand Database for 'Mickey Mouse' with the US TM Filter – https://branddb.wipo.int/branddb/en/.
[18] U.S Trademark 0247156, registered in class 9 on 18/09/1928.
[19] Frederick Warne & Co. v. Book Sales Inc., 481 F. Supp. 1191, 1196–97 (S.D.N.Y. 1979).

Chanda Shashikant & Vivek Basanagoudar
Authors
Fourth year law students at Symbiosis Law School, Hyderabad, and Jindal Global Law School.