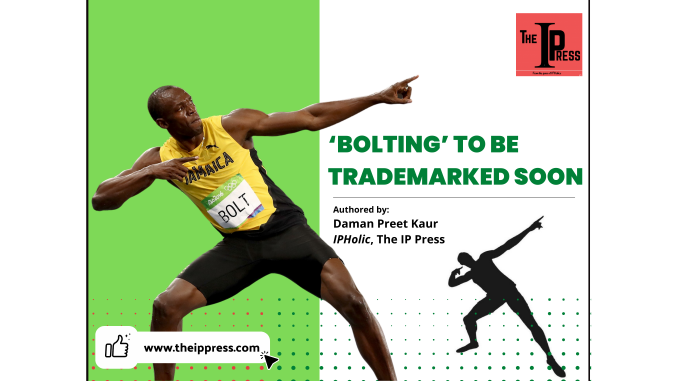 After registering his name " lighting Bolt " and the slogan " BOLT THE WORLD", the fastest man in the world i.e. Usain Bolt is all set to trademark his victory pose called 'bolting' or " to the world". He filed an application with the US patent and trademark office on 17.8.2022 and shared the same on his Twitter page. The holder of 11 world titles filed to register this pose about 12 years ago but was denied on the ground that the move was not established as his identification mark as it was quite early in his career to register it as his trademark.
USPTO APPLICATION
The fastest man in history already owns a Tracks&Records restaurant chain with outlets in Jamaica. But as per his application no. 97552042 he intends to use it for his business dealings with eyeglasses, sunglasses, jewellery, purses, carrying bags, travelling bags, umbrellas, walking sticks, clothing, sporting goods, restaurants and sports bars.
EXISTING TRADEMARK OF VICTORY POSES
It is not the first time a player got his victory pose trademarked. Players even trademark their identification names, catchphrases or victory signs. Athletes are playing smart by getting them registered such as Nike's "JUMPMAN" is the picture of Michael Jordan while dunking, the "MOBOT" pose of Mo Farah, the "ELEVEN OF HEARTS" gesture of Gareth Bale and the "JLINGZ " gesture of English midfielder Jesse Lingard.
REGISTERING VICTORY POSE TRADEMARKS: ARDUOUS TASK
Athletes nowadays recognise the value they hold and the modes they can commercialise them. Whether it is registering their names, surnames, initials or even signatures that are trademarks. But it is not always a piece of cake for them. It is an arduous and long legal battle for some big business houses like in the case of Rentmeester v. Nike
The plaintiff filed for damages on the ground that Nike infringed his copyright of a photograph taken in 1984 to create the Jumpman logo. After a 30 year long legal battle the court ruled in favour of Nike on the ground that the logo is clearly different from Rentmeester photo in material details and the logo is not substantially similar to the Rentmeester picture.
Now only the victory poses even the athletes find it quite hard to register and retain their very own names as trademarks. Like in India Sachin Tendulkar registered his name as a trademark for a device-based company. But the same thing resulted in 9 years long battle for Argentine based footballers i.e. Lionel Messi in the case of Messi V. Massi
Messi filed for registering his surname in 2011 for a sportswear brand in the EU which was challenged by a cycling company named Massi on grounds of similarities between the two logos. The EU court's general court after hearing the contentions of both sides finally gave the verdict in 2018 that Messi can retain his trademark on the ground that the footballer is too well known for any confusion to arise.
Athletes and sportsmen more or less have a short career as many take early retirement on account of any injury or loss of form. They are a living brand on their own and getting it registered is quite a good investment move. The sports industry is quite a profitable market avenue and now even the IP law is also entering this area. The youth especially find it lucrative as said in the words of Mandela, "Sports have the power to change the world. It speaks to youth in a language they understand."
Daman Preet Kaur
Author
I am a final year student, pursuing law from Punjabi University Patiala. I have interned with 7 law firms and throughout these internships, I try to make sure they deal with different areas of law so that I can learn and diversity my knowledge as much as possible.
As I truly believe a great lawyer is one who knows something of everything and everything of something.