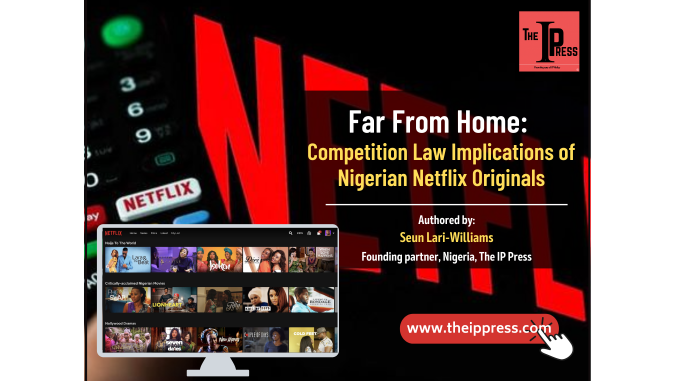 Netflix has become a household name in Nigeria, with the platform having an increasing number of subscribers from the country. Globally, it is synonymous with on-demand streaming; hitting massive records with movies and TV shows like House of Cards, Breaking Bad, Squid Game, and Stranger Things. Nollywood movies jumped on the Netflix train in 2018, starting with Genevieve's Lion Heart and the likes. Since then, many hit Nigerian movies have found a home in Netflix; from Omo Ghetto: The Saga, to King of Boys, Blood Sisters, Anikulapo…Now, Nigerian movies are viewed in about 200 countries.
Until recently, Netflix's activities in the Nigerian movie scene had been limited to the distribution of movies. However, with its latest additions to the list – like Blood Sisters and a few weeks ago, Far From Home, Netflix has taken up a new and more powerful role in the Nigerian movie industry – producer. Netflix is no longer just a distributor of Nollywood movies; it is now also a player and competitor in the Nigerian movie industry. Film and TV producers in Nigeria will now have to compete not only with each other but with Netflix.
While the enormity and quality of resources that Netflix has brought to the table could mean a great improvement in the quality of movies and TV series coming out of Nigeria, the dual role that it now assumes within the digital ecosystem that it controls also raises competition law issues.
This post explores the competition law implication of Netflix's entry into Nigeria's film and television industries. It considers Netflix's role, not only as a platform operating in Nigeria's Subscription Video on Demand (SVOD) market but also as a content creator—competing with traditional movie producers.
For The Love of Netflix
Netflix is loved around the world for many reasons, but most especially its breadth of content and its wide distribution reach, with some movies being available to viewers in up to 243 countries.[1] Also, unlike the traditional movie industry, one's ability to consume content and Netflix's ability to funnel them is no longer constrained by time or by budget. Furthermore, a movie placed on Netflix can be monetized over a much longer time (spread over all current subscribers as well as used to attract future subscribers for years to come) than it could be if it were released in any other way.[2]
Netflix invests and releases large volumes of new shows and movies regularly. It spent close to $20 billion on content in 2020 (and almost $15 billion in 2019). That's far more than more traditional players spent — in 2019, Fox spent $5.7 billion and Sony Pictures spent $2.7 billion.
Issues for the Nigerian Competition Law Authorities to Address
The entry of this giant into the Nigerian market has many competition law consequences. Firstly, Netflix is fast becoming the gatekeeper of Nigeria's movie industry. It has "taken a firm grip on the country's movie industry, with many movie producers now more interested in having their projects on the platform than cinemas."[3] Ironically, the same movie producers are also expressing concern over the domination of the industry by Netflix, which arbitrarily decides the rates it offers for Nigerian films.[4] But considering the wide reach of Netflix, these producers are likely making the hard choice between a wider distribution and more financial control.
Also, Netflix has the capacity to easily outbid its rivals–local TV networks and platforms. At the Nigeria Digital Content Regulation Conference held in Lagos last month,[5] it was stated that Netflix had invested in over 200 local licensed titles already, co-producing and commissioning original film content. No other movie production company in Nigeria has had this type of success within such a short period. Netflix, therefore, has the stage set for it to monopolize Nigeria's most recognizable movie stars, dragging its huge, loyal fan base to its platform. It is also able to gain exclusive rights to the content that other streaming services might want access to.[6]
Furthermore, the vertical integration by Netflix, that is its ownership of all stages of production, creates the risk of elimination of competition in Nigeria's film industry. As a dominant studio, it has the resources to own and operate the production, distribution, and exhibition of numerous films while smaller studios and independent studios struggle to compete.[7]
In addition, there is the risk of a big chunk of Nigeria's media being held in the hands of Netflix. This could lead to an emergence of a cartel system in Nigeria's film industry, a case where Netflix and only Netflix decide what movies should be produced and what the standard for the industry should be. There are cultural consequences to this sort of internationalization.
Self-preferencing—which big techs are often tackled for—is also a thing on Netflix, where its self-produced movies and tv shows feature in a prominent position (i.e., in a stripe significantly wider than the ones of the other categories of content).[8] This is in addition to the power that the platform has over its algorithm to influence the viewer's choice through suggestions and repeated advertising of a movie.
Regulating Competition in Nigeria's Film Industry
Nollywood studios are on the path to becoming the underdog in the film industry (if not already there). These major studios who have so far been fairly placed to contract with Netflix and have their films available for rent might lose whatever leverage they have, with Netflix becoming running its own productions in Nigeria.
It is not too early to conclude that Netflix's activities in Nigeria will curb competition and limit consumer choices. As such, all relevant authorities and stakeholders should be on alert and enforce its provisions where necessary. Admittedly, provisions of Nigeria's Federal Competition and Consumer Protection Act (FCCPA), 2018, especially on abuse of dominant positions, anti-competitive agreements, and monopoly are applicable to Netflix. However, the Act's non-consideration of the unique nature of the peculiarities of competition in the digital market scene would leave quite some regulatory gaps.
Nigeria would do well to borrow some pointers from the EU's Digital Markets Act in its definition of a gatekeeper platform for purposes of the digital market and the various disclosure obligations, checks, and restrictions imposed on such platforms. Key areas for regulatory attention would include the use of big data, the behavior of content-producing digital streaming platforms like Netflix towards third-party works on their platforms, curbing all forms of anti-competitive behavior in relation to talent use, consumers' home-page lineup, etc.
Generally, competition authorities need to put in place rules that promote clarity and certainty for the market before the issues get critical. These rules should be based on standards and international best practices, and act as guidelines or pointers for the market—rather than be an inflexible set of prescriptive rules that hamper innovation, and do not keep pace with technology or business models.
Nigeria should continue to work together with the competition authorities of other African countries, given the greater shared challenges that digital markets pose for African countries. The benefits of this include sharing knowledge, developing effective strategies in digital markets, and providing a stronger united front in dealing with global tech companies.
---
[1] Aguiar, L., Waldfogel, J. Netflix: global hegemon or facilitator of frictionless digital trade? J Cult Econ 42, 419–445 (2018). https://doi.org/10.1007/s10824-017-9315-z accessed 20 December 2022
[2] Tony You, "Why Does Netflix Make So Many Movies?" Medium
https://medium.com/alpha-beta-blog/why-does-netflix-make-so-many-movies-941eebfed2b4 accessed 28 December 2022
[3] Sahara Reporters, "Nigerian Filmmakers React As Netflix Offers $90,000 For Nollywood, $500million For Asian, European Films", Sahara Reporters 14 August 2021:
https://saharareporters.com/2021/08/14/nigerian-filmmakers-react-netflix-offers-90000-nollywood-500million-asian-european-films#:~:text=Nigerian%20Filmmakers%20React%20As%20Netflix,Asian%2C%20European%20Films%20%7C%20Sahara%20Reporters accessed 27 December 2022
[4] Ibid
[5]Guardian Newspaper, "Netflix invests N9bn in Nigeria film industry", 2016 to 2022" 12 November 2022 https://guardian.ng/news/netflix-invests-n9bn-in-nigeria-film-industry-2016-to-2022/ accessed 20 December 2022
[6] Al Kasper A New Studio Era: How Netflix is Becoming a Threat to the Film Industry" https://pdxscholar.library.pdx.edu/honorstheses/1271/ accessed 20 December 2022
[7] Ibid
[8] Alice Rinaldi, "Spielberg's antitrust: Netflix, Amazon and the Draft Digital Markets Act", September 2021, https://www.lexxion.eu/en/coreblogpost/spielbergs-antitrust-netflix-amazon-and-the-draft-digital-markets-act/, accessed on 28 December 2022