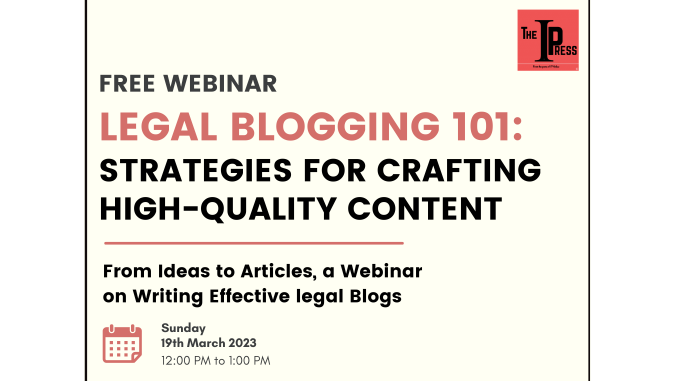 Join us for a free webinar on how to write engaging and impactful blogs with The IP Press. Whether you are an experienced blogger or just starting out, this webinar will provide you with valuable tips and insights on how to create compelling blog posts that captivate your readers.
Date: 19th March 2023
Time: 12:00 PM to 1:00 PM
Speaker: Ms. Isheta T Batra, IP & Media Counsel | Founder, Trailblazer Advocates | Editor, The IP Press
Registration Link: https://forms.gle/HCytLbzAjDdnNbQc8
Led by our team of experienced writers and editors, this webinar will cover a range of topics, including how to generate ideas for blog posts, best practices for structuring and formatting your content, and tips for promoting your blog and increasing your readership.
This webinar is open to anyone who is interested in improving their writing skills and creating successful blog content, regardless of their level of experience. Don't miss this opportunity to learn from the experts and take your blogging to the next level.
Register now for this free webinar on how to write blogs with The IP Press. We look forward to seeing you there!