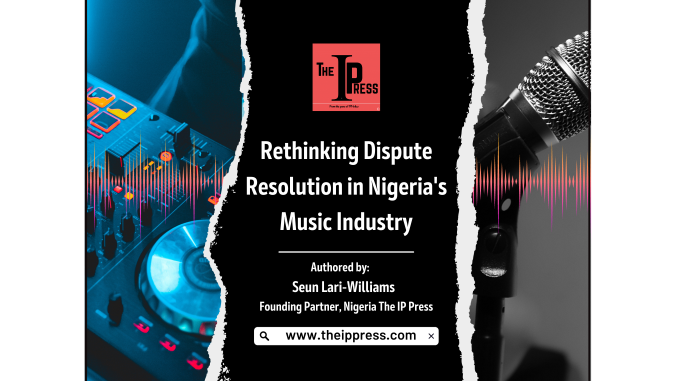 Nigeria's music industry, a vibrant tapestry of creativity, has long been marred by disputes between artists and labels. An anecdote my father once shared comes to mind–the legendary Fela Kuti, in the throes of a contract dispute, responded by gleefully emptying buckets of faeces in front of his record label's entrance. While Fela's approach may have elicited laughter, today, we confront a less humorous scenario—one that may have contributed to the recent untimely demise of Nigerian rising star, Ilerioluwa Oladimeji Aloba, aka "Mohbad".[1] Unfair contracts and a lack of effective dispute resolution loom large, casting a shadow over the industry. This article delves into these issues, exploring potential solutions from the field of Dispute System Design (DSD) for a harmonious future in the Nigerian music industry.
Challenges with Dispute Resolution in Nigeria
Generally, the challenges with dispute resolution in Nigeria are numerous; the path to resolving contractual disputes often winds through an overburdened court system, and the music industry is not insulated from this. Consider the case of King Sunny Ade, who has been embroiled in a dispute with his former record label for decades.
If this is the tale with court proceedings, the next question is probably why ADR mechanisms, such as mediation and arbitration, are not helping. On this note, the laudable initiative behind the Copyright Commission's partnership with the World Intellectual Property Organization (WIPO) is commendable. However, the initiative inherits certain limitations of ADR methods. First, some ADR methods, especially arbitration, are prohibitively expensive. As for mediation, the cost associated with WIPO's mediation services, at USD 100 per party (and for the first four hours), exceeds the means of many artists who seek swift and cost-effective solutions. There is also the general fact of the voluntariness of ADR methods (except when made compulsory by law). This means that participants in an ADR process cannot be forced against their will to reach a resolution of their dispute. They can walk out at any stage. On the contrary, one cannot walk out of a court proceeding.
It is against the foregoing background that Senator Ishaku Abbo noted that plans are underway to establish a commission that would see to dispute resolution between record labels and their signees. The senator who sponsored the Creative Economy Commission Bill is reported to have said: "When we have this commission, nobody will start taking things into their own hands".[2] One curious implication of the senator's statement, however, is the admission that existing dispute resolution mechanisms in Nigeria have failed. The question that arises is: why should we believe that this new commission in the works would improve dispute resolution for Nigeria's music industry?
Need to Focus Less on "Ripe" disputes
The same—much talked about—power imbalance between artists and music companies plays a major role when it comes to determining how disputes would be resolved under the contract. And when one side has most of the power to decide how disputes should be resolved and who the mediator/arbitrator should be, where it should be heldetc., this should raise concerns.[3] The confidentiality of ADR processes and their lack of public scrutiny also add to the problem.
This state of affairs makes nonsense of any commission set up for the resolution of ripe disputes, as such fora could be easily sidelined by contracts. This would effectively throw stakeholders in the music industry back to the same "age of self-help" that we currently find ourselves in. Frustrated labels will continue to resort to bullying artists and frustrated artists—to ranting on social media, damaging the reputation of labels and the industry. Contrary to comments by some, having a lawyer will not necessarily help in such situations, as lawyers are often powerless when they have no bargaining chip.
Nonetheless, the music industry will suffer the cost in the long run. It has been observed that people who do not trust dispute resolution systems may choose not to use them.[4] This would inevitably lead to more chaos. With the controversy surrounding Moh'bad's death, it would not be surprising if Nigerian musicians take to the streets in collective action in response to the imbalance in power of the system, as seen with Black Lives Matter, MeToo, etc.
How Dispute System Design (DSD) Can Empower Nigeria's Music Industry
The Nigerian music industry, as we've seen, faces substantial challenges in resolving disputes effectively. To usher in a new era of problem-solving, it is crucial to move beyond traditional approaches. This is where DSD comes into play. DSD is the art of crafting the means to prevent, manage, and resolve streams of disputes or conflict.[5] The Lagos Multi-Door courthouse for example is the output of a DSD, designed such that all ADR processes are available for all cases that are filed in the court to which it is connected.[6] The recent plans to establish a dispute resolution system for the creative economy[7] is a form of DSD in action. However, DSD goes beyond crafting processes and systems. This field has developed practices[8] and principles that ensure justice and fairness are taken into account in the not just the resolution of disputes, but also the prevention and management of disputes—including those relating to contracts.[9] In what ways might DSD be able to help Nigeria's music industry?
Addressing Power Imbalances in Music Contracts: Shaping Fair Resolutions
DSD reimagines contracts as proactive tools that anticipate and prevent conflicts rather than reacting to them. It transforms contracts from passive legal documents into active safeguards against misunderstandings and disappointments. Given the uneven distribution of power in music contracts, DSD confronts the justice and fairness issues within these agreements, particularly the menace of adhesion contracts that disproportionately favour the more influential party.[10]
Following its principles, one would recommend that record labels, while holding considerable bargaining power, should exercise caution in wielding it during negotiations with their artists. Such heavy-handed tactics can incur hidden costs,[11] damaging both the label's reputation and the artist-label relationship in the long run. To mitigate these risks, it is advisable for labels to prioritize their interests while fostering a collaborative and mutually beneficial atmosphere.
Adopting DSD principles
By embracing DSD principles, stakeholders in the Nigerian music industry can embark on a transformative journey to enhance dispute resolution. For example:
Engaging Relevant Stakeholders: Involve artists, Collective Management Organizations (CMOs), industry experts, legal professionals, and business advisors in the design of dispute resolution systems of record labels. Their insights into industry customs, best practices, and fair business standards will shape a more effective resolution process.
Early Intervention as Standard Practice: Adopt early intervention mechanisms as a standard practice, all the while adhering to DSD principles in good faith. Early resolution can prevent disputes from escalating.[12]
Promoting Education and Awareness: Increase awareness about dispute resolution among artists, record labels, and legal professionals. Educate them on the principles of DSD to ensure a more informed approach to determining dispute resolution clauses.
Conclusion
In the symphony of Nigeria's music industry, contractual disputes need not be a cacophonous discord. By reimagining contracts as proactive instruments of harmony and by implementing fair and early intervention strategies (rather than waiting to address ripe disputes), we can create an industry where artists and labels find common ground. The time has come to not only acknowledge the problem but to act upon it, to ensure that the music keeps playing, unhindered by the bitter notes of contract disputes. The stage is set for change; it is time for Nigeria's music industry to embrace a new era of dispute resolution.
---
[1] Premium Times, 'Nigerian Rapper Mohbad Dies at 27', 13 September 2023. Available: https://www.premiumtimesng.com/news/top-news/625228-nigerian-rapper-mohbad-dies-at-27.html Accessed 5 October 2023
[2] Ibid
[3] Amsler, Lisa Blomgren, Control Over Dispute-System Design and Mandatory Commercial Arbitration (July 31, 2004). Law and Contemporary Problems, Vol. 67, p. 221, 2004, Indiana University, Bloomington School of Public & Environmental Affairs Research Paper No. 2011-05-08, Available at SSRN: https://ssrn.com/abstract=1827763
[4] Ibid
[5] Amsler, Lisa Blomgren and Martinez, Janet and Smith, Stephanie, Dispute System Design: Preventing, Managing, and Resolving Conflict (May 30, 2020). Lisa Blomgren Amsler, Janet K. Martinez, and Stephanie Smith, Dispute System Design: Preventing, Managing, and Resolving Conflict. Menlo Park: Stanford University Press (2020), Available at SSRN: https://ssrn.com/abstract=3658572
[6] Oyeniyi, Ajigboye, The Concept of Multi-Door Courthouse in Nigeria: Rethinking Frank Sander's Concept (November 16, 2014). Available at SSRN: https://ssrn.com/abstract=2525677 or http://dx.doi.org/10.2139/ssrn.2525677
[7] Punch News, "Mohbad: Senate mulls new commission to resolve artiste-manager disputes – Abbo", 21 September 2023:https://punchng.com/mohbad-senate-mulls-new-commission-to-resolve-artiste-manager-disputes-abbo/
[8] James P. Groton, "Designing A Contractual Dispute Prevention, De-Escalation And Real-Time Resolution System": https://jimgroton.com/wp-content/uploads/2021/10/Designing-a-contractual-dispute-prevention-de-escalation-and-real-time-resolution-system.pdf accessed 10 October 2023
[9] Bingham, Lisa B. "Control over Dispute-System Design and Mandatory Commercial Arbitration." Law and Contemporary Problems, vol. 67, no. 1/2, 2004, pp. 221–51. JSTOR, http://www.jstor.org/stable/27592040. Accessed 7 Oct. 2023
[10] Amsler, Lisa Blomgren and Martinez, Janet and Smith, Stephanie, Dispute System Design: Preventing, Managing, and Resolving Conflict (May 30, 2020). Lisa Blomgren Amsler, Janet K. Martinez, and Stephanie Smith, Dispute System Design: Preventing, Managing, and Resolving Conflict. Menlo Park: Stanford University Press (2020), Available at SSRN: https://ssrn.com/abstract=3658572
[11] William L. Ury, Jeanne M. Brett, Stephen B. Goldberg, 'Three Approaches to Resolving Disputes: Interests, Rights, and Power', Negotiation Fundamentals: https://www.kumc.edu/documents/anes/Negotiation%20Fundamentals%20-%20Berger-Sep2018.pdf accessed 10 October 2023
[12] Lande, John and Benner, Peter, Why and How Businesses Use Planned Early Dispute Resolution (January 24, 2016). 13 Univ. of St. Thomas Law Journal 248 (2017), University of Missouri School of Law Legal Studies Research Paper No. 2016-03, Available at SSRN: https://ssrn.com/abstract=2722664