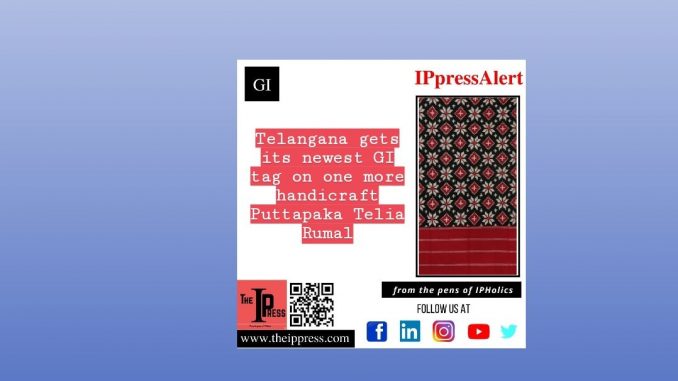 Telangana, an Indian State, was the second geographical region to get GI tag on Pochampally Ikat on 31st December 2004 (access here) after West Bengal being first to receive GI tag on Darjeeling tea on 29th October 2004 here
Yet again after so many GIs in its basket, Telangana gets its newest GI tag on one more handicraft Puttapaka Telia Rumal on 12th May 2020. The application was filled by the Consortium of Puttapaka Handloom Cluster-IHDS in the year 2017.
According to a report in The Hindu (access here) , the Deputy Registrar of the Geographical Indication, Chinnaraja G. Naidu said that "Telia Rumal cloth involves intricate handmade work with cotton loom displaying a variety of designs and motifs in three particular colours — red, black and white," He said that the GI has been given after due verification. [The final order has not been updated on the official website. The status says Advertised. [click here]
The Puttapaka Telia Rumal cloth involves a number of intricate handmade work with cotton loom displaying a variety of design and motifs in 3 particular colours, namely, Red, Black and White. The process of preparation uses gingelly oil and natural vegetable dye which gives it a distinct and unique quality in the form of its texture and smell. The Telia Rumal can only be created by a traditional handloom process to retain its quality and not by any mechanical process. 
All the designs and motifs are derived from the traditional geometrical patters which represent flower and leaves, half-moon designs, wall clock, airplane, check and square designs. The main area in which PuttapakaTeliaRumal is produced is Puttapaka village, Narayanpur Mandal, YadadriBhongir District, Telangana State. For more details click here
Telangana possess the following GI tags:
1. Pochampally Ikat [Handicraft] here
2. Nirmal Toys and Craft [Handicraft] here
3. Silver Filigree of Karimnagar [Handicraft] here
4. Nirmal Furniture [Handicraft] here
5. Nirmal Paintings [Handicraft] here
6. Gadwal Sarees [Handicraft] here
7. Cheriyal Paintings [Handicraft] here
8. Pembarthi Metal Craft [Handicraft] here
9. Siddipet Gollabama [Handicraft] here
10. Pochampally Ikat (Logo) [Handicraft] here
11. Narayanpet Handloom Sarees [Handicraft] here
12. Banaganapalle Mangoes [Agricultural] here
13. Adilabad Dokra [Handicraft] here
14. Warangal Durries [Handicraft] here
15. Hyderabad Haleem [Food stuff] here
16. Telia Rumal [Newest GI tag given on 12th May 2020]