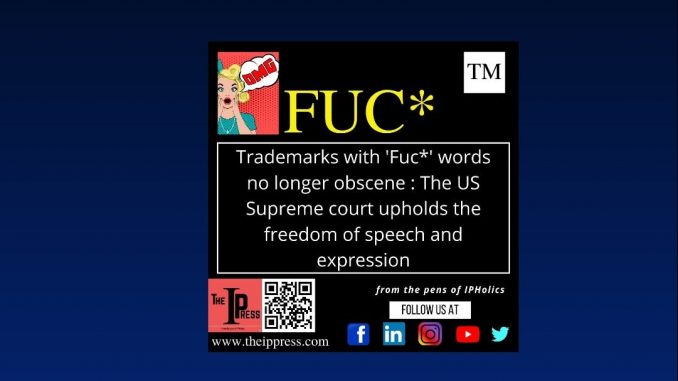 In a recent U.S. Supreme Court judgment of Iancu v. Brunetti [1] the law which bans the registration of such trademarks, symbols or words that were considered 'scandalous' or 'immoral', i.e. the Lanham Act, was struck down in a 6:3 decision and was celebrated as a victory for advocates of free speech while raising concerns many for allowing the protection of racist or profane brand names.
This case was brought before the court by fashion designer Erik Brunetti, who was seeking a Trademark protection for his phrase "FUCT". In its study, the court found that this four-letter word had a peculiar pronunciation. It was supposed to be pronounced by each letter that is 'f –u- c-t', but the majority could read it in a way that could relate it to a specific profanity.
This case raised two major issues before the court:
1. That this could lead to opening the door for a flood of terms or words that could be discriminating or offensive to people and this case could act as the precedent against them.
In response to which all the nine judges agreed that a law banning "immoral" trademarks was too wide and allowed the government to have a broad discretion over what message they to approve or deny.
2. The legislators could later have to amend the law living a narrow scope of for future use of any word that could be open to interpretation.
Herein the verdict stated it is not the court's duty to predict the move of Congress in the future while giving a decision.
The dissenting judges were of the opinion that laws should have been interpreted naturally and banned any word that could have vulgar or obscene interpretation, as freedom of speech does not confer an unrestricted using any such modes of expression.[2]
Denying registration to a trademark on basis of a word which may come off as obscene or vulgar is not limited to the U.S.A. It seems to be a common ground of refusal in almost all nations, even the Paris Convention as well as TRIPS Agreement provides for denial of registration of trademark, if they are found 'contrary of morality of public order'. However the spectrum of what could be considered as offensive varies across cultures, languages and composition of the society.
Jake Linford, in his paper, discusses that one of the biggest loopholes of the above discussed trademark regulation is that it does not factor in how certain words can lose or gain meaning over times. Terms or slangs often change their usage through what he terms as a "semantic shift". This could lead to misconstruction in the nature and role of this word in the public's understanding, or the consumers' perception, and hence affect the policy of trademark.[3] For e.g., Unilever faced a backlash of what they had innocently named in 1950's as 'Golden Gaytime Ice-Cream Jolly'; in England, jam making company Robertson's had to discontinue its golliwog logo after many years as the children's doll today was seen as racist.[4]
Indian law is no exception to the above. The current standing law of Section 9(2) of the Trademark Act 1999, states as one of its grounds that if any mark is found to comprise of any matter that is likely to hurt religious susceptibilities of any class or sections of the citizens of India or contains or compromises of scandalous and obscene matters it would be considered as an absolute ground for refusal of registration of The trademark.
While the section does not define what could be categorized as 'scandalous' or 'obscene', The Manual of Trade Mark, Practice and Procedure, issued by Ministry of Commerce & Industry, Government of India quotes in relation to making such decision:
"…the Examiner must be objective, not subjective. Objectivity means being neither out of date nor a trend setter; not setting some kind of moral standard but also not being insensitive to public opinion.
Each case must be decided on its own facts. The dividing line is to be drawn between the mark which amounts only to dis-taste and the mark which would justifiably cause outrage or would be the subject of justifiable censure as being likely to undermine current religious, family or social values."[5]
In light of the above Indian courts have yet to see any significant development on such questions, or any similar issues to be raised before them. A similar scenario could deduced from the case of the clothing brand 'FCUK'.
In 1998 the Brand French Connections intended to get their trademark 'FCUK' registered in India. The TM is now registered in class 18 but opposed in class 25 and others, however, this case has dragged its feet over ten years of litigation. Although the judgment was delivered by the customer base in India with evidence showcasing a huge fall in the sales of the brand and people didn't want to associate themselves to the possibilities of someone misreading their label. 
That said, what left me astonished are the facts below:
| | | | |
| --- | --- | --- | --- |
| App. no. | Class | Mark | Status |
| 3337426 | 25 | FUCK WHAT PEOPLE THINK | Denied registration: The objection is raised under S 9(2) (c) of the Trade Marks Act, 1999 as the mark comprises or contains scandalous or obscene matter |
| 3853928 | 25 | FUCKIRA PRODUCTS | Not denied registration under Section 9(2)(c) but objected under Relative Grounds of refusal (Section 11) |
| 793780 | 25 | FCUK | Opposed |
| 793779 | 18 | FCUK | Registered |
Uncertainty in deciding whether the TM is scandalous or not in India on the basis of phonetic and visual similarities with the word "FUC*".
In light of the global take of granting trademarks by attempting to give a wider scope to protect freedom of speech and expression, and the right of traders, Indian Jurisprudence does not seem to be developed much. It could be both because of the lack of acceptance by public that brands themselves do not feel like taking the risk of wading into any untoward association, or could be narrow scope of interpretation law that still aligns itself to the archaic meaning of words without considering the consumer preference on perception to the term in question.
With the cross global circulation of trends and receiving of international brands to the domestic market, hopefully, we too would welcome some changes to our laws.
---
[1] https://www.supremecourt.gov/opinions/18pdf/18-302_e29g.pdf
[2] J. Scott Applewhite, "Supreme Court Strikes Down Ban On Trademarking 'Immoral,' 'Scandalous' Words, Symbols", June 24, 2019. https://www.npr.org/2019/06/24/732512169/supreme-court-strikes-down-ban-on-trademarking-immoral-scandalous-words-symbols
[3] Jake Linford, A Linguistic Justification for Protecting "Generic" Trademarks, 17 Yale J.L. & Tech (2015).
[4] Arpan Banerjee, "The legal pitfalls of using offensive brand names", April 2019, https://www.livemint.com/opinion/online-views/opinion-the-legal-pitfalls-of-using-offensive-brand-names-1554749675338.html.
[5] A draft of Manual of Trade Marks Practice & Procedure, Ministry of Commerce, GoI, http://www.ipindia.nic.in/writereaddata/Portal/IPOGuidelinesManuals/1_32_1_tmr-draft-manual.pdf