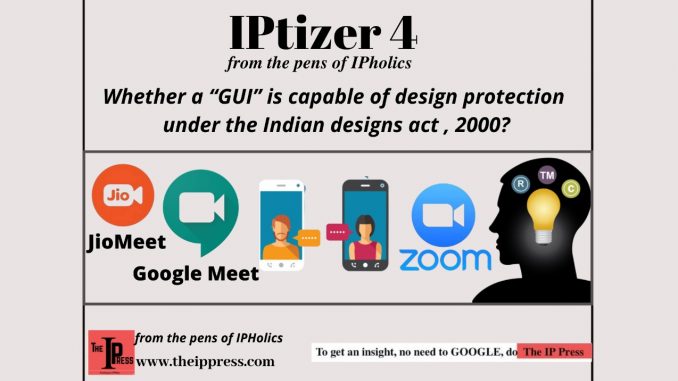 A rapid growth in the demand for virtual platforms to operate various meetings is evident today. One such platform during the ongoing pandemic is "JioMeet" and another is "GoogleMeet". However, JioMeet has witnessed legal controversies from the day it was launched, not only for the privacy issues but also for being potentially infringing. It was reported that the Graphical User Interface (GUI) of the "JioMeet" is substantially similar to its competitor "Zoom".
In India, GUI is a protectable subject matter under the Designs Act, 2000 and theoretically under the Copyright Act, 1957. Accordingly, it could be argued that the GUI used by JioMeet could possibly violate Zoom's GUI.
Nevertheless, the question that needs to be answered is whether a "GUI" is capable of design protection under the Designs Act, 2000?
Moving ahead, the Indian perspective on GUI protection appears unclear. For example, Amazon's application for a GUI was refused by the CGPDTM and was held that since "a GUI is not an 'árticle of manufacture' and is not physically accessible, it cannot be called an 'article' under section 2(a) of the Designs Act". On the contrary, GUIs have been given protection in India under Class 14-04 which deals with "screen displays and icons" such as a 'Monitor with GUI' registered in 2015, a 'Mobile Phone' registered in 2016, and a 'Display Screen with Graphical User Interface' registered in 2014.
ISSUE:
Whether there is a need to re-interpret the Designs Act, 2000 and to derive the legislative intent with respect to the definition of an "article" under the Act?
Examples of some registered GUI in India: