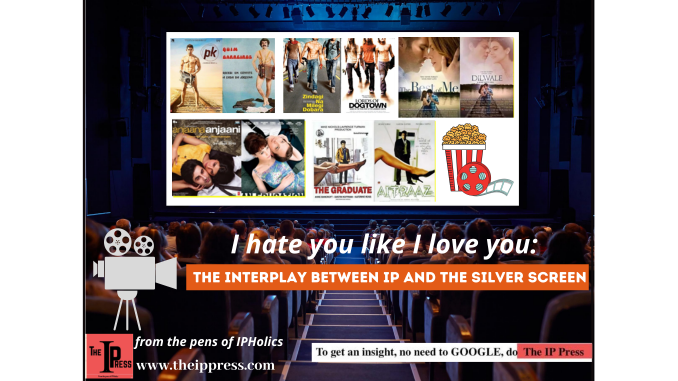 The Cinema Industry is one of the most popular industries in the world. Movies have been loved since ages for offering us all the entertainment, drama, thrill, love and comedy in a span of 90 – 180 minutes. The unique attribute of movies is that they are a culmination of diverse forms of creativity, all knit together for a common purpose – entertainment. The creativity is seen in all the means, the movies use to communicate with the audience, be it through their posters, cinematography, music, story line, clothing, dialogues and what not. This creativity and its expression (in any form) is the common link between the silver screen and the Intellectual property, and this is where the whole "hate you love you" equation begins.
In this article we will be taking a look at both the relationships, i.e. movies based on innovations /IP and movies which ran into IP issues.
The earliest movie I remember revolving around the need to identify IP and the concept of rewarding the inventors is the 1990 critically acclaimed movie, "Ek doctor ki maut", wherein a dedicated researcher realises that his idea and research have been used to invent a new vaccine by a fellow researcher. The movie is based on the true story of Subhash Mukhopadhyay who pioneered work on IVF. While the movie did not say anything about patents and inventorship, IP professionals will surely relate it to the concept.
The latest in my list is Sui dhaaga and English medium. While Sui dhaaga revolves around the concept of design theft by the big players, English medium shows the issue of ownership of Family name as "Trademark" in a family run business.
Figuring next on the list are movies whose heart and soul revolve around IP. You might be shocked to know that there is an actual movie called "Intellectual property". Released in 2006, the movie talks about the plight of a young inventor who sacrifices his life and love to create an invention that is aimed at the betterment of mankind. The protagonist is aware of his IP and does not share it with people as he understands that they will steal it from him. Throughout the movie he fights with lobbyists who "steal and sell" ideas. Later he finds himself struggling to safeguard his inventions from going into wrong hands. The movie was not a commercial success and hence many might not know about it and with all due respect, it is not on the top of my list. This made me realise that unless there is a business element (the property element) integrated to IP, it is not much fun. So here are some movies that actually talk about the business of IP or the IP in business, and on the top my list are two equally fantastic movies – "The Founder (2016)" and "The Social Network (2010)". Both movies are brilliant and since both the movies depict the stories of two famous brands, McDonald and Facebook respectively, the connection is instant. It's a pleasure to watch "an idea" being transformed into a billion dollar business. Needless to say, such journeys are not without rift over ownership of the idea. Both these movies portray such rift, exploitation, idea, a business in their own way but IP is at the centre of both. Next on my list are the movies Silicon Valley (2014 series) and Flash of Genius (2008). Flash of Genius is based on the true story of Robert Kearns, the American engineer, who invented the intermittent windshield wiper systems used on most automobiles today. The movie deals with inventions, patents, patent infringement suit, technology licensing, unreasonable royalty rates and most importantly, the passion of an inventor for his work and his ability to stand against the big players. I love the lines by Greg Kinnear (who plays Robert Kearns), "Do they admit it was my invention?", "It's not about money, it's about right and wrong". The movie has very beautifully shown the emotion of an inventor who feels cheated but decides to stand for the right and for his invention against the influential corporations.
Last but not the least is Silicon Valley, a popular TV series on HBO that comically presents the struggle of a start-up and IP issues therein, in particular, copyright infringement.
While these were the movies that showed their love for IP, there are many more which actually landed up in IP issues.
Being the subject matter of creativity, imagination and expression, it is common for movies and its various elements to "get inspired" by a given work, as a result it is also not uncommon for some of them, at least in the recent times, to get tangled into plagiarism and IP issues.
Of all the concepts, the one that particularly attracts me is that of Intellectual property (IP). The relation between movies and IP has many dimensions. Some movies make running references to some form of Intellectual property, there are many which solely revolve around this concept and many more which run into IP issues. Below is a summary of some of the movies that have tasted IP infringement issues:
| | |
| --- | --- |
| Movie | IP issue |
| 3 idiots | Copyright over story from book (5 point someone) |
| Banda ye Bindaas hai | Copyright (My Cousin Vinny) |
| Knock Out | Copyright (Phone booth) |
| Raabta | Copyright (Magadheera) |
| Partner | Copyright (Hitch) |
| Kaante | Copyright (Reservoir Dogs) |
| Judgemental hai kya | Plagiarism in poster (Artist Flora Borsi work) |
| Amistad | Copyright over story from book (Echo of Lions) |
| The Shape Of Water | Copyright issue over the play Let Me Hear You Whisper. |
| A Fistful Of Dollars | Dispute over unofficial remake of movie Yojimbo |
| The Island | Copyright issue over movie The Clonus Horror |
| The Terminator | Copyright issue over "The Soldier", an episode of Television show "The Outer Limits". |
| Nosferatu | Copyright issue over novel, Dracula. |
| The Cabin in the Woods | Copyright issue over novel, The Little White Trip: A Night in the Pines. |
| In Time | Copyright issue over short story "Repent Harlequin!" Said the Ticktockman. |
The above list is not exhaustive and there are many more. While storyline and plots mostly attract copyright issues, the other aspects are also not untouched. Below are some of the movie POSTERS that were accused for being copied. (plagiarism issue)
| | |
| --- | --- |
| Movies in issue | Their posters |
| PK and Quim Barreiros | |
| Zindagi Na Milegi Dobara and Lords of Dogtown | |
| Anjaana Anjaani" and " An Education" | |
| The Graduate and Aitraaz | |
| The Best of me and Dilwale | |
| Judgemental hai Kya and Flóra Borsi's work | |
| 'Batman Begins' and 'Ra.One' | |
| Titanic and Mausam | |
And the list goes on
So it is pretty clear that movies and their evert dimension may have an IP issue attached to it and the love you hate you interplay is here to stay given the enormous creativity a movie needs.
Having said that, it is pertinent to mention that many of the above issues were settled in court and many of them outside. Whatever it was, a huge sum was involved.
Despite all odds and evens, the cinema industry will continue to be loved and continue to entertain. Apart from the issues in creativity, there are copyright issues associated with unauthorised distributorship, online piracy, illegal streaming etc. Back in 2017 Netflix, Amazon and some other studios brought a copyright lawsuit against TickBox over illegal, unauthorized streaming of copyrighted content through the use of TickBox devices. A preliminary injunction was issued against Tickbox and it was later asked to pay $25 Million to the Plaintiffs for copyright infringement. Now here comes another villain, COVID-19, which has changed the way people look at the world let alone cinema and entertainment. While I am keeping my fingers crossed, looks like this is not going to go anytime soon. People are preferring to stay home and thus online entertainment content is increasing. Many movies are getting released online now, the recent being Gulabo Sitabo, Dil bechara, Shakuntala devi, Miss Juneteenth, etc. In this changed scenario, issue like digital piracy and illegal streaming are most likely to increase. We will have to wait and watch to see how the silver screen tackles this new monster in town.
---
This post is written in co-authorship by Ms. Prabha Bagoria and Dr. Bharti Jain.