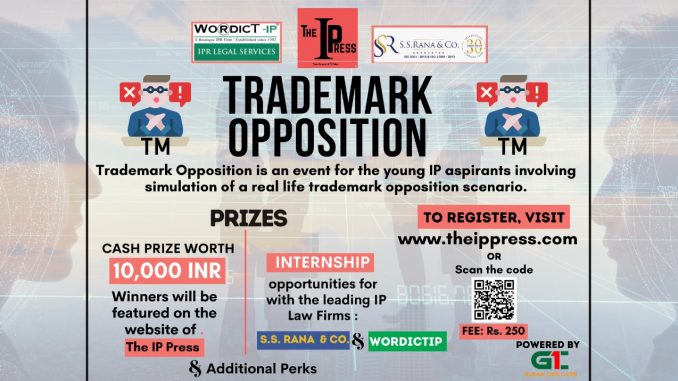 Hello IPholics! Here is some information about the Trademark Opposition ONLINE Event at the IP Expo along with associated guidelines.
The basic idea of the event is to submit a Statement of Opposition within the prescribed time for the first round. In the second round, the Opposition Notice(s) of the shortlisted participants shall be swapped and provided to the teams. Based on these Opposition Notice(s), the teams shall have to draft and submit a Counter Statement within the prescribed time and to the victor shall belong the spoils!
General Rules and Guidelines:
The proposition will be released on the 10th of September 2020.
Each team (single participant or a maximum of two participants) shall prepare both: Opposition Notice & Counter Statement.
The deadline for submission of the Opposition Notice by 11:00 AM, 24th September 2020.
Shortlisted oppositions shall be declared by the 26nd of September whereafter, they shall  be provided with the opposition notice filed by the other team(s) at random, to which they shall have to draft and submit a Counter Statement by 08:00 PM, 27th September 2020.
This trademark is a combination of several trademarks.
Each team must identify those trademarks including well known trademarks.
Opposition on behalf of each of those identified trademarks against the given trademark must be made as per the Trademark Rules.
Both similarity between the marks and reason for rejection of given mark should be provided in the opposition.
Images of identified marks can be used in opposition for showing the similarities between the marks.
Participants shall refer to the relevant provisions of law and case laws to oppose the registration of the trademark in question.
Winners and deserving performers shall receive a reward of cash prizes worth INR 10,000, Internship Opportunity with S.S. Rana & Co. and WORDICTIP, feature on the website of IP Press & Additional Perks.
Send your submissions on theippress@gmail.com within the deadline with the subject "OPPOSITION NOTICE: IP EXPO" and "COUNTERSTATEMENT: IP EXPO" respectively. Late submissions shall not be accepted unless the supervening reasons are well grounded.
Register and Await the kickstart of The IP Expo 2020. It is bound to give you immense learning opportunities and experience, combined with guaranteed fun and excitement!
For registration, please click here.
To access the proposition of round 1, please click here.