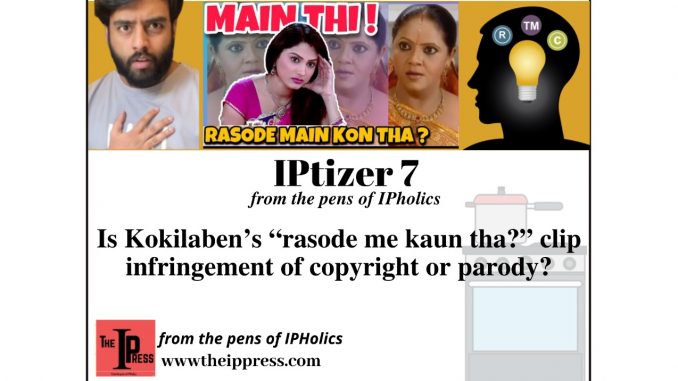 Needless to ask whether you have come across the viral clip of Koilaben's "rasode me kaun tha?". In the world of social networking, any media clip can be reproduced several times. Afterall, it feels great to be entertained at no cost. However, it is pertinent to note that such works are derived or adapted from the original works of the author and thus, are at an increased chance of hitting the provisions pertaining to infringement. On the other hand, when it comes to creating parodies of such works, there is a dilemma as to whether the principle of 'fair dealing' can be effectively utilized as a defence to infringement.
3 factor test for determination (Civic Chandran v. Ammini Amma)
The quantum and value of the matter taken in relation to the comments or criticism;
The purpose for which it is taken; and
The likelihood of competition between the two works.
Along with the above test, another element set out in M/s Blackwood and Sons Ltd. and Others vs. A.N.Parasuraman and Others, (AIR 1959 Mad 410) is the intent of commercial exploitation. If such an element is present, it shall amount to infringement of copyright[1].
Questions:
In light of the above, does the aforementioned media clip result in parody or infringement?
Can the features of social networking platform regarding commercial advertisements be used as a ground to prove commercial intent in uploading the media clip?
Which clause/sub-clause of Section 52 of the Copyright Act, 1957 can be utilized as a defence of fair dealing in this regard?
---
[1] https://www.mondaq.com/india/trademark/756930/parody-fair-use-or-infringement