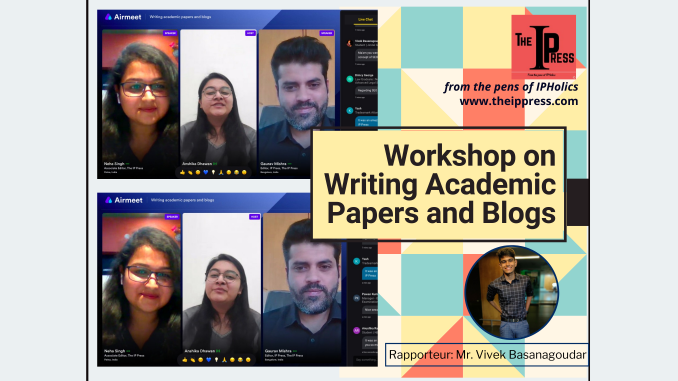 The workshop on Writing Academic Papers and Blogs was organised on 6th March 2021. The event commenced at 2:00 PM IST with an inaugural speech by the moderator Anshika Dhawan which was immediately followed by a video introduction of The IP Press. The workshop commenced when Mr. Gaurav Mishra provided a brief introduction to the concept of writing. He outlined the difference between academic writing and general writing and provided his insights regarding the same. Thereafter, he identified several generic issues faced by writers and addressed them accordingly. Some of them are as follows – fixed mindset of not being able to write, lack of creativity, lack of vocabulary, inability to convey one's thoughts through sentences and uncertainty of where to begin the process of writing. He addressed these concerns by providing simple yet resourceful answers. Various types of academic writings were identified by him which are as follows – Essays, Research Papers, Thesis/Dissertations, Research Proposals and Literature Reviews. They were classified on the basis of word count, formality and requirements. The workshop proceeded to its next topic of discussion, namely, common errors made by writers. Informal language, improper use of words/synonyms, punctuation, lengthy sentences/paragraphs, tense usage, plagiarism of texts, consistency and typos were identified to be the most common mistakes of a writer and were discussed accordingly. Lastly, he explained the different components of a research paper and briefly stated the relevant steps to consider while writing a research paper, which are as follows – (i) Choose a topic, (ii) brainstorm/idea dump, (iii) review/research and refer, (iv) Organise your thoughts, (v) Create an Outline – Make topics, subtopics, (vi) Write without conditions, (vii) Review & Revise for grammar, logic, flow and consistency, (viii) Edit & Proofread, (ix) Take Feedbacks, (x) Eat, Sleep, Re-write and Repeat.
Ms. Neha Singh took the floor and began by explaining how one must identify a field of interest through social media and news outlets. While stressing upon the essence of social media and news outlets, she also advised the audience to not necessarily believe all of their content. She stated that they would be essential in providing readers with the basic amount of knowledge that would be required for one to identify a field of interest. She then proceeded to establish the two types of topics that could be pursued as a blog article, namely, relevant topics in contemporary times and regularly debated topics. For the latter, she provided the audience with two examples – Idea expression dichotomy and the issuance of the death penalty. She proceeded by stating that lawyers are expected to have an opinion about their areas of interest and further stated that blog writing requires a blend of both descriptive and analytical writing. She identified the most essential difference between journal writing and blog writing – the reader of the article. A journal article would be read by experts in the relevant field whereas a blog article would be read by all sorts of persons including lay persons. Therefore, it is imperative that there be a mix between descriptive and analytical writing so as to allow the reader to better comprehend the subject material. She warned legal writers to refrain from providing legal advice. While discussing the material of a blog, she highlighted that a blog must be interactive in nature and could include questions to better engage the readers. Additionally, movie references could be used to provide the reader with something that one could relate to. She proceeded by stressing upon the need for Search Engine Optimisation as it would enhance the number of viewers of a particular article. Lastly, she concluded by stating that a blog article must be around 500-1500 words and must entertain both the reader and writer.
The ending notes of the speakers were to refrain from fearing the concept of writing and to write without doubting oneself while having fun at the same time. A vote of thanks was then provided by Anshika Dhawan wherein she thanked Mr. Gaurav Mishra and Ms. Neha Singh for providing the audience with their precious time. Airmeet was thanked for providing the IP Press with a platform to hold the session without any technical glitches. Thereafter, the session was concluded.
You can find the presentation here.
Register for our next workshop on Role of Artificial Intelligence tools in the examination of Intellectual Property: What's there behind the scene! on 10th April 2021 from 2:00 PM to 3:00 PM.
Link to register: https://www.theippress.com/registration/