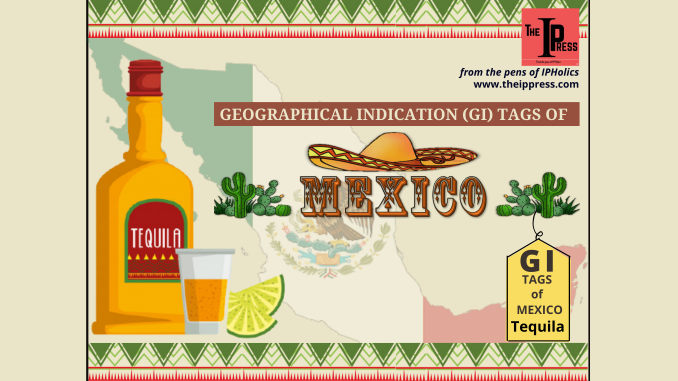 Mexico, officially known as the United Mexican States, is the thirteenth largest country by area and the tenth most populous country. Located in the south of North America, Mexico is bordered by the United States in the north; the Pacific Ocean in the west; Guatemala, Belize and the Caribbean Sea in the south-east; and the Gulf of Mexico in the east. It is ranked first in America and seventh in the world for the number of UNESCO World Heritage sites; ranked fifth in natural biodiversity and is among the world's 17 megadiverse countries. Till date, Mexico has been awarded one GI Tag, namely, Tequila.
Tequila is a manufactured product of Mexico, whose application for GI Tag was filed by CONSEJO REGULADOR DEL TEQUILA on 26th September 2011 and the product was certified on 15th January 2013. The Application Details of 'Tequila' are mentioned below-
Application Details
| | |
| --- | --- |
| Application Number | 243 |
| Geographical Indications | Tequila |
| Status | Registered |
| Applicant Name | CONSEJO REGULADOR DEL TEQUILA |
| Applicant Address | CONSEJO REGULADOR DEL TEQUILA, A.C, Avenida Patria 723 Jardiness de Guadalupe 45030, Zapopan Jalisco, Mexico. |
| Date of Filing | 26-09-2011 |
| Class | 33 |
| Goods | Manufactured |
| Geographical Area | Mexico |
| Priority Country | Mexico |
| Journal Number | 45 |
| Availability Date | 11-09-2012 |
| Certificate Number | 182 |
| Certificate Date | 15-01-2013 |
| Registration Valid Upto | 25-09-2031 |
Tequila is a very unique regional alcoholic beverage of Mexico and is also recognized by the World Intellectual Property Organization (WIPO). It is a blue spirit drink containing alcoholic content ranging from 35%- 55% and is produced by the fermentation and distillation of the material extracted from the hearts of 'tequila weber blue variety Agave'. It is grown and harvested in specific regions of Mexico, namely, Jalisco, Michoacan, Nayarit, Tamaulipas, and Guanajuata. The "musts" of the said plant are enhanced and blended together prior to fermentation with other sugars in a proportion that does not exceed 49% of the total reducing sugars and is bottled only by an authorized producer in his facility, labelled as per NOM and is in accordance with the laws and regulations of Mexico. The production, distribution, sales, Intellectual Property Rights and other interests of Tequila are exclusively monitored by the Official Mexican Standard of Quality for Tequila, created by the Government of Mexico.
Not only in Mexico but also in Brazil, Tequila is recognized as a Geographical Indication. In 2016, an agreement for the mutual recognition of Cachaça and Tequila as Geographical Indications and Distinctive Products was signed between Brazil and Mexico in order to protect products against unfair competition, preventing other producers from unduly benefiting from the reputation of the national beverages and as an outcome, the beverage sold in Brazil can be only labelled as tequila if it is Mexican and in Mexico, vice versa thing happens with Cachaça. Cachaça also known as pinga and caninha is one of the most popular distilled alcoholic beverage of Brazil prepared from fermented sugarcane juice.
GI Tags of Mexico are-
Manufactured Products: