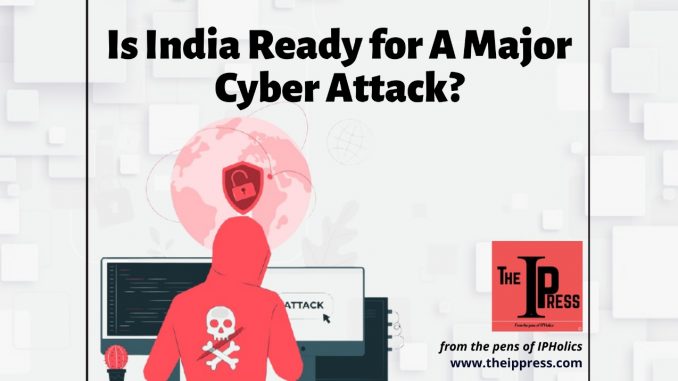 On April 7, India's Chief of Defence Staff (CDS), General Bipin Rawat, told reporters that China is capable of launching cyberattacks against India that could disrupt a large number of our systems. Although, he stated that India is preparing to defend and "ensure cyber-defence and that even if we come under a cyber-attack, the downtime and effect does not last long", [1]but are we actually ready to face a cyberattack, that too from china?
The National Cyber Power Index by Harvard University ranks China as the second most cyber powerful nation in the world while India stands as one of the most cyber-attacked nations in the world.[2] While the world is stuck on the classic four dimensions of war – land, sea, air and space, China is ready for the fifth dimension – cyberspace.
Today, wars are fought in cyberspace rather than on the frontline, thus the nation needs to advance in cyber warfare laws. Though India has a well-built information technology for civilians, cyberwarfare capabilities have been overlooked for a long time now.[3]
It is not the first time China is planning a cyber-attack on India, it has succeeded in a number of them. Most recently, Chinese hackers took over Mumbai's Electricity Grid causing a massive power outage in the city. The year 2012 saw a similar National Power Failure because of such cyber-attacks after which the Indian Electronics and Electricals Manufacturers Association (IEEMA) requested a full ban on Chinese equipment in India's power sectors[4], yet here we are waiting for another cyberattack.
Computer Emergency Response (CERT-In)'s 2018 report accounted that China hosted 35% of all intrusion activities targeting Indian websites from all over the world.[5]
It is evident that China has never failed to show off its power and capabilities and that India may not be equipped enough to face it. Nevertheless, every drop counts, even small steps from our end may help.
Pre-During-Post cyber-attack measures
In 2020, cyberattacks were ranked as the fifth most serious threat, and the number is expected to grow exceptionally in 2021.[6]
Pre:
It is said that there are four keys to cybersecurity:
Awareness
Defence Infrastructure
Data Management
Readiness
Hackers conduct surveillance on the network before launching an attack. It's difficult to detect them, but some may be very direct and alarming. Thus, the key is to be alert and aware.
Follow the basics i.e.,
go for strong passwords,
change them regularly,
understand security and privacy policies,
protect and backup confidential data,
use updated software,
read and be aware of the cybercrimes around the world etc.
The second key suggests having a defence mechanism i.e., a collection of protocols for all your IT infrastructure that is not limited to but includes:
Firewalls,
encryption,
cyclical inspection,
activity pattern monitoring/evaluation,
OS and software patching,
anti-virus software,
two-factor and biometric identity authentication, and
OS and software patching
While it's always unavoidable to post confidential information online, it's best to avoid any details that can be used to identify you. Furthermore, encrypt data at all times.
Lastly, be ready for the worst. Although we plan, be aware and manage data, nobody is safe or secure, everyone can be hacked.
During:
Before being identified, hackers spend an average of 200 days in the network. Thus, the goal is to minimize the damage and decrease downtime.
Try to assess if it is a glitch, lag or a real attack.
Do not use the affected system.
if you followed the pre-planning, i.e., backed up all your data, delete all the data on the affected system to avoid further damage.
And the first thing that strikes our mind, Shut down the system, and do not provide it with a power supply, No, it may work sometimes, but it is advised not to do so, as it may do more damage than defence.
After:
This isn't the end. Continue to keep an eye on the machine that's been impacted. A "back door" may have been mounted into the device by the intruder. If your security strategy did not work, it's time to learn from it, look for loopholes and defend your system.
Consistently track, manage, and test your security, i.e., come back to the pre-stage and build your system again. Attacks can happen, no matter how well-prepared a cyber incident response is because every new technology comes with a new vulnerability that will be exploited.
---
[1] https://www.hindustantimes.com/india-news/china-capable-of-launching-cyber-attacks-disrupting-systems-cds-rawat-101617845542641.html
[2] https://www.businessinsider.in/defense/news/the-chinese-cyber-threat-is-real-and-indias-best-defence-right-now-is-to-keep-its-outage-time-limited/articleshow/81981886.cms
[3] https://timesofindia.indiatimes.com/india/india-trying-to-counter-chinas-huge-cyber-attack-capability-cds/articleshow/81956851.cms
[4] https://www.sundayguardianlive.com/news/china-launches-cyber-warfare-india
[5] https://www.sundayguardianlive.com/news/china-launches-cyber-warfare-india
[6] https://www.embroker.com/blog/cyber-attack-statistics/