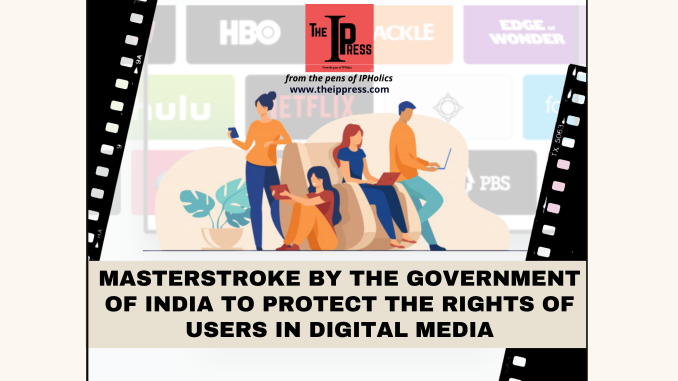 THE INFORMATION TECHNOLOGY (INTERMEDIARY GUIDELINES AND DIGITAL MEDIA ETHICS CODE) RULES, 2021: A BRIEF ANALYSIS
"Technology is a useful servant,
But a dangerous master"
The boundless unfurling of the internet, mobile phones, laptops, and other gadgets have catalyzed the growth and expansion of social media platforms in India, such as, WhatsApp (53 Crore users[1]), YouTube (44.8 Crore users), Facebook ( 41 Crore users), Instagram (21 Crore users) and Twitter (1.75 Crore users) among others. These platforms have served as a stage where common Indians could showcase their art and talent and freely share their views including the criticism of the Government and their functionaries which is actually acknowledged and respected by the Government as it is a crucial constituent of the Indian democracy. India, being one of the world's largest open Internet societies, has always greeted social media platforms to operate in the country and make profits, but slowly and steadily people have started misusing these platforms, for example, blatant use of abusive language, sharing contorted pictures of women and revenge porn in order to threaten the dignity of women, glaring disrespect to religious sentiments, unending spread of fake news and defamation of people. In the famous Prajjawala case[2], the Supreme Court of India observed the need for framing new rules and guidelines for abolishing child pornography, rape and gangrape imageries, videos and sites deiecting the same. Also, for the ordinary users of social media and OTT platforms, there was no set mechanism where they could lodge their grievances and complaints and get them redressed within a defined timeline.
Thus, in order to bring transparency, accountability and protect the rights of users related to digital media, the Government of India through the Ministry of Electronics and Information Technology (MeitY) and after elaborately consulting with the public and stakeholders, issued a notification, for implementing the Information Technology (Intermediary Guidelines and Digital Media Ethics Code) Rules, 2021[3]. Apart from its application to intermediaries as defined and stated under Section 2(w) of the Information Technology Act, 2020, the new rules are applicable to Social Media Intermediaries (SMIs), Significant Social Media Intermediaries (SSMIs) and Digital Media Platforms (DMPs[4]). Also, the Ministry of Electronics and Information Technology along with Ministry of Information and Broadcasting have come up with a tuneful, soft-touch error mechanism for social media platform, digital media, OTT platforms, etc.
The Information Technology (Intermediaries Guidelines and Digital Media Ethics Code) Rules, 2021 is way effective than the Information Technology (Intermediaries Guidelines) Rules, 2011 as the 2021 rules include several new mechanisms which aim at increasing the liability of intermediaries with regard to the information being made available by them. The new added mechanisms guarantee the intermediaries to take immediate action with reference to any unlawful or infringing information being made available by them.
Some of the important salient features of the Guidelines relating to Social Media are as follows-
The Rules authorize the intermediaries, including the Social Media Intermediaries (SMIs) to follow due diligence, if not then the safe harbor provisions will not become applicable to them.
The Rules make it mandatory for the intermediaries (including Social Media Intermediaries) to establish a grievance redressal mechanism and also to appoint a Grievance Officer to deal with the complaints made by a user or victims and also to concede the complaint within twenty-four hours and to resolve it within fifteen days from its receipt.
To appoint a Chief Compliance Officer (responsible for ensuring conformity with the Act and Rules), a Nodal Contact Person (responsible for 24*7 cooperation with the law enforcement agencies), and a Resident Grievance Officer (responsible for performing the functions mentioned under Grievance Redressal Mechanism). The Rules make it compulsory for all the three officers to be residents of India. Besides this, a monthly compliance report is also required to be published which not only takes into record details and actions taken on the complaints but also provides the details of contents which are to be removed presciently by the social media intermediary.
The Rules seek to ensure online safety and safeguarding dignity of users, especially women by disabling access within 24 hours to content which reveals the private parts of a person, shows full or partial nudity or any kind or sexual acts including morphed pictures.
The Rules authorize the intermediary to remove unlawful information which is against the sovereignty and integrity the country or public order or in any way prejudicial to the friendly relations with foreign countries.
Also, a Code of Ethics, a three-tier grievance redressal mechanism and a soft-touch self-regulatory architecture has been established which is to be followed by the OTT Platforms (such as Netflix, Amazon Prime, Disney+Hotstar, Zee5, Sony Liv, Voot, AltBalaji, Jio Cinema, etc), digital media entities and online news. OTT platforms have to self-classify the content into five age based categories- U (Universal), U/A 7+ U/A 13+ U/A 16+, and A (Adult[5]). These platforms would also have to implement parental locks for content classified as U/A 13+ or higher and reliable age verification mechanisms for content classified as "A". Besides this, the Code of Ethics makes it mandatory for publishers of news on digital media to observe Norms of Journalistic Conduct of the Press Council of India and the Programme Code under the Cable Television Networks Regulation Act by providing a level playing field between the offline (Print, TV) and digital media. Also, for ensuring observance and adherence to the Code of Ethics by publishers operating in the territory of India, and for addressing the grievances made in relation to publishers, there shall be a three-tier structure as mentioned below .
Level I – Self-Regulation by the publisher, This will involve appointing a Grievance Redressal Officer who would be responsible for taking decision on every grievance received within 15 days.
Level II – Self regulation by establishment of Self-Regulatory Bodies of the publishers which should get registered with the Ministry of Information and Broadcasting and should be headed by a former judge of the Supreme Court or High Court to supervise the coherence of the Code of Ethics by the publisher.
Level III – formulation of an oversight mechanism by the Ministry of Information and Broadcasting which would publish a charter for self-regulating bodies, including Code of Practices and to establish an Inter-Departmental Committee for hearing grievances.
The formation of these guidelines is certainly an applaudable step taken by the Government of India which would not only preserve the rights of a user but also to an extent try to cease the misuse of social media platforms in India.
You may access the official copy of The Information Technology (Intermediary Guidelines and Digital Media Ethics Code) Rules, 2021 here.
---
[1] https://pib.gov.in/PressReleseDetailm.aspx?PRID=1700749
[2] Vide order dated 11/12/2018
[3] https://www.meity.gov.in/writereaddata/files/Intermediary_Guidelines_and_Digital_Media_Ethics_Code_Rules-2021.pdf
[4] https://www.bananaip.com/ip-news-center/the-information-technology-intermediary-guidelines-and-digital-media-ethics-code-rules-2021-a-brief-note/
[5] https://www.mondaq.com/india/media/1044644/analysis-of-the-information-technology-intermediary-guidelines-and-digital-media-ethics-code-rules-2021