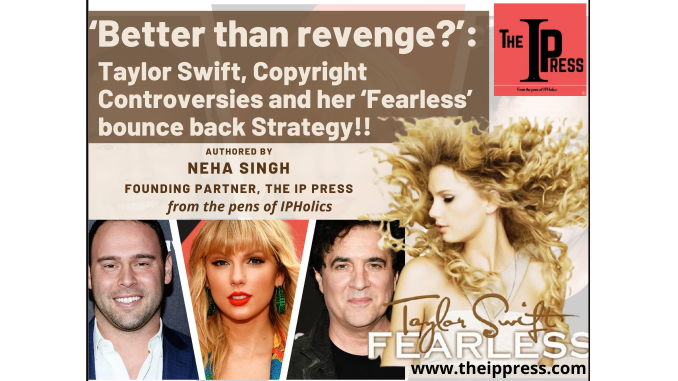 Taylor Swift's December released album 'Evermore' returned to number 1 on Billboard 2021 charts after she announced that the vinyl version was out on 4 June, 2021.[1] Earlier it was number 1 on the charts three times between 26 December, 2020 and 16 January, 2021 post its release in December 2020.[2] Previously in April 2021, Taylor Swift released her rerecorded version of the 2008 album 'Fearless'.[3] It was titled 'Fearless: Taylor's Version'. The copyright controversy that led up to this release is not hidden from the public eye. In this blog, we will revisit the aforesaid controversy to understand the events that led to this release of rerecorded version. We will understand the aspects of copyright law that came into play to allow this release of rerecorded album and the effects it would have on the previously recorded album.
Revisiting the Taylor Swift-Scooter Braun Copyright Controversy
The whole copyright controversy revolves around the term 'master recordings'. Master recordings are the original or de facto recordings that one hears every time the song is played in some other medium[4] like ad commercials, movies etc. These master recordings are licensed for use to companies, thus becoming a major source of revenue for the record labels.[5]
In 2006, Taylor Swift signed a contract with the Big Machine Label Group (BMLG) that ended in 2018. In exchange for promotions of her albums, the Label owned exclusive rights on her 'master recordings'. She made several attempts to buy the rights on these master recordings after she became successful. However, in 2019 BMLG was purchased by Scooter Braun's media company Ithaca Holdings LLC who also became the owner of Swift's master recordings as a result. Later in 2019, Taylor Swift announced that she planned to rerecord her first six albums once her re-recording contract clause restriction expired in November 2020.[6] Following this announcement, Scooter Braun sneakily sold the master recording rights of the albums to a private equity firm Shamrock Holdings for $300 million, whilst retaining some rights over the licensing of these albums.[7]
Was Taylor Swift within her rights to rerecord her initial albums?
Yes. The contracts between a recording label and an artist generally contain a clause restricting rerecording of the albums that were released by the said label for a number of years after the expiration of the recording agreement.[8]In practice, such contracts often prohibit the rerecording until two years after agreements expire or five years after an album's commercial release.[9]Given that Taylor Swift's contract expired in 2018, she is well within her rights to rerecord her albums Taylor Swift (2006), Fearless (2008), Speak Now (2010), Red (2012) and 1989 (2014). Her last album with BMLG, Reputation (2017), may be eligible for rerecording sometime in 2022.[10]
What about other Copyright concerns?
We are aware that copyright is not a single right but a bundle of rights. In a song, there are generally three types of copyright that come into play. Copyright protection as an:
Original literary work: This applies to the lyrics of the song.
Original musical work: This applies to the notes and other musical arrangements of the song.
Sound recording: This applies to the original or masters recording of a song.
What worked in favour of Taylor Swift was that she already owned two of the three types of copyright mentioned above, since she writes the lyrics and composes the music of her own songs. With her rerecording and releasing her version of the album, she now also owns the master recordings to her songs in the album Fearless. She can now control the publishing and licensing of her songs to be used in any movie, series, commercials, video games or any other media.[11]
What effect would it have on her album's older version?
The older version of Taylor Swift's album would continue to exist and it would be on the choice of the person seeking license for its use to approach either Scooter Braun or Taylor Swift to acquire such license. This is apprehended to devalue the album and trigger an 'inverse bidding war' between the two competitors, which would ultimately profit the license-seeker as they would get a license from whoever offered it for the cheapest price.[12]
However, Swift has, in the past, used her share in the publishing rights to veto some of Braun's attempts to exploit her recordings.[13]Now that she owns the master recordings of the rerecorded album, it is expected that she would use her rights to "deny the use outright on the publishing side unless they use the master she wants. She can put something into the publishing license saying: "This usage is contingent upon using the 2021 master."".[14] Taylor Swift enjoys an extremely loyal fan base who are excited to know that she would now own the master of her initial albums. However, in order to promote her album further, Swift also used some brilliant strategies.
Incentives to purchasers of rerecorded albums
The rerecorded Fearless album includes six songs from her 'vault' that were written but not released at the time when the original album came out.[15]Ryan Reynolds in December 2020 used Taylor's Version of 'Love Story' for a match commercial, thereby promoting and persuading listeners and media strongholds to use her new recordings over the old.[16]
What does this mean for upcoming artists and recording labels?
With this move, Taylor Swift tried to create awareness about the one sided nature and long term ramifications of contracts signed with the recording labels. This will set an example for upcoming artists to be aware of their rights and negotiate such contracts accordingly owning and protecting what would be their life's work. On the contrary, this would also mean the recording labels would become extra cautious with their contracts, perhaps extending the duration of which an artist is restricted from re-recording their songs-from two years to ten years or whatever they best think fit.[17]
What the follow-up actions will be by the artists and the recording labels in terms of their contracts are yet to be seen. However, as far as Taylor Swift is concerned, she definitely exemplified her lyrics from the song New Romantics (Album-1989)- "I could build a castle out of all the bricks they threw at me".
---
[1] Ben Sisario, 'Taylor Swift's 'Evermore' Vaults to No. 1 with a Vinyl Bump' (The New York Times, 7 June 2021) <https://www.nytimes.com/2021/06/07/arts/music/taylor-swift-evermore-vinyl-chart.html> accessed 9 June 2021
[2] ibid
[3] Abigail Freeman, 'Taylor Swift Is 'Free' Again, But Just How Much Is Her 'Fearless' Strategy Worth?' (Forbes, 9 April 2021) <https://www.forbes.com/sites/abigailfreeman/2021/04/09/taylor-swift-is-free-again-but-just-how-much-is-her-fearless-strategy-worth/?sh=15d478be7f05> accessed 9 June 2021
[4] Collin Schaefer, 'Fearless (The Legal Version) (13 April 2021) <https://ogs.law/copyright/fearless-the-legal-version/> accessed 9 June 2021
[5] ibid
[6] Ryan Mikeala Nguyen, 'What Taylor Swift's Re-recordings Symbolize For Music Ownership' (12 April 2021) < https://www.newuniversity.org/2021/04/12/what-taylor-swifts-re-recordings-symbolize-for-music-ownership/> accessed 9 June 2021
[7] ibid
[8] Aoife Mac Ardle and Douglas McMahon, 'Copyright Issues (Taylor's Version): Who Owns Intellectual Property in Music?' (McCann FitzGerald, 20 April 2021) < https://www.lexology.com/library/detail.aspx?g=1fee55b4-2575-4978-87eb-bb38d8838e62> accessed 9 June 2021
[9] Travis M. Andrews, 'Can Taylor Swift really rerecord her entire music catalogue?' (The Washington Post, 23 August 2019) < https://www.washingtonpost.com/arts-entertainment/2019/08/22/can-taylor-swift-really-rerecord-her-entire-music-catalogue/> accessed 10 June 2021
[10] ibid
[11] Bruce Haring, 'This Week In Music: Taylor Swiftly Enacts Her Revenge On Her Master Rights Holders' (Deadline, 14 February 2021) < https://deadline.com/2021/02/this-week-in-music-taylor-swift-revenge-rights-holders-love-story-1234693684/> accessed 10 June 2021
[12] Anthony Pericolo, 'Bad Blood© with Taylor Swift's Album Re-recording' (Harvard JOLT Digest, 20 February 2021) < https://jolt.law.harvard.edu/digest/bad-blood-with-taylor-swifts-album-re-recording> accessed 10 June 2021
[13] 'Taylor Swift master tapes sold by Scooter Braun to investment fund' (BBC, 17 November 2020) < https://www.bbc.com/news/entertainment-arts-54969396> accessed 10 June 2021
[14] Haring (n11) Quote by Mara Kuge, president/founder of Superior Music Corporation
[15] Allison Mcclain Merrill, 'Is Taylor Swift Allowed To Rerecord Her Music? And Other Questions, Explained' (Screen Rant, 14 February 2021) < https://screenrant.com/taylor-swift-fearless-album-scooter-braun-lawsuit-explained-2021/> accessed 10 June 2021
[16] ibid
[17] Ardle (n8)