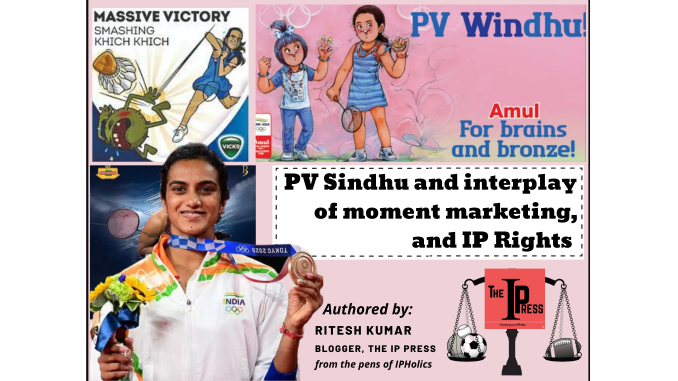 Introduction
Indian athletes have earned seven medals for the nation in the recent Olympics through their perseverance, thereby making the entire nation proud. India bagged its first gold in athletics in the Olympics. It is a matter of joy and happiness for the people of the nation and nation and all credit and congratulations are due to the athletes and players who gave their best to bring glory to the country. In the meantime, big brands and businesses have also written congratulatory messages in their unique way, for instance attaching images of players with their brands. Such congratulatory messages can be termed moment marketing.  In case of moment marketing usually businesses or industrialists take advantage of the situation and advertise their brands creating collaterals around such events. Some of the big businesses like P&G were not aware that the congratulatory messages used as means of moment marketing can lead to legal consequences. PV Sindhu, through her marketing manager Baseline Venture has been planning to initiate action against Happydent maker Perfetti Van Melle, Vicks-maker P&G, Pan Bahar and a few others.[1]
Moment Marketing and Personality Rights
The actions of Baseline Venture raise the question, whether legal action can be taken against companies writing congratulatory messages considering moment marketing done by companies. It has been a matter of concern for celebrities in India when it comes to protection of their personality rights considering there is no specific legal framework to protect personality rights of celebrities or any specific law pertaining to intellectual property rights protecting their image and rights.  However, celebrities have common law rights and rights under Article 21 of Indian Constitution. Celebrities can approach the court of law by bringing a passing-off action against the person infringing their rights and, Article 21 can be invoked to safeguard their right to privacy.  Indian courts have over time recognized personality rights of celebrities in different landmark judgments.  In the case of ICCDevelopment International Ltd. v. Arvee Enterprises &Anr,[2] Plaintiff was organizer of Cricket World Cup 2003 and had filed a suit for injunction against the Defendant who had created and aired an advertisement with the tagline- "buy a Philips audio system and win a ticket to World Cup". It was contended that ICC has their persona or identity of their own and has registered their trademark and mascot in several countries. The Delhi Court did not agree that ICC is a celebrity and thus it has not created any persona of their own. In case it would have been a celebrity there must have been infringement or passing off of celebrity rights.
Similarly, in the case of Titan Industries v M/s Ramkumar Jewellers[3] the Plaintiff filed a suit of injunction, passing-off and infringement of personality rights as Mr. Amitabh Bachchan and his wife Mrs. Jaya Bachchan were endorsing Tanishq jewelries. The Defendant used images of Mr. Amitabh Bachchan and Mrs. Jaya Bachchan and advertised diamonds of his outlet. The Delhi High Court observed that "When the identity of a famous personality is used in advertising without their permission, the complaint is not that no one should not commercialize their identity but that the right to control when, where and how their identity is used should vest with the famous personality. The right to control commercial use of human identity is the right to publicity"
Again, in January, 2019- in the case of Rajat Sharma &Anr v Ashok Venkatramani&Anr[4] the Plaintiff filed a suit for ex-parte injunction against the Defendant as the latter had used the phrase "INDIA ME AB RAJAT KI ADALAT BAND" in their advertisement. The Delhi High Court recognized the celebrity rights of Rajat Sharma and restrained Defendant from using the name of the Plaintiff in any advertisements whatsoever.
It is clear that PV Sindhu can approach court and file a case of passing off against the companies who used her image for moment marketing. However, for filing a suit for infringement, she has to first get her name registered in the register of Trademarks in different classes.
Moment Marketing and violation of Rule 40 of the Olympic Charter
According to the Rule 40 of Olympic Charter, no one except as permitted by the International Olympic Committee Executive Board, i.e., no competitor, coach, trainer, or official who participates in the Olympic Games may allow his person, name, picture or sports performances to be used for advertising purposes during the Olympic Games.[5]
It is crystal clear that the advertisers who Baseline Ventures is planning to send legal notice have clearly violated the Rule 40 of Olympic Charter as they did not have prior permission for using the image of the participants for moment marketing.
Conclusion
In India, there is no specific legislation which protects IP rights of the sportspersons. Consequently, it becomes easy to exploit the IP rights of sports persons vested in their name or personality. However, it is being argued by the industrialists and businesses that it is unethical to use moment marketing tactics or ambush marketing to benefit from the win or loss of sportspersons, but it cannot be illegal. In absence of any legal framework people using moment marketing tactics using celebrities' name or personality can easily evade legal consequences by claiming it to be a morality issue rather an illegal issue. It is not wrong to congratulate a sportsperson when they win but there must be a line drawn. The congratulatory message must not commercially benefit anyone. If the congratulatory message is benefitting someone commercially they must take permission from the person whose image is being used. To draw a line and safeguard the rights of sportsperson there is requirement of legal framework which shall safeguard the rights of celebrities' personality rights and intellectual property rights.
---
[1]https://www.business-standard.com/article/sports/with-pv-sindhu-mulling-legal-action-moment-marketing-faces-moment-of-truth-121080501631_1.html
[2]https://indiankanoon.org/doc/358048/
[3]https://indiankanoon.org/doc/181125261/
[4]https://indiankanoon.org/doc/66926999/
[5]https://www.insidethegames.biz/media/file/85618/FINAL%20-%20Rule%2040%20Guidelines%202-%20ENG.pdf
---