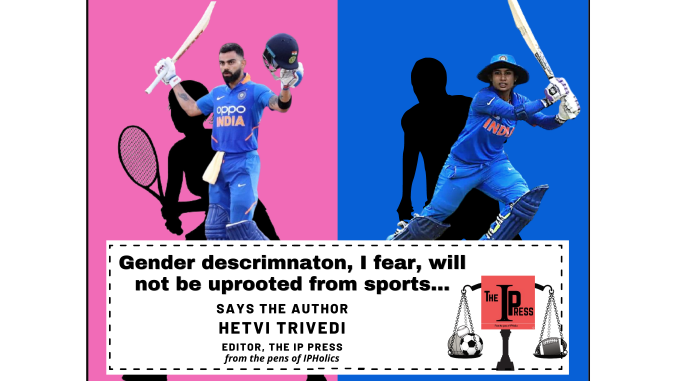 The year 2020 will be remembered for humanity's entry into a whole new world. The magnanimity of our collective misfortune in the past year will top the list of catastrophes for a long time to come. However, the pandemic onset was just the tip of the iceberg, it gradually led to several unforeseen events- one such being the postponement of Tokyo Olympics 2020 until the year 2021. Then, among a host of uncertainties and hullabaloo, the Olympics fortunately and finally took place but not without shattering many stereotypes and showcasing an array of realities we tend to look away from.[1] Yet among many uplifting facts, gender discrimination continues to cast a shadow on the global sports fraternity. Let us see how.
"Contemporary sport is a truly global phenomenon, bringing shared experiences to a worldwide audience."[2] However, sport continues to exclude certain groups or privilege one above others – men over women, able bodied over disabled and so on. Various statistics emphasize that women from ethnic minority backgrounds, those of lower socio-economic status and those with disabilities, participate considerably less than men and women who are part of the dominant ethnicity, able-bodied and of medium to high socio-economic class.[3] The discriminating divide does not stop here. Stemming from gender bias, unequal pay to women athletes is a menace too. A quick Google search on equal pay in sports gives results that unfortunately are not astonishing anymore. To put this into perspective, we need not travel beyond the domestic territory; in 2018 BCCI announced new, revised contracts for its cricketers whereby Virat Kohli- the Indian men's cricket team captain receives Rs. 7 Crore annually while Mithali Raj- the women's team captain receives Rs. 50 Lakhs annually. Given the universal power that sport yields, such biases permeate deep within the social structure.
The Case- US Women's National Soccer Team
As the US Women's National Soccer team was participating at Tokyo Olympics, news relating to their lawsuit claiming pay discrimination made some noise too. In 2019, players from the US Women's National Team (USWNT) filed a suit alleging that United States Soccer Federation (USSF) discriminated against its female players by paying them less than male players on the men's national team, subjecting them to unequal working conditions.[4] Violation of the Equal Pay Act (EPA) and Title VII of The Civil Rights Act, 1964 were claimed. According to the complaint, female players were paid only $15,000 for trying out and making the World Cup Team while male players were paid $55,000 if picked for the World Cup Team among a host of other facts.[5] Additionally, the Men's Team received bonuses more than three times greater for reaching the World Cup Round of 16 in 2014 than the Women's Team received for winning the World Cup in 2015.[6] The successes of this women's team triumph that of the men's team, the former having four World Cups and four Olympic Gold Medals to their credit among other achievements. The Court in May 2020 found a lack of merit in the plaintiffs' arguments due to which the summary judgment was made in favour of the USSF.
The battle has now proceeded and as the team was playing at the Tokyo Olympics, an appeal was filed against the 2020 judgment. The facts of the case are complex to be summarized here[7] and the matter remains pending however a striking fact of concern is found in the Federation's opposition- filed in March 2020- to the plaintiffs' motion wherein it was asserted "[t]he overall soccer-playing ability required to compete at the senior men's national team level is materially influenced by the level of certain physical attributes, such as speed and strength, required for the job." This statement from as recent as 2020 precisely reflects the discriminatory mindset still dominating the sports industry. The understanding that male and female athletes put varying physical labour which acts as a reason to differentiate between them in terms of pay is regressive and patriarchal, to say the least. Thus, a deeper social change is required- first to understand the equal labour that male and female athletes invest into their sport and then to realize such physical investment requires to be rewarded with an equal pay.
Impact of Globalization
A changing narrative of sport is witnessed along the years, a lot of it can be attributed to globalization. Barrie Houlihan looks at how globalization has transformed and continues to contribute to the evolving concept and culture of sports.[8] Adapting from J.A. Scholte's work, Houlihan stresses the significance of globalization on sports through five processes- internationalization, liberalization, universalization, westernization/ Americanization and deterritorialization. An example of deterritorialization is the development of large fan groups for the English Premier League (football) outside the national-state boundaries.[9] Looking at such a terrific shift in the reach and response of sports, a question arises as to why the long-standing discriminatory behaviour against women athletes does not undergo a positive change? A believable answer lies in P. Darby's research outcome, "Sport is no different from any other product in the capitalist economy where markets are carefully managed and where labour is exploited as the primary source of profit. The spectacular wages of footballers such as Ronaldo, Messi and Rooney detract attention from the modest wages ad short careers of most footballers and the ruthless exploitation of footballing talent of many poorer nations…"[10]
Globalization may have put sport at a different pedestal, yet the industry remains infested with several discriminations which is why gender parity is far away from being 100% achieved. No doubt women athletes are often seen fending for themselves against a rigid mindset. Recently Naomi Osaka, Simone Biles, Megan Rapinoe or the Norwegian women's beach handball team have shown unrelenting strength and resilience on the international sports platform.
Unequal pay is just a fraction of the bigger problem that lies in the form of gender discrimination. Till the time a deep cleansing of the general societal mindset does not take place, gender discrimination, I fear, will not be uprooted from sports. Apart from athletes, unions, academic and management institutes and entertainment organizations are a few torchbearers for change in the society. A stronger social narrative is awaited to be scripted in favour of the female athletes until then equal pay will remain a distant dream.
---
[1] Tokyo Olympics 2020, for the first time in the history of the global championship, had a close to equal representation of women and men athletes; all 206 National Olympics also had at least one female and one male athlete representative; 'Women in sport are changing the game' (UN Women, 22 July 2021) <https://www.unwomen.org/en/news/stories/2021/7/compilation-women-in-sport-are-changing-the-game>
While this is a trendsetter, the heartwarming scene of diver Tom Daley knitting became an internet sensation; Dan Avery, 'His dive won gold. His knitting won the internet' (NBS News, 09 August 2021) <https://www.nbcnews.com/nbc-out/out-life-and-style/tom-daley-olympic-champion-worlds-biggest-crochet-influencer-rcna1608>
[2] Ruth Jeanes, Laura Hills & Tess Kay, 'Women, Sport and Gender Inequity' in Barrie Houlihan and Dominic Malcolm (eds), Sport and Society (SAGE 2016)
[3] Id
[4] Alex Morgan et al. v. United States Soccer Federation, Inc.,445 F. Supp. 3d 635 (C.D. Cal. 2020)
[5] Eric Bachman, 'The EEOC Backs U.S. Women's Soccer Team In Pay Discrimination Case' (Forbes, 04 August 2021) <https://www.forbes.com/sites/ericbachman/2021/08/04/the-eeoc-backs-us-womens-soccer-team-in-pay-discrimination-case/?sh=3d2d23d1421a>
[6] Id
[7] Sarah Pack, Thomas Baker III and Bob Heere, 'One Nation, Two Teams: The U.S. Women's National Team's Fight for Equal Pay' (2020) North Eastern University Law Review <https://nulawreview.org/volume-13-issue-2-articles/pack-baker-heere> accessed 19 August 2021
[8] Barrie Houlihan, 'Sports and Globalization' in Barrie Houlihan and Dominic Malcolm (eds), Sport and Society (SAGE 2016)
[9] Id
[10] Id