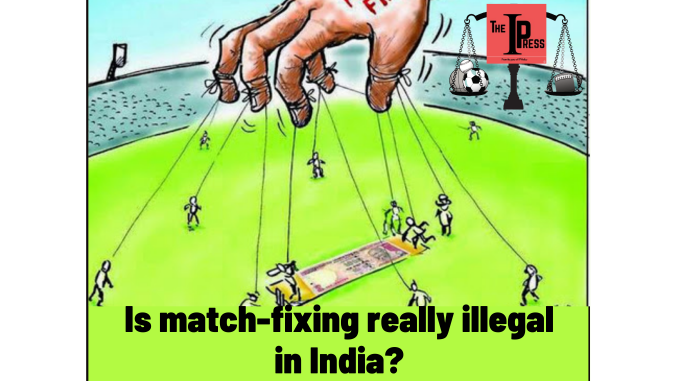 Sports thrills, as the uncertainty of who will win or lose the game, keep us engaged. It is the zeal of players to win the game that attracts us the most. However, sports particularly cricket has become a source of entertainment and a mode to make hefty profits through illicit means including match-fixing, spot-fixing, betting etc.
The act of match-fixing is rampant in the industry, it is understood as a dishonest activity to ensure that one team or individuals win a particular match. It is akin to deceiving the government, the public, especially the millions of fans. Match-fixing is, therefore, a major threat to the sport as it shakes the spirit of the sport. Match fixing is often confused with spot fixing, however, both terms connote different meanings.   Spot fixing is fixing an instance of the match, for example asking a bowler to bowl a no-ball or asking a batsman to get run out. Spot fixing is easier to detect than match fixing is. India's instance on match fixing and spot-fixing is not coherent.
Betting and gambling have been always in the grey area as the laws differ from sport to sport. For instance, horse races, rummy and lottery. The laws regarding betting are different for different states as the betting laws fall in the concurrent list of the seventh schedule of the constitution. For example, the lottery is legal in thirteen states of India like Assam, Punjab, Goa, etc. and illegal in other states. Whereas in the case of gambling the states of Goa, Sikkim, Nagaland, and Daman allow online gambling on websites like 10Cric.com and land-based casinos under the Public Gambling Act, 1976. 
Betting and match fixing are related dishonest acts. It can be understood this way when a bettor bets a game he bets to gain profit. In order to gain this profit and win the bet, bettors contact players to underperform or contact some officials to extract some vital information that can help them in betting. They contact the players and officials in return for a cumbersome amount.
The match-fixing is defined nowhere, however, Section (d) of Report on cricket match-fixing and related malpractices, October 2000[2] classifies the followings acts as match-fixing:
(i) Instances where an individual player or group of players received money individually/collectively to underperform.
(ii) Instances where a player placed bets in matches in which he played that would naturally undermine his performance.
(iii) Instances where players passed on information to a betting syndicate about team composition, probable result, pitch conditions, weather, etc.
(iv) Instances where grounds men were given money to prepare a pitch in a way that suited the betting syndicates and
(v) Instances of current and ex-players being used by bookies to gain access to Indian and foreign players to influence their performances for a monetary consideration.
What does the Indian law say?
Match fixing is not an independent offence in India and there is no special law covering the same. Indeed, it is unethical but no law specifically declares them illegal. Section 7 of the Prevention of the Corruption Act, 1988 states that Public servants taking gratification other than legal remuneration in respect of an official act.—Whoever, being, or expecting to be a public servant, accepts or obtains or agrees to accept or attempts to obtain from any person, for himself or for any other person, any gratification whatever, other than legal remuneration, as a motive or reward for doing or forbearing to do any official act or for showing or forbearing to show, in the exercise of his official functions, favour or disfavour to any person or for rendering or attempting to render any service or disservice to any person, with the Central Government or any State Government or Parliament or the Legislature of any State or with any local authority, corporation or Government company referred to in clause (c) of section 2, or with any public servant, whether named or otherwise, shall be punishable with imprisonment which shall be not less than six months but which may extend to five years and shall also be liable to fine.
However, as far as the status of the Board of Control for Cricket in India [BCCI], it is a private body and players do not come within the ambit of public servants, therefore the abovementioned law cannot be applied to private sports bodies.[1]
Further, as per Section 415 of the Indian Penal Code, which defines cheating as "Whoever, by deceiving any person, fraudulently or dishonestly induces the person so deceived to deliver any proper­ty to any person, or to consent that any person shall retain any property, or intentionally induces the person so deceived to do or omit to do anything which he would not do or omit if he were not so deceived, and which act or omission causes or is likely to cause damage or harm to that person in body, mind, reputation or property, is said to "cheat".
Explanation.—dishonest concealment of facts is a deception within the meaning of this section.
In the case of Ahmed v. State of Rajasthan[3], it was stated that an act becomes dishonest only when there is an intention, irrespective of the result. In match-fixing there is dishonest concealment of facts. The fact which they hide is for their wrongful gain and cause wrongful loss to the spectators. However, it is difficult to prove the intention to cause wrongful loss to the spectators. Hence, it can be concluded that match-fixing does not squarely fall under the Indian Penal Code. 
We all remember the scandal of December 2000 which shook India, when the former skipper of the Indian Cricket team, Azharuddin was handed over a lifetime ban by the BCCI for his involvement in the match-fixing. The CBI had to jump in to apply the Indian criminal law since the BCCI had no independent anti-corruption mechanism. Any investigation would have been subjected to biases. Presently, there is an Anti-Corruption Unit of the BCCI specifically set up to enquire and investigate the matters of corruption as per the Anti-Corruption Code, 2018.
If the IPL match-fixing scandal of 2013 is unearthed, S. Sreesanth's [4] case, exposed many shortcomings in the laws perceiving match-fixing. He was charged under the Maharashtra Control of Organised Crime Act (MCOCA), 1999 but later police could not establish enough evidence to charge him under the said act. The BCCI's disciplinary committee imposed the lifetime ban from cricket which was later on reduced by the Supreme Court on the grounds of BCCI not following the provisions of its anti-corruption code. The players involved were imposed with a ban of few years only.
Global Scenario
In 2019, Sri Lanka became the first South Asian nation to criminalise many acts related to match-fixing. It passed all the three readings of a bill labelled " Prevention of Offences Related to Sports" in its Parliament. If a person is found guilty of committing an offence related to corruption in sports, then he may find himself jailed for a term of up to 10 years also be required to pay a fine. [5]
The European legal landscape is not uniform in the cases of betting, match-fixing and gambling. As some countries focus on general offences of corruption or fraud while some countries like Bulgaria, Spain includes in their criminal codes, countries like Cyprus, Poland and Greece have separate sports laws and countries like Italy, Portugal has special criminal laws.
In 2019, due to the rise in match-fixing instances in Sweden, Riksidrottsförbundet, the Swedish Sports Confederation (SSC) made some changes in their policies against match-fixing. According to which, to arrange an outcome or event in a match to gain a monetary benefit, is a criminal offence, with a maximum penalty of jail of two years.
In India, there have been many attempts to overcome fraudulent activities in sport. One of them was The Prevention of Sporting Fraud Bill, 2013 [6] which never saw the light of the day. It proposed to curb sporting fraud at the national and international levels with stringent punishments and imprisonments. It proposed 5 years imprisonment and a fine of five times the economic benefit derived from the act or 10 lakhs. This bill not only covers the fraudulent activities of players but also takes into account the acts of others i.e. coaches, selectors, supporting staff. The bill has died a slow death.
Conclusion
It is a challenging task for the authorities to maintain the integrity of sport, without having a strong framework of laws. The match-fixing incidents damage the trust and belief of fans, followers and supporters of the sport. The notion of match-fixing and illegal betting had been haunting fans for a considerable time now. After the 2013 scandal in IPL, many people have lost their trust in IPL and think it to be fixed. There is a need for a strong legal framework against match-fixing. The task can be much easier if the bill of 2013, Prevention of Sports Fraud is passed in Parliament. Many experts are of the opinion that in order to curb match-fixing, sports betting should be legalized. If betting is legalized then the underground industry can be regularized and can come under supervision.
---
[1] See Zee Telefilms Ltd and Anr vs. Union of India Ors (2005) 4 SCC 649 & A.C. Muthiah v. BCCI & Anr (2011) 6 SCC 617 wherein it was held that BCCI is not an instrumentality of the State and it doesn't come under Article 12 of the Constitution of India.
 [2] https://www.rediff.com/cricket/2000/nov/01full.htm
[3] AIR 1967 Raj 190, 1967 CriLJ 1053
[4] S. Sreesanth v. Board of Control for Cricket in India, 2019 SCC OnLine SC 383, decided on 15.03.2019
[5] https://www.business-standard.com/article/news-ani/sri-lanka-becomes-first-south-asian-nation-to-criminalise-offences-related-to-match-fixing-119111200127_1.html
[6] https://yas.gov.in/sites/default/files/File1211%20sport.pdf