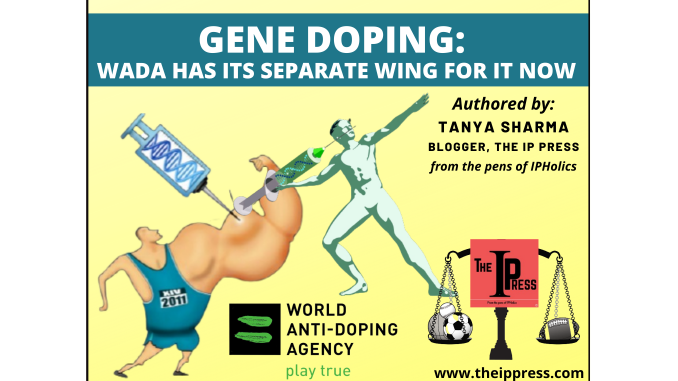 'Doping' is the use of banned athletic performance-enhancing drugs in competitive sports by athletic competitors. The term is extensively used by organizations that govern and regulate sporting competitions. Gene Doping can be defined as the "hypothetical non-therapeutic use of gene therapy by athletes in order to improve their performance in these sporting events which prohibit such applications of genetic modification technology and for reasons other than the treatment of disease". The World Anti-Doping Agency (WADA) defines[1] gene doping as the "non-therapeutic use of cells, genes, genetic elements, or modulation of gene expression, having the capacity to enhance performance". Gene Doping is basically an outgrowth of gene therapy and involves inserting DNA for the purpose of enhancing athletic performance. Its results are unpredictable, dangerous, and perhaps even fatal. It mainly represents a threat to the integrity of sport and the health of the athletes.
The World Anti-Doping Agency[2] (WADA) is a foundation initiated to promote, coordinate and monitor the fight against drugs in sports[3] by the International Olympic Committee based in Canada. It is an international independent agency with its key activities including scientific research, education, development of anti-doping capacities, and monitoring of the World Anti-Doping Code (a document harmonizing anti-doping policies in all sports and all countries). Established in 1999, WADA has its headquarters in Montreal, Quebec and Canada, uplifting its vision and mission of creating a world of doping-free sporting environments for all athletes and leading a collaborative worldwide movement for doping-free sport. Also, there is International Convention against Doping in Sport[4] which is a multilateral UNESCO treaty, with 191 State Parties, by which they agree to adopt national measures to prevent and eliminate drug doping in sport. The Convention was adopted on 19th October 2005 at the General Conference of UNESCO in Paris and came into force on 1st February 2007. Similarly, in India, we have National Anti-Doping Agency[5] (NADA), established by the Government in India on 24th November 2005 with the aim to plan, coordinate, implement, monitor, and advocate improvements in Doping Control; promoting anti-doping research; cooperating with other relevant national organizations, agencies and other Anti-Doping organizations; planning, implementing and monitoring anti-doping information and education programmes, etc.
Besides promoting, monitoring and coordinating the global fight against doping in sports, WADA is devoting significant resources and attention to the detection of gene doping. In March 2002, WADA conducted a workshop on gene doping at the Banbury Center, New York with various experts, scientists, ethicists, athletes, and representatives from the Olympic Movement. Further, in 2004 an Expert Group on gene doping was created with the main aim to study the latest advances in the field of gene therapy, methods for detecting doping and research projects funded by WADA. Further in December 2005, a second workshop was organized in Stockholm in collaboration with the Karolinska Institute and the Swedish Sports Confederation. In June 2008, a third expert meeting was organized on the genetic enhancement of athletic performance, in cooperation with the Russian sports authorities, in Saint Petersburg. Besides, WADA also publishes its magazine[6] named "Play True", whose first issue was published in 2005 dedicated to gene doping.
Erythropoietin, insulin-like growth factor 1, human growth hormone, myostatin, vascular, endothelial growth factor, fibroblast growth factor, endorphin, enkephalin and alpha-actinin are the various genes of interest used as agents for gene doping. Mainly there are two ways to detect gene doping in athletes namely direct and indirect methods. The direct detecting method involves the discovery of recombinant proteins or gene insertion vectors, whereas the indirect detecting method involves the examination of athletes by detecting their bodily changes or structural differences between endogenous and recombinant proteins. The latter method becomes very difficult to ascertain the anomalies of gene doping. This can be well understood by the example of Eero Mantyranta, an Olympic cross country skier, who had a mutation that made his body produce abnormally high amounts of red blood cells. In this case, it was hard to establish the fact whether the high amounts of red blood cells in Eero Mantyranta was naturally or by gene doping. However, according to Carl Johan Sundberg, a member of WADA's gene doping panel and an excise physiologist at Karolinska Institute, there is presently no evidence[7] that any athletes are participating in gene doping.
---
[1] https://www.nature.com/scitable/topicpage/sports-gene-doping-and-wada-764/
[2] https://www.wada-ama.org/en/who-we-are
[3] https://www.insightsonindia.com/2020/07/17/human-growth-hormone/
[4] https://en.unesco.org/themes/sport-and-anti-doping/convention
[5] https://www.nadaindia.org/en/vision
[6] https://www.wada-ama.org/en/gene-doping
[7] https://xtalks.com/gene-doping-in-the-2016-rio-olympics/#:~:text=According%20to%20Carl%20Johan%20Sundberg,are%20participating%20in%20gene%20doping.