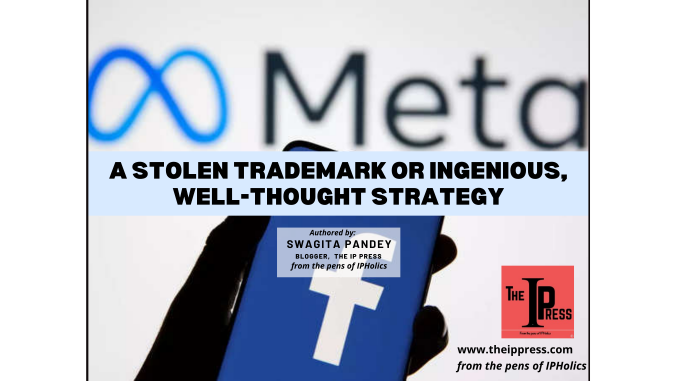 On 28th October 2021, Mark Zuckerberg, CEO of the world's largest social network website 'Facebook' announces the rebranding of its corporate name from 'Facebook' to 'Meta'. The new name is proposed to be part of the company's long-term plan to create a "metaverse" – A virtual reality world where users can socialize, work, play games, and create art.
The new name 'Meta' quickly provoked jeers all across the globe with the launch of mark:

Simultaneously, A Trademark Application bearing application number 97097363 in classes 9, 28, 35, 41, 42, and 45 covering an extensive range of goods and services in the name of Facebook, Inc. was also filed on 28th October 2021 at USPTO for mark

The above-cited mark consists of a blue geometric design consisting of two loops, and the word META in black whereas the color(s) blue and black is/are claimed as a feature of the mark.
Here is a brief description of the goods and services Facebook is claiming for the above-cited mark: –
Downloadable software for searching and identifying employment opportunities
Downloadable software for online charitable fundraising services and financial donation services.
Downloadable software to allow users to perform e-commerce transactions via the internet and communications networks; Downloadable computer software that allows users to make payments and transfer funds.
Artificial intelligence software, namely, machine learning software, visual perception software, speech or language recognition software, decision-making software, translation software, touch recognition software, conversational query software, software for converting natural language into machine-executable commands, and digital assistant software.
Downloadable software for use in facilitating voice over internet protocol (VOIP) calls, phone calls, video calls, text messages, instant message, and online social networking services.
Home automation and home device integration software.
Multifunctional electronic devices for displaying, measuring, and uploading to the Internet information including time, date, heart rate, global positioning, direction, distance, altitude, speed, steps taken, calories burned, navigational information, changes in heart rate, activity level, hours slept, quality of sleep, and silent wake alarm.
Computer search engine software and Downloadable computer software for finding content and content publishers, and for subscribing to content.
Providing telephone directory information via global communications networks.
Providing concierge services for others to meet the needs of individuals, namely, booking reservations, facilitating personal purchases, arranging personal deliveries, making requested personal arrangements, providing recommendations on products and services, providing customer-specific information to meet individual needs.
Application programming interface (API) for use in developing AI (artificial intelligence) platforms, namely, bots, virtual agents, and virtual assistants.
Organizing, promoting and conducting exhibitions, tradeshows and events for business purposes.
Social networking, social introduction and dating services provided via access to computer databases and online searchable databases in the fields of social networking, social introduction, and dating.
Legal services
Since the announcement of rebranding, the above-cited mark is one hot topic of discussion as this new logo/mark is far from being distinctive because the essential function of the trademark is to guarantee the identity of the origin of the goods and services rendered to the consumer or end-user by enabling them, without any possibility of confusion, to distinguish the product or services from others which have another origin.
'META' and Numerous Trademark Progeny
The above-cited mark become a more controversial affair after a Chicago-based tech firm named 'META Company' had filed a trademark infringement suit against Facebook for stealing its name and livelihood. As per the public cease and desist released by 'META Company' it was stated that Facebook and its operating officers are deceitful and acting in bad faith. They also highlighted the fact that Facebook through its lawyers has been hounding them to sell their name 'META', its trademark, and all registered domains which was refused on multiple bases, however, when they failed to buy it, they aimed to bury the company by media force through rebranding announcement and launch of the mark 'META'. The 'Meta Company' is registered proprietor of the mark 'METACOMPANY' since 27th December 2016 in class 42[1], hence 'Meta Company' can take a defense of envisages honesty of prior adoption and use.
Another Arizona-based company called 'Meta PC' is has a prior trademark application for mark 'META' in class 09 claiming user since the year 2020. However, 'Meta PC' is now willing to sell its mark 'META' to Facebook for $20 Million USD arguing that they will also be required to completely rebrand their company, if Facebook wants to adopt mark 'META'. The said trademark application[2] is currently pending Examination before USPTO.
Yet another German health start-up called 'M-sense Migräne' that offers digital treatment programs for people suffering from migraines and headaches accused Facebook of bad faith involved in the adoption of the mark 'META' which is heavily inspired from there mark

. This health start-up was developed by Newsenselab in February 2016. An app 'M-sense' is also available on the Google Play Store and Apple App Store which has over 5,000 downloads on the Play Store. However, 'M-sense' only has Trademark registration[3] for word mark 'M-sense' in classes 09, 10, 38, 42, and 44.
Does Facebook Have Superior Rights?
The word 'META' has a clear dictionary meaning and conveys a definite meaning, therefore, cannot be accorded monopoly of use that is accorded to invented words. According to Cambridge Dictionary, the word 'META' means 'of something that is written or performed, referring to itself or to something of its own type'. It can easily be inferred that the word 'META' is a dictionary word and more importantly is not coined or invented or popularised by anyone before Facebook adopted it. While adopting a common dictionary word the distinctive character can only be proved if acquired by reason of use made of the mark prior to the application for registration. Also, differences in the industry is where the big questions come into play. Two companies can have rights over the same trademark if consumers are not likely to be confused between the two uses.
For instance, 'Ace – The card game' and 'Ace kitchen and bar' are not in conflict because there is no likelihood of confusion. No one would confuse a card game with a restaurant.
All the above arguments will play a very important role in the alleged and prospective Trademark disputes for the above-cited mark. Another expected argument for the defence of the above-cited mark can be the registrations of marks

and

. In the year 2019, Facebook sought the registration for mark 'LASSO' in classes 9, 35, 38, 41, 42, and 45[4] which is very similar to mark 'META'. 'LASSO' was a short-video sharing app that Facebook erstwhile intended to rival TikTok which was abruptly shut down in July 2020.
Is An 'META' An Effort To Misled The Public
At present, the trademark application for the above-cited mark filed at USPTO is at the Examination stage but Facebook has already repainted the sign outside its Silicon Valley headquarters with the Meta logo/mark. According to the statement released by Facebook, its stock's ticker symbol on the 'Nasdaq' will change from 'FB' to 'MVRS' on 01st December 2021. Further, Facebook would begin reporting earnings for two separate sub-categories starting in December. The 'Family of Apps' category will include Facebook, Instagram, and WhatsApp, while 'Facebook Reality Labs' will include the company's augmented and virtual reality products, including its Oculus headsets.
Facebook's reputation has taken multiple hits in recent years, including over its handling of user data and its policing of abuses such as health misinformation, violent rhetoric, hate speech, and now multiple IP infringement suits. It is also noteworthy that the U.S. Federal Trade Commission has also filed an antitrust lawsuit against Facebook alleging anti-competitive practices.
Well, it would be interesting to see if this rebranding, new logo/mark does suddenly erase the systemic issues plaguing 'Facebook'!
---
[1] Mark 'METACOMPANY' bearing registration number 5108585 in class 42 in name of META, LLC – https://tmsearch.uspto.gov/bin/gate.exe?f=doc&state=4803:t9p1dg.2.1
[2] Mark 'META' bearing application number 90897345 in class 09 in name of META PC, LLC – https://tmsearch.uspto.gov/bin/gate.exe?f=doc&state=4805:4rjy4i.2.1
[3] Mark 'M-sense' bearing registration number 302016002031 in classes 09, 10, 38, 42 and 44 in name of Newsenselab – https://www3.wipo.int/branddb/en/#
[4] Mark ' ' bearing application number 88380256 in classes 9, 35, 38, 41, 42, and 45 in the name of Facebook, Inc. – https://tmsearch.uspto.gov/bin/gate.exe?f=doc&state=4803:7tm7j1.2.1