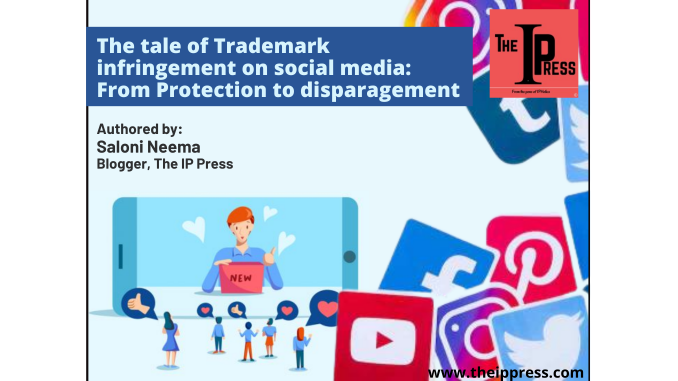 Introduction
"The internet is becoming the town square for the global village of tomorrow as humbly stated by Bill Gates".
The way we interact and disseminate information has changed significantly due to social media. Information is freely available in the digital world due to the advancement of technology, exposing us more vulnerable to intellectual property violations. In general, social media is a type of online media created by the user's social interactions. It differs from television, radio, and newspapers, which have a specific audience and only go one way because information flows from various sources due to advanced web 2.0 technology. Twitter, Instagram, Facebook, Myspace, YouTube, and Piratebay are just a few examples of popular social networking platforms. According to the IAMAI-Kantar ICUBE 2020 report, India's number of active Internet users is predicted to rise by 45 percent in the next five years, reaching 900 million by 2025[i], up from roughly 622 million in 2020. According to Technorati.com[ii],
As a result, social networking and social media are the next big thing for large and small enterprises. Human resources departments, job searchers, and employees use social media for advertising and promoting themselves. This has also enabled the upsurge of a range of potential threats; Trademark infringement, or the unauthorized use of a trademark, is one such risk. Social media poses a threat to intellectual property rights in various ways.
A trademark is a sign that distinguishes a product or brand from other goods of the exact nature. The unique character is provided through smell, taste, imagery, or visual content. The trademark law has evolved and developed to protect manufacturers' rights and encourage exploration in a specific field. Since trademark law does not authoritatively govern the rights of ownership and advancement, the effect of Technology on the system has not yet been adverse. However, Technology has started showing results of a disruptive and revolutionary wave in trademark law. This research focuses on Trademark issues and trademark misuse on social media.
Misuse of Trademark and Infringement Case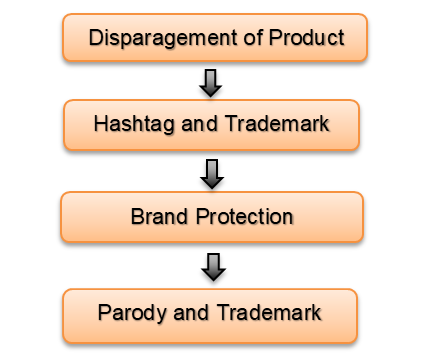 Disparagement of Producroduct advertising is one of the most effective ways to reach a specific audience and provide information about a product. However, market players may utilize unethical strategies to achieve a monetary advantage, affecting their competitor's reputations through disparagement. Comparative advertising is one kind of disparagement. On the other side, disparagement involves making false claims or remarks about a competitor. As a result, disparagement is prohibited under Indian law. Thus, whenever a comparison advertisement states misleading facts about a competitor's goods, it is considered disparagement and a trademark infringement. Comparative advertising is permitted as long as it does not degrade a competitor's product.
In India, section 29 of the Trademarks Act 1999[iii], which deals with comparative advertising, states,
"A registered trade mark is infringed by any advertising of that trade mark if such advertising—
(a) takes unfair advantage of and is contrary to honest practices in industrial or commercial matters; or
(b) is detrimental to its distinctive character; or
(c) is against the reputation of the trade mark".
Furthermore, Section 30 (1) of the Trademarks Act 1999[iv], restricts the use of comparative advertising under Section 29. Comparative advertising is legal in India, however there is a narrow line that must be followed: the competitor's mark must be used honestly. As a result, the advertisement cannot be deceptive or harmful to the competitor's goods.
The plaintiff in Euroke Forbes Ltd. v. Pentair Water India Pvt. Ltd[v]. claimed a permanent injunction prohibiting the defendant from publishing, placing an advertisement, or distributing any material defaming or maligning the plaintiff's product since it was a matter of disparagement. The plaintiff is a prominent water purifier firm that purifies water using UV rays. The defendant company, which is likewise in the water purifier industry, ran the following advertisement:
"Water contains contaminants that are invisible to the naked eye and to your UV water purifier."
In this case, the court concluded that, even though the defendants did not mention the plaintiff's firm name explicitly, the advertisement amounted to disparagement of the plaintiff's products since the plaintiff used UV rays' technology. In this instance, the court ruled as follows:
"What is pertinent, is to examine the advertisement in question in the context of the business of the appellant herein. Viewed from the said angle, though the respondent has every right to market its product by claiming that its product is superior in quality, yet, at the same time, the freedom of expression i.e., the right to advertise, does not permit one to go to that extent as to cause damage or irreparable injury to the product of others. Merely because the respondent has every right to market its product by stating that its products are of superior quality over others, yet, it cannot go to the extent of stating that the contaminants are invisible even to UV water purifier."
Comparative advertising is thus permitted and, in certain situations, promoted in India. It enables customers to understand the differences between two competing products and rationalize when choosing a product that meets their needs or desires. At the same time, the legislation makes it illegal to criticize a rival's product for earning monetary benefits in an unethical manner. Thus, the goal of comparison advertising is to assist consumers in making an educated decision by giving accurate information about two similar items. Disparagement is also rampant in the virtual sphere. Social networking sites are a host for disparaging advertisements that try to demean other products. There is a dire need to curb this due to the virtual world's significant impact.
Hashtag and Trademark
The hashtag culture is represented by the usage of the '#' sign before any word or phrase on social media platforms. This enhances a person's job by restricting the search results to that exact phrase.
Section 2(1) (m) of the Trade Marks Act of 1999[vi], (hereinafter the Act) states "that "mark" includes, "a device, brand, heading, label, ticket, name, signature, word, letter, numeral, shape of goods, packaging or combination of colours or any combination thereof." Furthermore, as per section 2(1) (zb) of the act[vii], the hashtag must be able to be graphically represented, and the tag must distinguish one producer's goods/service from those of another; only then a hashtag be considered a trademark.
According to the United States Patent and Trademark Office ("USPTO"), a hashtag may only be registered as a trademark if it serves as a source identification for the person's services or goods. A hashtag is most commonly used on social media platforms rather than directly on products. As a result, it should be distinct from the abbreviation of the product being offered, and it should be associated to the product directly.
The WIPO Arbitration and Mediation Centre, in Coca-Cola Co. v. Whois Privacy Protection Service Inc. /Thien Le Trieu, Le Trieu Thien, "held that a hashtag mark which is not based on an existing mark would be treated the same as a non-hashtag mark for analysis. Therefore, to summarize it, a hashtag can be registered as a trademark but for that, it must qualify as unique, should be relevant and should not infringe any existing rights".
Common marks should be avoided, as individuals currently tend to hashtag everything on social media. This trend might work in the product's or service's favour or entirely against it. Nike, for example, has a registered trademark "Just do it" with a swoosh symbol, but it also uses hashtags like #running or #freerunning to promote its products, which are not trademarked. These connected hashtags aid in giving the product a better name. On the other side, a McDonald's hashtag, #McDstories, became widespread on the social networking platform Twitter, and everyone used it to send complaints about the company's products and services.
Brand Protection
Online trademark infringement involves deep linking, pay-per-click advertising, meta-tagging or offer of counterfeiting goods on online selling sites. This often exploits the brand-name of the company tampering its image and goodwill. In the case of Mattel Inc. v. Jayant Agarwalla[viii], Two Indian brothers designed a Facebook game called scrabulous. Mattel Inc. and Hasbrow sued the brothers for trademark and copyright infringement. The Court noted that Scrabble is a well-known brand, and that using a mark that is similar to it would be trademark infringement.
The court issued an interim injunction against the defendant corporation in Christian Louboutin Sas v. Nakul Bajaj[ix], for selling its products without authorization on its social networking site, www.darveys.com. The injunction was issued on the grounds that selling the products without authorization gives buyers the erroneous idea about the product's quality and has the potential to harm the designer's reputation.
Parody and Trademarks
Parody is an imitation of someone else's work with a view to ridicule or criticize such work.
There have been successful trademark claims on parodies. People for the Ethical Treatment of Animals v. Michael T.Doughney[x], is one such case, in which the defendant created a website with the domain name peta.org that contained the plaintiff's registered trademark. The defendant argued that his site titled People Eating Tasty Animals was a parody of the plaintiff's name People for the Ethical Treatment of Animals. The court dismissed his defence and found him guilty of trademark infringement.
The protection of a trademark is crucial since it assists in the identification of the product. Infringement of a trademark produces widespread confusion, resulting in an economic loss for the owner. There is indeed a risk of trademark infringement because of the vast reach of social media.
Conclusions
It is indisputable that social media has fundamentally transformed the marketing game and the possibilities for promoting companies, particularly domestic trademarks, which may now have significant local, global, and even international exposure owing to social media. As a result, the brand's scope of usage and disclosure is expanded, so is the necessity of protecting it appropriately. Because of these technological advancements, information is readily available in the digital realm, exposing us to intellectual property violations. Rightsholders need to have proper, robust laws in place to promptly and efficiently deal with and manage challenges.
---
[i] India to have 900 million active internet users by 2025, says report, THE ECONOMIC TIMES, (Jun.3, 2021), https://economictimes.indiatimes.com/tech/technology/india-to-have-900-million-active-internet-users-by-2025-says-report/articleshow/83200683.cms?from=mdr.
[ii] Neal & M c Devitt, Top 10 legal issues in social media, STUDYLIB, https://studylib.net/doc/8161376/top-10-legal-issues-in-social-media.
[iii] Trade Mark Act, 1999, §29.
[iv] Trade Mark Act, 1999, §30 (1).
[v] Euroke Forbes Ltd. v. Pentair Water India Pvt. Ltd, 2007 (4) KarLJ 122.
[vi] Trade Mark Act, 1999, §2 (1)(m).
[vii] Trade Mark Act, 1999, §2(1) (zb).
[viii] Mattel Inc. v. Jayant Agarwalla, 2008 (153) DLT 548.
[ix] Christian Louboutin Sas v. Nakul Bajaj, 2018 SCC OnLine Del 12215.
[x] People for the Ethical Treatment of Animals v. Michael T.Doughney, 113 F. Supp. 2d 915.