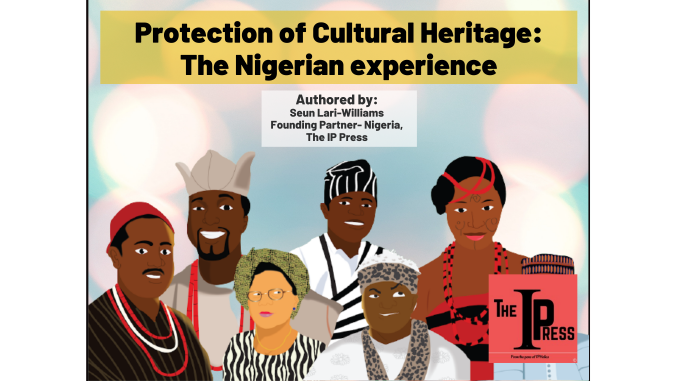 Discussions about cultural appropriation, and even more recently, news about museums in the global north returning looted artefacts in their possession to their rightful places, have brought the topic of cultural heritage to the fore in Nigeria, with the Nigerian National Commission for Museums and Monuments (NCMM) finally receiving its much deserved attention. This article presents a high-level introduction to Nigeria's cultural heritage. It explores what is meant by the term 'cultural heritage', while providing examples of same in Nigeria. It also explores some of the challenges faced (legal and extralegal) in the protection of cultural heritage and discloses recent legal developments. It concludes by urging the UNESCO to grant a higher recognition of the Nigerian items on its pending list.
Introduction to Cultural Heritage
According to UNESCO the term cultural heritage encompasses several main categories of heritage including cultural and natural heritages. Cultural heritage are cherished characteristic features consisting of physical artifacts and intangible attributes of such societies that are inherited from past generations, maintained in the present and bestowed for the benefit of future generations. They evolve from the ingenious activities of humans, preserved and transmitted through oral traditions or in written concrete forms across generations of human societies.
Tangible cultural heritages include products that can be touched and seen (e.g., architecture/buildings, defensive walls and tools, cowries, paintings, textiles, pestles, mortars, religious temples, dresses, pottery & potsherd pavements, monuments, books, works of art). Intangible cultural heritages on the other hand include invisible aspects of a peoples' ways of life such as folklore, kinship, norms, values, worldviews, philosophies of life, religious beliefs and practices, music, dance, festivals, traditions, language, and knowledge among others.
Benefits gained from the preservation of cultural heritages is the simple fact that culture transforms societies. Historical monuments, museums, and traditional practices are maintained to enrich lives for the better. It has been said that heritage serves as a source of identity and cohesion for communities especially when disrupted by changes such as economic instability. From a financial perspective, cultural heritage has served many nations as a driver of cultural tourism, as many people enjoy traveling to experience unique traditional beliefs and practices across the world. Experiences such as these exposes one to unique heritage landscapes and allows the tourist to be immersed in intangible heritage processes such as traditional rites, festivities, ritual enactment, etc.
Examples of movable cultural heritage (such as paintings, sculptures, coins, and manuscripts) may be found in the Nigerian National Museum, Nike Art Centre, Red Door Gallery, Terra Kulture, and Centre for Contemporary Art, all of which have notable collections of Nigerian art. Examples of immovable cultural heritage includes monuments and archaeological sites such as the Lekki Conservation Centre (LCC) and perhaps even the National Theatre (after all, Cultural heritage does not have to mean old buildings in old city centers). Intangible cultural heritage includes oral traditions, performing arts, music, poetry and rituals.
So far, only Osun-Osogbo Sacred Grove (2005) and Sukur Cultural Landscape (1999) have made it to the UNESCO's recognized World Heritage List
Challenges faced by Nigeria's cultural heritage
The cultural heritage industry in Nigeria faces several challenges that cannot possibly be explored in detail here. However, it is noteworthy that even though cultural heritage legislation and management commenced in Nigeria seventy years ago, nonetheless the Nigerian commission for museums and monuments remains a marginal institution without adequate resources to manage and protect the country's cultural heritage. Nonetheless, a few of the main challenges will be discussed hereunder.
Colonialism, which though may be considered a past issue in certain contexts, still impacts cultures and traditions, albeit the ones that were not simply swept away by colonial masters. Aside the catastrophic decimation of human life in colonized nations such as Nigeria, many works which may qualify as heritages were looted.
Religion has also proved to be an indomitable opponent to cultural heritage. Among other events, when missionaries introduced Christianity, they relegated and designated Nigerian traditional religions as idol worship and branded practitioners as unbelievers. Many temples which could have served as interesting heritages were thus destroyed.
In the entertainment industry, powerful multinational corporations (and those influenced by them) have also played a role in this context. They have used their resources to promote western music, foreign dance styles, foreign dress culture, western musical instruments, often at the expense of the traditional dance and dancers, songs, music, and local costumes, musical instruments etc. The effect of these is felt not only in the music industry but also in the fashion industry where traditional outfits are fast being abandoned.
A further challenge is mismanagement and destruction of cultural resources in the country. This is manifested in acts of museum theft, illicit trafficking, unlawful possession, and general mishandling of cultural heritage, as well as the deterioration of facilities in the sector. This has been mostly attributed to the lack of required attention by the government and other relevant stakeholders (such as community leaders/members, academics and law enforcement agencies, inter alia). Accordingly, physical cultural sites, such as national monuments or heritage objects do not enjoy sufficient protection. Once there was an allegation that even the government, particularly the Lagos State Government, under former Governor, Mr Akinwunmi Ambode, in 2016, was responsible for the demolition of the Ilojo Bar near Tinubu Square, off Broad Street, Lagos Island.
Legal protection on cultural heritage conservation in Nigeria
Nigeria's first comprehensive law on cultural heritage is the National Commission for Museums and Monuments Act of 1979 (although there have been a number of legal provisions relating to monuments in Nigeria before 1979). The NCMM Act consolidated most of the provisions found in Nigeria's earlier cultural enactments. There have been calls for this law which has become outdated to be amended. Across Nigeria, the NCMM manages 51 museums and 65 national monuments and sites.
Section 21 of the Nigerian Constitution (as amended) has provisions regarding the rights of Nigerian people to develop and promote their cultures, and to apply their cultures as an instrument promoting national identity and unity. At the Federal level, Acts of the National Assembly of Nigeria define the role and functioning of the specialized bodies dealing with culture (e.g., the National Council for Arts and Culture). Specific laws passed by these and other relevant authorities represent the statutory basis for the establishment of arts councils and such other bodies.
There is a Private Bill to Amend the Enabling Act Of The National Commission For Museums and Monuments (NCMM)' currently pending. If passed into law, it could reduce the cultural heritage violations in Nigeria and even make significant contributions to the economy.
In 12 parts, the bill includes Establishment of the NCMM, Objectives, Functions, and Powers, Advisory Committees of the Commissions, Staff of the Commission, General Provisions and Guiding Principles For Heritage Resources Management, Excavations and Discoveries, Conservation and Security, Prohibited Transfer, Museum, Deductions From Budget And Tax To Aid Culture, Financial Provisions and Miscellaneous Supplementary. Specifically, some of the items listed recommend fines and punishments for violation of the law.
It is reported that under Part II number 17, Conservation and Security, the bill says: "Any person who acts or omits to act thereby causing the loss, destruction, damage or deterioration of a heritage resource shall be guilty of an offence and is liable on conviction."
The bill, in prescribing punishments for violators, separates individuals from institutions. It states that if the violator is "a natural person," the fine "of N500,000 or to pay the cost of restoration (whichever is greater), or imprisonment for two years," is enforced. For individual or group with powers of government agencies described as "a juridical person," fine of "N5 million and shall pay for the cost of restoration."
While the foregoing provisions signify commendable effort at protection of items of cultural heritage in Nigeria, they still fall short of international standards (see 1954 Hague Convention and 1977 Additional Protocols, and the World Heritage Convention). For instance, the punishment for violation of the law needs to be higher, as it falls short of being prohibitive. Stronger measures and punishments are bound to improve the present situation and as such, should be welcomed. The trial of cases such as the case of Al-Mahdi at the International Criminal Court, suggests that the manner with which cultural heritage is treated is serious business. In this case, the accused was charged with the crime of intentional attacks directed against protected cultural heritage sites. Nigeria has definitely experienced cases similar to Al-Mahdi's, especially in the terrorized north-eastern states, yet they are virtually seen in the courts.
Conclusion
As can be seen from the foregoing, when it comes to cultural heritage, although Nigeria may not hold the number one spot in the world, it certainly ranks high; this article explored a few examples of same in Nigeria and has also discussed some of the challenges faced (legal and extralegal) regarding their protection. As protection of Nigeria's cultural heritage is of paramount importance to the history and culture of its people, they are therefore worth the same standard of protection of their counterparts abroad. However, as is the case with most developing countries, protecting cultural heritage can be a challenge due to high maintenance costs. Yet, viewed from the perspective of its potential benefits, such costs would seem reasonable. Consequently, the Nigerian government should consider raising international awareness about its country's heritage, while pushing for a higher recognition of Nigerian items of cultural heritage by the UNESCO (the implication of which includes access to several international funds).