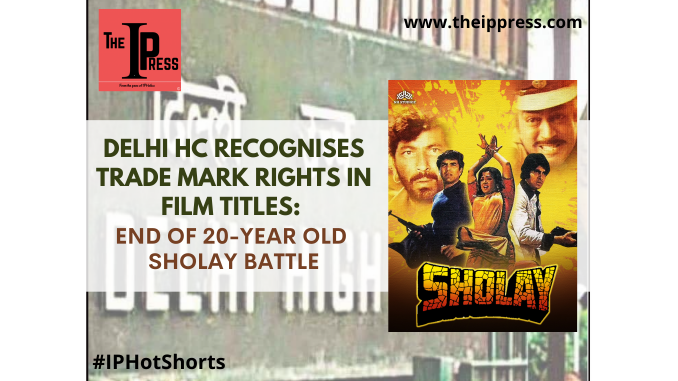 Delhi High Court rules on Trademark law on film titles
Facts in brief
The case is centred on the popular iconic film 'Sholay' which was produced by Mr. G. P. Sippy. In this case, plaintiffs are the producers of the film and defendants are the members of Patel Family who have registered the domain name 'www.sholay.com', published a magazine using the mark/name Sholay and have put on sale various merchandise, exhibiting scenes and names from the movie 'SHOLAY'.
The present suit sought permanent injunction restraining the infringement of their registered trademark 'SHOLAY' by the Defendants, including the action of passing off, damages, and rendition of accounts, delivery up, etc.
Judgment in brief
The Hon'ble High Court of Delhi ended the twenty yearlong battle revolving around the mark "Sholay". It has provided relief to the makers of the iconic film "Sholay" by restraining the Defendants from using the name 'SHOLAY' in respect of any goods and services, exercising the domain name 'Sholay.com' and making any reference to the movie 'SHOLAY', Further, the court has restricted the defendants using any images or clippings from the said movie, and also from selling merchandise using the name SHOLAY or any images from the said cinematographic film.
The Court also awarded damages of Rs. 25 lakh to the maker of the movie – Sholay Media & Entertainment Pvt. Ltd. & Sippy Films Pvt. Ltd. and noted that titles and films are capable of being recognised under the trademark law.
In the present case, the Court rejected the contention of the defendants that Titles of films cannot be Trademarks. Justice Ptratibha M. Singh justified the same by stating that "The word 'SHOLAY', is the title of an iconic film, and consequently, as a mark having been associated with the film, produced and now vesting in the Plaintiffs, cannot be held to be devoid of protection. Certain films cross the boundaries of just being ordinary words and the title of the film 'SHOLAY' is one of them". She also added that "Titles and films are capable of being recognised under trademark law and in India 'SHOLAY' would be a classic example of such a case."
The court, while recognizing the film fad, also stated that "If there is one film that transcends generations of Indians, it is 'SHOLAY'. The said film, its characters, dialogues, settings, and box office collections are legendary. Undoubtedly, 'SHOLAY' is one of the biggest, record-breaking films that India has ever produced, in the history of Indian cinema… The mention of the word 'SHOLAY' immediately creates a connection with the movie 'SHOLAY'. There are industry estimates which claim that, although the words 'SHOLAY' may have a dictionary meaning in Hindi (specifically, 'burning coal'), upon the movie going public, the word 'SHOLAY' came to be associated only with the film."
The full judgement can be accessed from here.
References
https://www.barandbench.com/news/litigation/delhi-high-court-slaps-25-lakh-costs-website-infringing-trademark-bollywood-film-sholay
#IPHotShorts
Happy Reading!