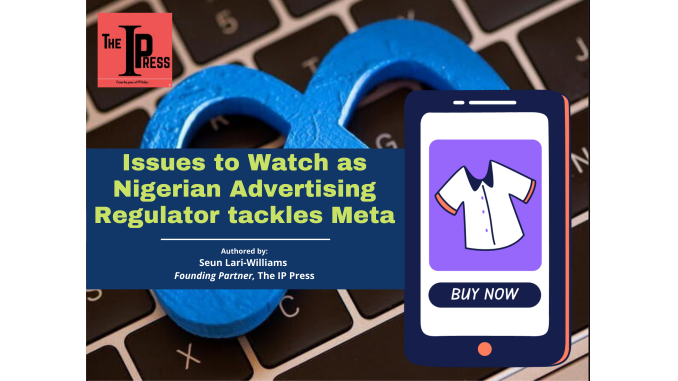 Nigeria's advertising and marketing industry, concerning which there has long been an outcry of over-regulation, has now been burdened with even more regulations.[i] The Advertising Regulatory Council of Nigeria Act No. 23 of 2022, which establishes the Advertising Regulatory Council of Nigeria (ARCON) recently became law. It abolishes the Advertising Practitioners (Registration, etc.) Act of 1988 and, according to media reports, charges the Council with "the regulation and control of advertising, ensuring the protection of the general public and consumers, promotion of local content, and entrenching best international practices."[ii] Following the enactment of the Act, the Advertising Practitioners Council of Nigeria (APCON) changed its name to ARCON (this of course raises legal issues, but these are not the focus of this article).
As one of its first decisions, ARCON announced a ban on the use of foreign voice-over artists and models in advertisements with effect from October 1, 2022. While stakeholders and commentators were still trying to grapple with this ban,[iii] on 5 October 2022, the news broke that Nigeria's Federal Government, through ARCON, has sued Meta over advertisements, demanding 30 billion naira (about 70 million dollars).[iv] According to the reports, the Council claims that "the advertisements on Facebook, Instagram and WhatsApp in the Nigerian markets are not vetted and approved by the federal government."
While all the facts of the suit have not yet been made public[v], the following issues are immediately apparent:
The Right to Freedom of Expression vs Advertising
Practicality of "vetting and approving" each social media Advert
The Effect of APCON/ARCON's actions on the perception of the Nigerian business environment and the ease of doing business in it.
Before delving into the issues identified, it might be necessary to take a brief look at the legal history of APCON.
Stakeholders in the advertising industry may recall that APCON had been known to levy sanctions on businesses whose advertisements were not vetted prior to publication or exposure.[vi] Was this always legal? In 2010, in the case between APCON and The Registered Trustees of International Covenant Ministerial Council & Ors. (RTICM), APCON had required RTICM, an advertising practitioner, to submit its advertisements to them for vetting before publication. RTICM challenged APCON's powers to impose its membership rules on non-members. The Court of Appeal held as follows:
"What the Appellant [APCON] seem to be after is to force into membership of the advertising practitioners, persons or bodies or establishments who have neither the inclination nor the interest to become same," … "APCON is better advised to keep its tentacles within its authorized membership and leave well alone persons not within their scope or profession."[vii]
Effectively, the court clarified the powers of APCON by observing that APCON did not have the power to control and regulate advertisements in Nigeria. Rather, it had powers to control and regulate its members, who were persons (natural or legal) in the business of advertisement. As has been observed by a commentator, "unlike the law profession and the Medical profession, where the Legal Practitioners Act and the Medical and Dental Practitioners Act, expressly reserve such professions and prohibits or limits unlicensed persons from practicing such professions, the APCON Act was silent on the issue or at best self-limiting."[viii]
In the more recent case of MIC Royal Limited (MIC) v. APCON (judgement delivered on 5 July 2018), the Court of Appeal held that APCON has no powers over ordinary persons, companies, institutions, businesses, or groups advertising anything in so far as such persons or groups are not into the business of advertisement practice. In this case, MIC, without recourse to APCON, procured the placement of an advertisement in the Punch Newspaper of May 29, 2014. Following this development, APCON, via a Violation Notice, imposed a penalty of N500, 000 (Five Hundred Thousand Naira) on MIC Royal for procuring the advertisement without its approval. There was unchallenged evidence before the Court that MIC, is a limited liability company engaged in the business of funeral homes, carpentry, joinery trade and manufacturing. In summary, the Court of Appeal held that APCON's powers did not extend to persons, including MIC, who are not advertising practitioners, thus invalidating the Violation Notice issued to MIC.[ix]
From the facts of both cases, it is observed that the platforms where the adverts were placed were not the concern of APCON. The focus of APCON, though misplaced, was on the owners of the business advertised i.e., RTICM and MIC. In the light of the foregoing, I would argue that even if they had tried, for the same reasons given by the Court, APCON would also not have been able to impose any pre-vetting rule on an entity such as a newspaper where businesses and individuals alike (whether in the advertising business or not) place their adverts.
ARCON vs META: issues arising
With the passing of the ARCON law, would it now be lawful for ARCON to regulate the advertising industry, demanding vetting of ads?
Just like many industries, the advertising industry has been enormously impacted by the digital age. More particularly, social media platforms such as Facebook and Instagram have changed the advertising and marketing landscape beyond recognition. In trying to deal with this reality, the Nigerian government may be biting off more than it can chew.
The Right to Freedom of Expression vs Advertising
One might recall the seven-month ban on Twitter, by which the government had accused Twitter of allowing "persistent use of the platform for activities that are capable of undermining Nigeria's corporate existence." Against this background, the latest action of the government seems suspicious. ARCON brings this issue to mind by stating on its website that by bringing this suit "…it is not regulating the online media space but rather advertisement, advertising and marketing communications on the online platforms in line with its establishment Act."
It is submitted that requiring each and every advert to be vetted and approved before exposure to the Nigerian public via online platforms is also a regulation of the online media space and is arguably a threat to the right to freedom of speech. The commercial market place, like other spheres of our social and cultural life, provides a forum where ideas and information flourish. Some of the ideas and information are vital, some of slight worth. But the general rule is that the speaker and the audience are the ones who should assess the value of the information presented and not the government. Thus, even a communication that does no more than propose a commercial transaction is protected under Nigerian law. Indeed, an advertisement is a commercial speech and commercial speech is speech.
In the US, the Supreme Court sets out a four-part test for assessing government restrictions on commercial speech. I believe the Nigerian government can take a leaf from this:
"[First] . . . [the commercial speech] at least must concern lawful activity and not be misleading. Next, we ask whether the asserted governmental interest is substantial. If both inquiries yield positive answers, we must determine whether the regulation directly advances the governmental interest asserted, and whether it is not more extensive than is necessary to serve that interest."[x]
Freedom of speech is one of the fundamental human rights and freedoms in Nigeria's Constitution.[xi] However, this right is not an absolute right. As such, there is a conflict between the doctrine of free speech and regulation of mass media.Thus, while the Nigerian government may be entitled to control the distribution of false or misleading advertising, advertising of illegal goods or services, it should not throw a blanket indictment over all of advertising activities. This would be a slippery slope.
Practicality of "vetting and approving" each Facebook and Instagram Ads
There is nothing suggesting that the Council has the facility to provide a pre-clearance procedure for the volume of adverts on Meta platforms (not to talk about all platforms) before they can be vetted and accepted. Given the sheer volume of adverts on Facebook and Instagram, how likely is it that ARCON can "vet and approve" every single one of them? Even if it could, would it be a worthwhile use of resources, and what effect would this have on the speed of doing business?
In other parts of the world, advertising authorities respond to concerns and complaints from consumers and businesses, and take action to ban ads which are misleading, harmful, offensive or irresponsible. They also monitor ads to check that they are following the rules.[xii] In other words, the checks are reactionary. if a vetting process must be put in place, it would be more practicable to limit such to adverts of harmful products such as alcohol and drugs.
For instance, advertising in the UK is regulated by the Advertising Standards Authority (ASA). It does not pre-approve non-broadcast ads. As there are millions of these non-broadcast ads published every year, it would be impossible to vet every one of them before they appear.[xiii] What ASA does is to help advertisers get their ads right by providing a range of advice, guidance and training, including free pre-publication, Copy Advice service.[xiv]
Thus, businesses are allowed to post whatever they wish. However, through the system's feedback and monitoring mechanism, errant ads (according to the Adverting Codes) will be fished out, following which their owners are contacted to drop or adjust same.
Effect on Perception of Doing Business in Nigeria
The lawsuit is likely to hurt businesses highly dependent on digital ads for their growth. This pre-vetting requirement is bound to involve payment of an amount of money. It should be noted that any cost of pre-vetting advertisements placed on social media platforms will eventually find its way back to the consumers, through the channels of the businesses placing advertisements on the platforms.
Also, recall the agency's xenophobic ban on foreign models and voice-over actors in Nigeria. For a country that takes pride in the success of its millions of citizens abroad, this came as a surprise to many. We would not want other countries to begin placing such sweeping bans on foreigners, including Nigerians. Besides, Nigerians would agree that most adverts run in Nigeria are as local as they can be, using pidgin English and local context. Indeed, it is often in the interest of businesses (even foreign businesses in Nigeria) to do so. What would this mean for Nigerian international artists like Burna boy, Tiwa Savage and Wizkid if other countries adopt such policies?
Conclusion
Watch this space. Let us wait and see how this suit plays out. Suffice to say however, that over-regulation of the nation's advertising ecosystem will not be in the best interest of both Nigerians and foreign investors alike.
---
[i] Mohammed Shosanya, 'Burden of excessive regulation of business in Nigeria', Daily Trust Newspaper, 31 July 2014. Available: https://www.pressreader.com/ accessed 5 October 2022
[ii] Broadcast Media Africa, 'Nigeria: Govt. Has Approved Advertising Regulatory Council of Nigeria Bill' 32 August 2022. Available: https://broadcastmediaafrica.com/nigeria-govt-has-approved-advertising-regulatory-council-of-nigeria-bill accessed 5 October 2022
[iii] Giulia Carbonaro, 'Fact Check: Did Nigeria Ban White Models from Advertising?', Newsweek, 5 October 2022. Available: https://www.newsweek.com/fact-check-did-nigeria-ban-white-models-advertising-1738957 accessed 5 October 2022
[iv] Biodun Busari, 'FG sues Mark Zuckerberg's Meta over adverts, demands N30bn', Vanguard Newspaper, 4 October 2022: https://www.vanguardngr.com/2022/10/fg-sues-mark-zuckerbergs-meta-over-adverts-demands-n30bn/ accessed 6 October 2022
[v] See memo containing vague information on the suit: APCON, 'ARCON Sues Meta Platforms Incorporated, Seeks N30b In Sanction and Penalties' APCON News. Available: https://www.apcon.gov.ng/news_story.php?id=0 accessed 6 October 2022
[vi] Banwo & Ighodalo, 'Court Of Appeal Rules On The Applicability Of The Advertising Practitioners (Registration Etc.) Act And The Nigerian Code Of Advertising Practice & Sales Promotion', Banwo & Ighodalo (News), 31 July 2018. Available: https://www.banwo-ighodalo.com/news/court-appeal-rules-applicability-advertising-practitioners-registration-etc-act-nigerian-code-advertising-practice-sales-promotion accessed 6 October 2022
[vii] Abubakar Idris, 'Court rulings threaten APCON's attempt to regulate online ads in Nigeria', Tech Cabal, 14 September 2019.Reported: https://techcabal.com/2019/09/14/court-rulings-threaten-apcons-attempt-to-regulate-online-ads-in-nigeria/ accessed 5 October 2022
[viii] Unini Chioma, 'Why "APCON" Lacks Powers To Regulate Advertisement In Nigeria' The Nigerian Lawyer, 20 September 2019. Available: https://thenigerialawyer.com/why-apcon-lacks-powers-to-regulate-advertisement-in-nigeria/#:~:text=The%20Advertising%20Practitioners%20Council%20of,of%20advertisement%20by%20Advertising%20Practitioners. Accessed 6 October 2022
[ix] Ibid (Banwo & Ighodalo news)
[x] Law Publish, 'Advertising Is Protected by the First Amendment': https://www.lawpublish.com/amend1.html accessed 6 October 2022
[xi] See section 39 of Nigeria's 1999 Constitution (as amended)
[xii] See for example, the Advertising Standards Authority (ASA), UK's independent advertising regulator: https://www.asa.org.uk/about-asa-and-cap/about-regulation/about-the-asa-and-cap.html
[xiii] Victor Ojelabi, ''Raping advertisers, recoiling growth' A critical look at FG-backed APCON to ARCON reform (Part II)', Freelanews, 6 August 2022 https://freelanews.com/raping-advertisers-recoiling-growth-a-critical-look-at-fg-backed-apcon-to-arcon-reform-part-ii/ accessed 6 October 2022
[xiv] Ibid