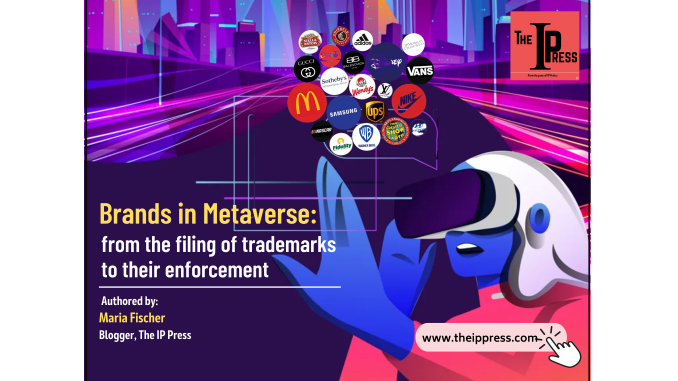 The term "Metaverse" broke into the public consciousness in October 2021 when Facebook renamed itself, Meta, a testament to its ambition in this new arena. Metaverse is not a single space, as some might think, associating it with Meta, but an interoperable network of 3D virtual worlds. These worlds can be accessed by millions of users simultaneously, who can, among other things, exert property rights over virtual assets, such as clothes, inventory, and even land. The fully immersive metaverse which is built on Web 3.0 technologies, includes blockchain, cryptocurrencies, and NFTs (Non-Fungible Tokens, non-interchangeable digital assets stored on a blockchain). Digital goods, ownership of which is often recorded with NFTs, have recently found great success, evidencing the commercial possibilities in the Metaverse.
The brands are taking advantage of the increased consumer engagement by launching the projects such as Nike's Nikeland and Balenciaga's 'Afterworld'. Or Decentraland's 'Metaverse Fashion Week', where attendees could buy wearable NFTs.
Another example is the collaboration between Dolce & Gabbana and UNXD, which resulted in the Collezione Genesi. The luxury brand auctioned off two copies of "Dress from a Dream" (which are both NFTs and real custom-made dresses), the Glass Suit (an emerald-green suit), and the NFT "The Impossible Tiara", a purely digital piece, for the equivalent of 5 million euros. Apart from these unique pieces, buyers of the NFTs were given perks such as the opportunity to attend the D&G fashion shows.
This article addresses the most important legal aspects of trademark law and explains what needs to be considered when filing and defending trademarks in the Metaverse.
Brand protection in the Metaverse
How exactly can brand owners ensure that their brands are protected in the digital realm? Should they register their rights and how exactly should they do that to ensure the best mode of brand protection?
Typically, brand protection is acquired through trademark registration. The owner of a registered trademark obtains an exclusive right to use it, to authorize or prohibit third parties from using it. The trademark owner may also take legal action against trademark infringement (unauthorized use of the trademark by third parties).
Classification matters
In trademark protection, the classification of goods and services for which a trademark is registered plays a central role. The main purpose of trademarks is to prevent confusion in the marketplace, so protection only applies to a category of goods and services for which the trademark is specifically registered. Intellectual property offices worldwide use a trademark classification system that groups similar goods or services into 45 different classes of the so-called Nice Classification.
The European Union Intellectual Property Office (EUIPO), the trend-setting body for trademark management in Europe, has stated that all virtual goods must be registered in Class 9 (which is mainly for computer software), with clear specifications of the content to which they relate, e.g. downloadable virtual goods, i.e. virtual clothing. For example, an NFT or digital item authenticated by the NFT may be specified and further registered as "downloadable clothing authenticated by the NFT".
Some professionals are of the opinion that in order to avoid long Class 9 lists, the Nice Classification could be amended so that the classes for "physical goods" also include their virtual counterparts. For example, digital shoes would belong to class 25 together with "physical" shoes. Some suggest creating subclasses for virtual goods: clothing in class 25 and digital clothing in a new class 25.1.
Classification practice is also important because if real and virtual world goods or services fell under the same class, the assessment of a trademark infringement case, which will be analyzed below, could be simpler and leave less room for ambiguity.
However, as the Nice Classification was created on the basis of the Nice Agreement which has been adopted by 93 countries, amending the Agreement, for example by introducing a system of subclasses, would require a review and re-insertion of the agreement into the national laws of all contracting parties, and would result in a very complex and lengthy procedure.
So, the current classification practice of the EUIPO establishes a trend at the quasi-legislative level for trademark owners to register their virtual goods in class 9 and their complementary services in classes 35 (e.g. 'retail shops for virtual goods') and 41 (e.g. 'entertainment services in virtual environments).
A large number of trademark applications in connection with the Metaverse shows that brand owners are making efforts to secure their protection at an early stage. Here are some examples:
McDonald's has registered McDonald's, McCafe, and its M Logo covering, among other things, "virtual food and beverage products" in Class 9.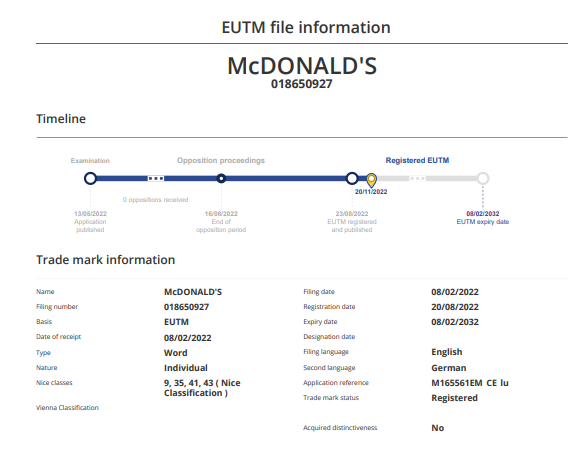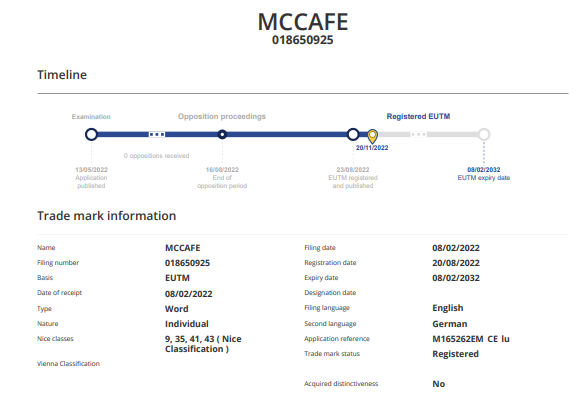 Crocs has filed an application for CROCS covering, among other things, "retail store services and online retail services featuring virtual goods…" in Class 35.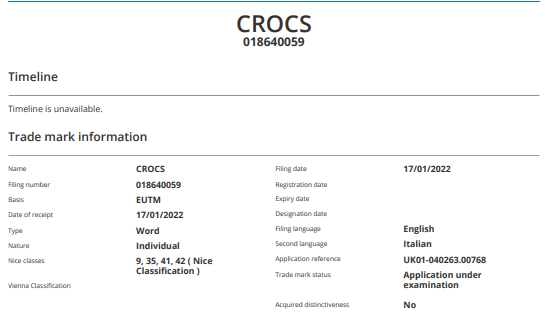 KIEHL'S registered a trademark covering, among other things "entertainment services, namely, providing online, non-downloadable virtual perfumery, toiletries, cosmetics, make-up, skincare preparations…" in Class 41.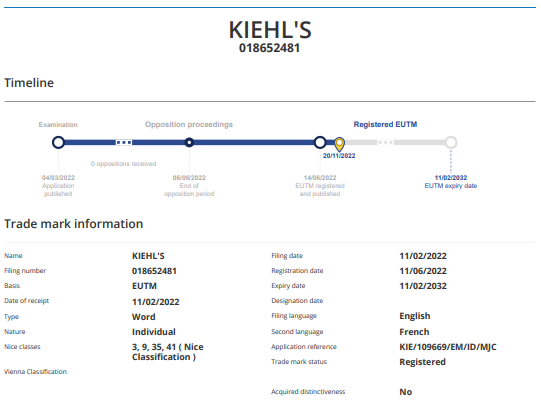 Trademark infringement in the Metaverse
Possession of rights over virtual items in Metaverse, where they are bought and sold, may involve infringement. The recent infringement cases amongst Metaverse users have shown that in many instances they involve NFTs that infringe registered trademarks.
This happens as some Metaverse participants may be casual about trademarks´ use or some may be willing to misappropriate the rights of other parties for making a quick dollar.
One example of the latter is the MetaBirkin's case in the US, in which Hermès sued artist Rothschild for creating and commercializing some 100 NFTs in the Metaverse, extremely similar to the famous Birkin bag, which he sold as the "MetaBirkin" NFTs for over 1 million dollars. The court's ruling is still pending, but the outcome is likely to be considered a landmark decision in the field of trademark infringement in the Metaverse.
Infringement analysis: double identity and likelihood of confusion
The legal concepts of double identity and the likelihood of confusion are those on which trademark infringement cases can be built. And here, the classes for which the mark is registered (together with the representation of the mark itself) play a decisive role in determining how infringement action will be constructed.
Identity: the same trademark registered for the same goods and services and is used by third parties in the course of trade.
Difficulties may arise in a trademark infringement action of this type, where the trademark that is being infringed is not protected for digital goods and services.
Of course, one could argue that, for example, virtual clothing and real clothing can be considered the same because these goods compete with each other or say that they are at least conceptually similar in their intended purpose or that they have the same origin, as it becomes common for fashion brands to expand their activities into the Metaverse.
It will probably become clearer over time whether national judges will allow an identity claim to succeed. The EUIPO classification practice may however affect this by actually not making it possible to win by "identity" claim since virtual world goods are prescribed to fall under a different class than real-world goods.
Similarity: marks are similar and/or the goods and/or services for which they are used are so related that consumers would mistakenly believe they come from the same source.
Again, a distinction may be an issue if it is established at the legislative and judicial levels that goods in the digital environment should be seen as conceptually separated from those same goods in the real world.
Nevertheless, a confusing similarity argumentation could be substantiated based on the following criteria:
Strength of the senior user's mark (a well-known real-world mark being used by an infringer in the digital environment. It can be argued that reputed trademarks should allow acting against virtual goods and services even if they´re not registered for those.)
The similarity of the marks
The similarity of the products or services (an analogous use of the real word mark on the product/service from the digital environment can be argued)
The junior user's intent in adopting the mark (was the trademark intentionally used to be associated with the famous brand?)
Evidence of actual confusion (Were consumers actually misled? Did they believe there was affiliation? In MetaBirkin's case, Magazines Elle, LÓfficiel ad NY Post mistakenly reported that there was a partnership between Rothschild and Hermes. This is evidence of the actual confusion.)
Conclusion
As there are no court rulings yet, it is unclear how decisions will be made in trademark cases concerning virtual vs physical goods and services. Will the likelihood of confusion claim succeed at all? Will it only succeed in the case of well-known trademarks? Will analogue application work or will the courts develop new criteria for finding trademark infringement in Metaverse cases? There are no answers to these questions yet.
Certainly, more established brands by way of reputation might offer assistance even if their existing trademarks are deemed to cover dissimilar goods/services to "downloadable virtual goods". However, this inevitably involves a high burden of proof and costs of lawyers' persuasion.
So, for the moment, we wait to see how the evolving practice of trademark filings will ultimately be examined by courts to determine the relevant scope of protection in infringement cases.
If courts follow the EUIPO classification logic and find that real-world goods differ from virtual-world goods, this could grant limited protection to trademark owners. Such judicial precedents would in turn nudge trademark owners to faster adapt their commercial developments to the classification system.
It can be concluded that brand owners cannot simply rely on their existing registered trademarks for real-world goods to protect assets or secure rights against representations of their products in the Metaverse. It is for this reason that we are seeing companies already filing new trademark applications in an attempt to adapt their rights to the new digital environment and secure themselves. And the number of such applications will undoubtedly grow, whatever the outcome of the court cases.