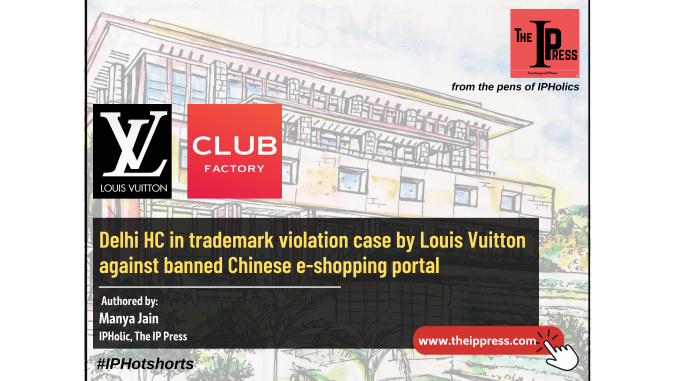 When it comes to the fashion industry, it's a lot easier to make counterfeit products. The imitators replicate the style and add the brand name. The sales of luxury goods have soared in recent decades, but fakes have grown even faster: one estimate suggests that counterfeits have increased by 10,000% in two decades. There has been an invincible business of counterfeit goods.
This brings up the most recent ruling by the Delhi High Court, which granted Louis Vuitton, a French luxury fashion house, a 20 lakhs cost award against a Chinese e-commerce site in a trademark infringement case.
Case in brief
In the present case, the defendants are Futuretimes Technology India Pvt Ltd who were running the website www.clubfactory.com and are indulged in breaching the plaintiff's rights in the Louis Vuitton mark and many other device marks by selling unlicensed goods bearing the plaintiff's marks. The fashion brand had additionally asked for a temporary injunction blocking the selling of its goods on the Club Factory website. The defendants were permanently prohibited from selling, manufacturing, or offering for sale any goods, including face masks and other items, bearing the registered marks of Louis Vuitton on their portal or any other portal that is operated by them, according to an order made by Justice Singh's bench in March via order dated 24th March 2022[1].
Amidst the Covid-19 pandemic, the defendant's website was one of the 59 Chinese apps banned by the Indian Government due to National security reasons. The Department of Telecommunications (DoT) and Ministry of Electronic and Information Technology (MeiTY) were also instructed by the Court to issue directives to all internet service providers to block the website www.clubfactory.com, making sure that it cannot be accessed via VPN or any other platforms in the March order. The suit was decreed on 24th March 2022 as a permanent injunction. Ex-parte evidence was ordered for this case in accordance with an order of August 2nd, 2022, regarding the relief of damages.
When the case was called again on November 3, Louis Vuitton Malletier stated before a single judge bench of Justice Pratibha Singh that they only wished to pursue costs in this case, not damages, "due to particular sensitivities." The cost overall, according to the fashion house, was Rs. 32,29,416. "Considering the facts of this case, expenses of Rs. 20,00,000/- are ordered in favor of the Plaintiffs," the High Court said. Plaintiff does not seek any additional remedies.
This trademark infringement suit brings our attention to the prevailing counterfeited products and websites selling these goods. In practically every industry, Covid-19 has increased the use of digital technology, but these same tools can also be used to produce and market false goods and services. Consumers are frequently unaware that the things they are utilizing are fake. As a result of the digital revolution, an increasing number of people are using contactless payment and delivery methods. According to a recent study on customer behavior after Covid conducted by Nielsen, Caravan, and EY, online buying has increased by 74% since March 2020. This order of costs shows how high-end fashion houses are protecting their intellectual property rights and how crucial it is to register trademarks in today's rapidly evolving technology environment.
---
[1] https://indiankanoon.org/doc/13677551/
#IPHotshorts
Happy Reading! Stay connected!