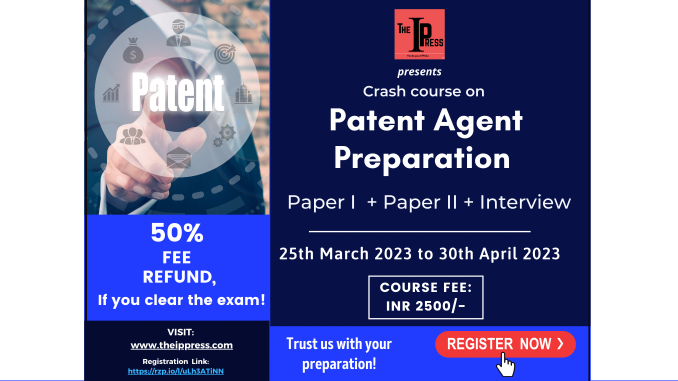 Following a favorable outcome of preparing candidates for the patent agent exam in 2022, The IP Press presents the second cohort of the Crash Course on Patent Agent Examination 2023.
ABOUT THE COURSE
Indian Patent Agent Examination is conducted by the Indian Patent Office (IPO) and requires thorough knowledge of the Indian Patents Act, patent drafting, and interpretation abilities. The exam is divided into three parts: Paper I, Paper II, and an interview. In order to help the candidates understand the Examination pattern and to qualify the same, we are offering a practical training-based crash course on the preparation for the Patent Agent examination 2023.
We wish to make the syllabus easier and more approachable through this course and help the student to understand the examination pattern, and the best way to attempt it.
OUTCOMES OF THE COURSE
Prepare candidates to qualify for the Indian Patent Agent Examination (Paper I and Paper II) to be held in the year 2023.
Train candidates for the patent agent interview (For candidates who pass Paper I and Paper II).
Provide practical training on how to deal with Indian prosecution and drafting.
Provide training on live matters on Indian patent prosecution.
Prepare freshers (looking for jobs in patent firms) for job interviews concerning patent agent work
WHAT WILL BE COVERED?
Introduction to Intellectual Property Rights
Understanding the role of a Patent Agent including the qualifications, eligibility criteria
Patents and Patentability criteria
Processing of Indian Patent Application
Patent Drafting
Exercise related to Patent drafting
Practice responding to FERs, Amendment of application, and specification
Concept of unity of invention with examples, landmark case laws
Jurisdiction, Opposition proceedings before patent Office
International Scenario
Concept of Revocation of the patent (grounds, procedure)
THE COURSE INCLUDES-
Preparation for both papers 1& 2
Interview Preparation
Online weekend classes
Previous years' papers
Mock paper
Online study material and resources
INSTRUCTOR
It will be a blend of industry professionals including patent agents, patent attorneys, and patent professionals.
COURSE FEE: INR 2500
KEY TAKEAWAY: 50% fee refund, if you clear the exam.