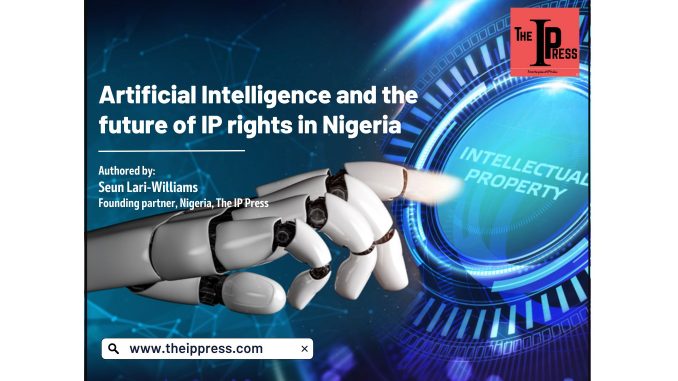 Meet Ola, a music producer always on the lookout for new ways to make better music. He discovered an AI music composition software and saw its potential. Using the arrays of sounds and beats, as well as lyrics editing features provided by this app, he created a hit song that gained popularity not just in nightclubs in Nigeria, but also on social media platforms like Tik Tok and YouTube. However, he ran into a problem when he wanted to claim royalties from the social media platforms, as their algorithms have caught a conflicting copyright fingerprint on the song from the AI app. According to the social media platforms, they are in confusion concerning the ownership of the song's copyright. The AI software helped create the song, but Ola added his own "touch". Who owned the rights to the song – Ola or the AI software?
This scenario raises important questions about the future of intellectual property rights in an AI-powered world. They highlight the challenges in determining IP rights with AI involved. Against this background, let us delve into the IP issues posed by AI technology, especially in relation to copyrights, patents, and trademark. By examining these challenges, this article seeks to shed light on the opportunities and obstacles presented by AI for the future of IP rights in Nigeria.
AI in Nigeria
Nigeria is among the African nations at the forefront of the AI industry and its effects can be observed in over 120 market segments throughout Africa.[1] AI research is being conducted by various universities in Nigeria, and AI is already transforming the way people live and work, creating new jobs and improving existing ones. The creation of the National Centre for AI and Robotics (NCAIR) and the National Information Technology Development Agency's (NITDA) task to develop a National AI policy reflect the government's dedication to promoting AI.[2] The policy aims to both promote the development and implementation of AI, and address the societal and economic challenges posed by it. This includes funding research and training specialists, developing digital infrastructure, and supporting the adoption of AI by public and private sectors. The creation of a national AI strategy will further support Nigeria's goal of utilizing AI for sustainable development and promoting innovation and human welfare.[3] However, it should be noted that there is still a digital divide, with 30 million Nigerians without internet access,[4] so optimism about AI should be tempered.
Nonetheless, although this article relies on a fictional story to exemplify the instances of AI usage in creative work production in Nigeria, in reality, social media has been held spellbound by AI powered art works of Nigerian artists. Perhaps the most famous works are by Malik Afegbua.[5] His phenomenal images, which depicted fictional black senior citizens walking down a fashion runway, went viral for their lifelike quality.[6]
AI and IP rights under Nigerian Law
Patents
AI technologies themselves are protectable as patents, so long as they meet the conditions of newness, inventive step and industrial applicability.[7] However, the more pressing issue is who should hold the patent for an invention when AI was used in generating or concretizing innovative ideas or processes.[8] This raises questions about the legal definition of inventorship and even issues of moral and ethical responsibility for the use of AI in innovation. In Nigeria, the right to the grant of a patent is vested in the statutory inventor. A statutory inventor is defined under Nigeria's Patent and Designs Act (PDA) as 'the person who, whether or not he is the true inventor, is the first to file, or validly to claim a foreign priority for, a patent application in respect of the invention.'[9] A reading of Sections 2, 3, and 4 of the PDA suggests that such a 'person' must be a natural person.
The question which then arises is: as an AI system is not considered a 'person' under Nigerian law, can an AI system be named inventor on a Nigerian patent? This is yet to be addressed by any Nigerian court or patent office as such applications have not yet been filed.[10] However, it is submitted that in light of international trends, it is unlikely.
In the United States, the Federal Circuit held that in passing the Patent Act, "Congress has determined that only a natural person can be an inventor, so AI cannot be."[11] A U.K. appeals court, the European Patent Office, the Federal Court of Australia, and the German Federal Patent Court have all declined to allow patent applications that do not list a human inventor.[12]
Copyrights
Protecting the rights of creators of AI software is crucial, and one way to do so is through securing copyright under the Nigerian Copyright Act. According to Section 1(1)(a) of the Act, computer software, including the program code, can be protected as a literary work. However, the protection of AI's creative outputs in the music and images sector is a whole other discussion.  With AI relying on pre-existing works, the application of fair use/fair dealing principles, which are utilized by AI researchers, startups, and major tech companies, is unclear in the context of Nigeria. For example, it is yet to be determined whether the notion of transformative use will be embraced in connection with AI or not.
Some jurisdictions, like the US, seem to base recognition of copyright here on the distinction between AI generated works and AI assisted works. AI generated works refer to creations produced entirely by artificial intelligence, such as music and images, whereas AI assisted works are those produced with the help of AI, but still involve human creativity and intervention. The US Copyright Office (USCO) rejected a copyright request for an AI-generated work of art, stating that it lacked the necessary human authorship to support a claim.[13] Meanwhile, the USCO granted a first-of-its-kind registration for an AI-assisted comic book generated with text-to-image AI Midjourney.
The European Commission has proposed a four-step test to determine if AI-assisted and AI-generated outputs can be considered "works" under EU copyright law.[14] In summary, the four steps are: 1) the output must be in the literary, scientific, or artistic domain, 2) the output must be the result of human intellectual effort, 3) the output must be original, and 4) there must be creative choices made by the human throughout the production process.
As AI continues to play a more significant role in the creation of new works, it will be important for Nigeria to clarify the IP rights associated with AI-generated and AI-assisted works in order to promote innovation and investment in this area.
Trademark
The use of AI systems to make unauthorized duplicates of trademarked goods or services is a concern that could be tackled by implementing up-to-date legal measures in Nigeria, especially given the history of counterfeit activities in the country. On the other hand, AI might help with the enforcement of trademarks. Brands can use the tracing elements of AI to improve and protect their trademark through monitoring.
Conclusion
The future of IP rights in Nigeria in relation to AI technology is likely to be shaped by the national AI policy and the country's commitment to protecting IP rights. The policy may address issues such as IP ownership and protection for AI-generated works, patentability of AI inventions, and ethical use of AI-generated data. The policy may also encourage innovation and investment in AI technology by establishing clear IP rights and regulations. As AI technology continues to grow in Nigeria, the potential implications and consequences of failing to address these issues effectively grow with it. As such, it will be important for the country to continuously evaluate and update its IP laws to ensure the protection of both creators and users of AI technology. Some practical recommendations for addressing the challenges posed by AI and IP rights:
Nigeria needs to clarify and update its IP laws to ensure they are applicable to AI technologies. This will provide better protection for AI innovations and reduce uncertainty in the legal environment.
The government, private sector and other stakeholders should promote awareness and education about the importance of IP protection for AI. This will help to ensure that innovators understand the value of their creations and how to protect them.
Nigeria could establish a specialized AI department in the Nigerian Copyright Commission to help innovators navigate the IP system, provide information and support for IP protection, and address disputes.
Nigeria should engage with international organizations, such as the World Intellectual Property Organization (WIPO), to promote cooperation and exchange of best practices in the field of AI and IP.
The Nigerian government should encourage and support innovation and entrepreneurship in the AI sector, including through the provision of funding, mentorship, and other forms of support.
Lastly, the Nigerian government should encourage collaboration between industry and academia to drive innovation and support the development of the AI ecosystem.
---
[1] AI Expo Africa, 'State of AI in Africa 2022 Report', available: https://aiexpoafrica.com/state-of-ai-in-africa-report/ accessed 29 January 2023
[2] See NITDA's Press Release of 11 August 2022. Available: https://www.benjamindada.com/nitda-national-artificial-intelligence-policy/ Accessed 29 January 2023
[3] Johnstone Kpilaakaa, 'How to contribute to NITDA's National Artificial Intelligence Policy', Benjamin Dada, 12 August 2022: https://www.benjamindada.com/nitda-national-artificial-intelligence-policy/ Accessed 29 January 2023
[4] Daily Trust, 'Why 30m Nigerians Are Still Without Internet Access', Daily Trust News, published on 26 October 2022: https://dailytrust.com/why-30m-nigerians-are-still-without-internet-access/ accessed 2 February 2023
[5] Reuters, 'Nigerian artist uses AI to re-imagine life for the elderly', Reuters 30 Jan 2023: https://www.reuters.com/technology/nigerian-artist-uses-ai-re-imagine-life-elderly-2023-01-30/ accessed 7 February 2023
[6] Ibid
[7] Adebambo Adewopo, 'Intellectual property protection for software: a global perspective and lessons for development and reforms in Nigeria,' 7 South African Intellectual Property Law Journal 1 (2019).
[8] Dr Maurice Schellekens, 'Artificial Intelligence and the re-imagination of inventive step', 13 (2022) JIPITEC: https://www.jipitec.eu/issues/jipitec-13-2-2022/5537/schellekens_pdf.pdf Accessed 29 January 2023
[9] Section 2(1) of the Patent and Designs Act
[10] This author's anecdotal evidence obtained by consulting the relevant offices
[11] Stephen Thaler v. Katherine K. Vidal & Ors (2022). Judgement available here: https://cafc.uscourts.gov/opinions-orders/21-2347.OPINION.8-5-2022_1988142.pdf accessed 8 February 2023
[12] TechTank, 'Patents and AI Inventions: Recent court rulings and broader policy questions', published on 25 August 2022, Brookings: https://www.brookings.edu/blog/techtank/2022/08/25/patents-and-ai-inventions-recent-court-rulings-and-broader-policy-questions/ accessed 8 February 2023
[13] Jane Recher, 'U.S. Copyright Office Rules A.I. Art Can't Be Copyrighted', Smithsonian Magazine, published on 24 March 2022: https://www.smithsonianmag.com/smart-news/us-copyright-office-rules-ai-art-cant-be-copyrighted-180979808/ accessed 1 February 2023
[14] See Gevers, 'Artificial intelligence (AI): The qualification of AI creations as "works" under EU copyright law', Gevers, published on 21 June 2022: https://www.gevers.eu/blog/artificial-intelligence/artificial-intelligence-ai-the-qualification-of-ai-creations-as-works-under-eu-copyright-law/ accessed 1 February 2023