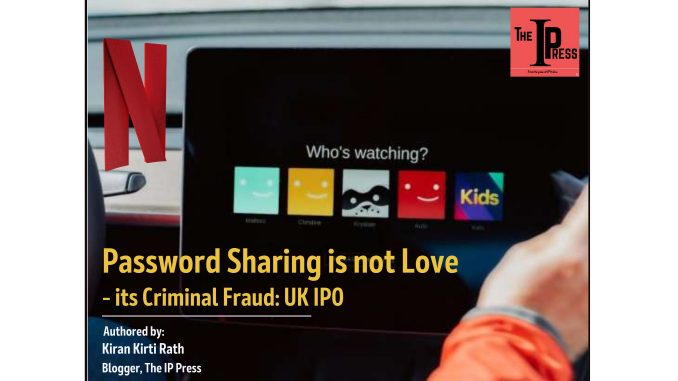 As puzzling as it may sound from the title, as per reports, it is understood that the UK Government[1] believes that Password Sharing on Streaming Services is illegal and is very much equivalent to breach of the terms and conditions of use, fraud and is secondary copyright infringement as well. Lately, no streaming service has ever been a fan of password sharing but then it has been ignored for a lifetime for the sake of building healthy relationship with the consumers and bring traction to its content. Netflix has benefitted from such password sharing as it has increased its viewers, and has eventually been converted to actual subscriptions as well. A tweet from the official account of Netflix in 2017, not only showcases receptivity of password sharing amongst family and friends, but also evidently encouraged the same.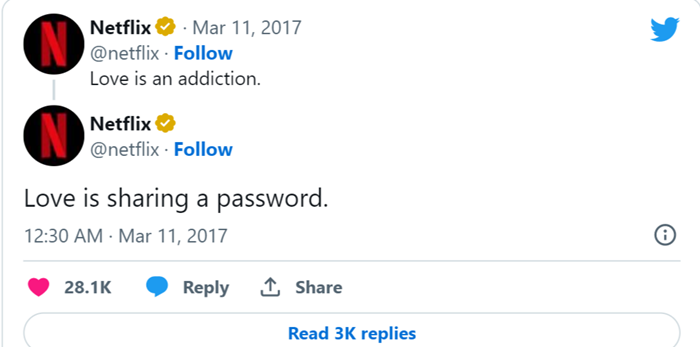 But oh well, that was short-lived. Netflix has publicly proclaimed that effective from the beginning of 2023, password sharing will be subject to extra charges. Netflix piloted[2]similar approach in Chilli, Peru, and Costa Rica relatively early in 2022. According to the guidelines, subscribers in these nations might join two more members for an additional fee of $2.99 each. As a consequence of the successful experiment, Netflix is implementing a similar approach in other nations. Nevertheless, Netflix has so far not confirmed the additional expenses for this service in other nations.
Password Sharing is Illegal – How?
Only if we ever read the terms and conditions of use[3] of Netflix before blindly agreeing to the same, we would know that Password Sharing is breach of such agreement and it allows only the subscriber certain rights amongst which password sharing is not one.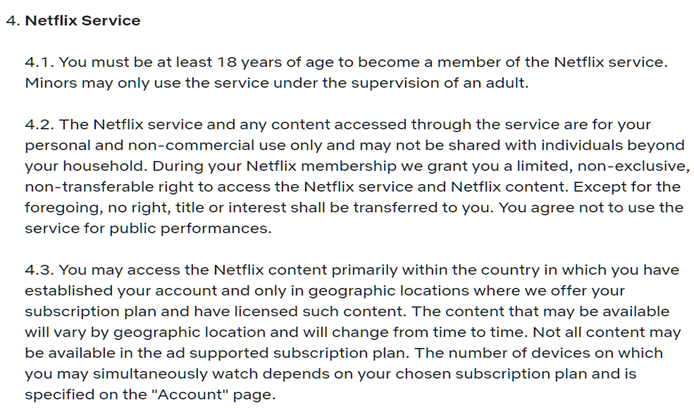 Although Netflix never acted on the same before strictly, it will be a task for both the consumers and the streaming giant to have a control over this. According to people acquainted with the matter, Netflix has proposed progressively increasing the burden on password sharing in attempt to lessen public outcry. With 223 million customers around the globe and a market worth of nearly $128 billion, Netflix is the frontrunner in video streaming services and the first to address password sharing.
Even so, investors and media executives predict that it won't be the last. Numerous streaming competitors also suffer economically, and as time marches on, the need to generate profit and expand services like Disney+ Hotstar, Amazon Prime Video, Hulu, etc. may be forced to seriously consider password sharing.
Beginning in the first few months of 2021, Netflix started experimenting notifications with some subscribers that read, "If you don't live with the owner of this account, you need your own account to keep watching." The terminology sparked unfavorable press coverage and public resentment. Netflix never delivered the message to all of its users. For its password-sharing service in the US in 2023, Netflix has not yet provided a launch date or price.
UK Government's IPO on Password Sharing
With all the controversy lying around Netflix's Password Sharing policy, on December 19, 2022 the UK's Intellectual Property Office (IPO) announced updated piracy guidelines that explicitly quoted password sharing as illegal. This created quite a commotion. In order to get more information about the legality of password sharing, IPO was contacted by TorrentFreak, a news outlet that focuses on copyright news. In a nutshell, the IPO warned that sharing passwords could land violators in serious legal jeopardy. However, it is to be highlighted that the anti-password sharing clause has since been removed a day after the IPO released it.
Original Publication[4]: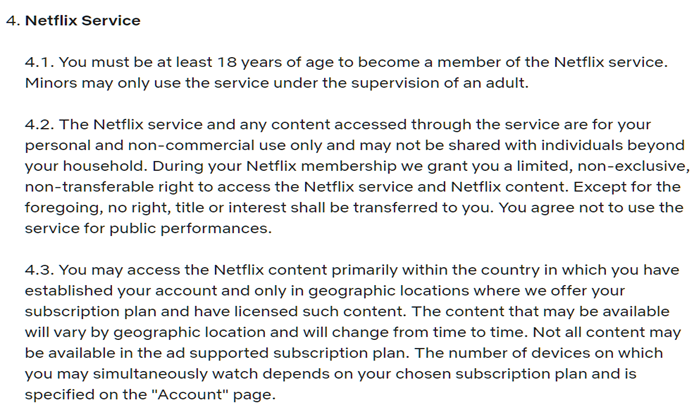 Edited Publication[5]:

As per TorrentFreak[6], UK IPO's viewpoint says the following,
"There are a range of provisions in criminal and civil law which may be applicable in the case of password sharing where the intent is to allow a user to access copyright protected works without payment. These provisions may include breach of contractual terms, fraud or secondary copyright infringement depending on circumstances."
Explaining the above, it is submitted that UK Government has strict regulations with regard to Fraud. As per Section 11 of the Fraud Act, 2006[7], it is considered as an offence to obtain the services of a members' club without paying and/or without being a member. Herein, "members' club" refers to the streaming video service. Thence, it is quite easy for someone to get penalty for an offence under Section 11 for 12 months' imprisonment on summary conviction and 5 years' imprisonment on conviction on indictment.
UK IPO also spoke of secondary copyright infringement due to password sharing. In a crux, Secondary Infringement occurs when, a third party infringes by making a copy of the work, with the absolute or partial knowledge of the copyright owner. Here, it can be assumed that, in the event of password sharing, many other freeloaders take the benefit of availing the service when only limited actually pay and subscribe for it. The IPO also noted that the practice of exchanging passwords is illegal under licensing and contract laws. One must nonetheless wonder, though, if the UK is backtracking on its position on this issue considering that the IPO has now withdrawn password sharing from its piracy guidelines.
Future of Password Sharing on Streaming Platforms
Netflix has historically been aware of the negative consequences password sharing has on its bottom line, but has been holding off on taking any action out of concern for upsetting customers. Regardless, they still have decided to take certain actions so that the people themselves convert to actual subscribers instead of the company forcing them out.
All sorts of mechanisms are already available for streaming services to dissuade password sharing if they truly wanted to. A different question is whether they possess the will. Another is whether such step will help increase their subscriptions or it will be the rise of even more cancellations than ever.
---
[1] Thubron, R. (2022) "The UK says sharing Netflix passwords is illegal, could be criminal fraud," TechSpot, 20 December. Available at: https://www.techspot.com/news/97029-uk-sharing-netflix-passwords-illegal-could-criminal-fraud.html.
[2] Paying to Share Netflix Outside Your Household (no date). Available at: https://about.netflix.com/en/news/paying-to-share-netflix-outside-your-household.
[3] Netflix Terms of Use (no date). Available at: https://help.netflix.com/en/legal/termsofuse
[4] Intellectual Property Office (2022b) Meta counterfeit and piracy campaign. Available at: https://web.archive.org/web/20221219100818/https:/www.gov.uk/government/publications/meta-counterfeit-and-piracy-campaign.
[5] Intellectual Property Office (2022) Meta counterfeit and piracy campaign. Available at: https://www.gov.uk/government/publications/meta-counterfeit-and-piracy-campaign.
[6] Maxwell, A. (2022) UK Govt: Netflix Password Sharing is Illegal & Potentially Criminal Fraud (Updated). Available at: https://torrentfreak.com/uk-govt-netflix-password-sharing-is-illegal-potentially-criminal-fraud-221219/.
[7] Section 11, Fraud Act 2006, The | The Crown Prosecution Service (2023). Available at: https://www.cps.gov.uk/legal-guidance/fraud-act-2006.