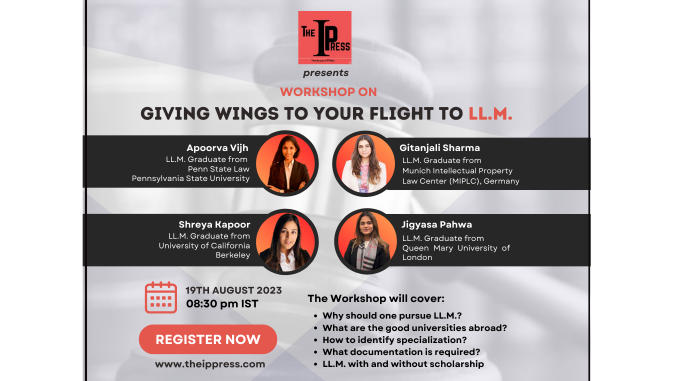 "Uncertain about pursuing an LLM? Search no more! Our comprehensive LLM Workshop is meticulously crafted to provide you with the latest legal insights, enabling you to confidently address your doubts and discover the solutions you seek.
Join us for an immersive experience that empowers you with the tools to navigate the complexities of the legal landscape.
Speakers:
1.) Apoorva Vijh, L.L.M Graduate from Penn State Law Pennsylvania State University
2.) Gitanjali Sharma, L.L.M Graduate from Munich Intellectual Property, Law Centre (MIPLC), Germany
3.) Shreya Kapoor, L.L.M Graduate from the University of California, Berkeley
4) Jigyasa Pahwa, L.L.M Graduate from Queen Mary University of London
Whether you're a seasoned legal practitioner or just starting your journey, our LLM Workshop caters to all levels of experience.
🗓️ Mark your calendars: 19th, August 2023
🕗 Time: 08:30 PM IST
📍 Limited seats available
🔗 Registration Link- https://docs.google.com/forms/d/e/1FAIpQLSdgq3Telcn9oeN2MDaKiXFKHveCfgvynmrvouadbYcHMN2FqA/viewform?usp=sharing