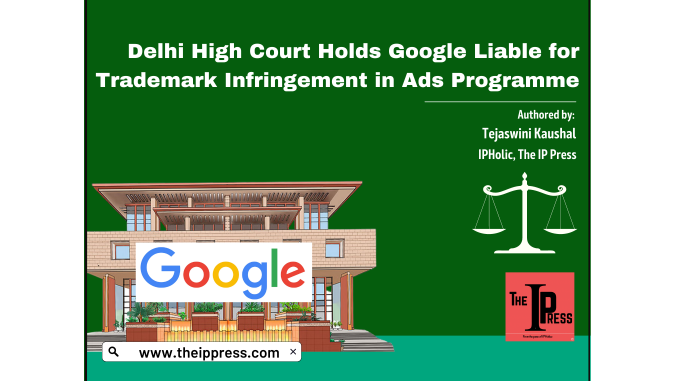 In a groundbreaking legal development, the Delhi High Court has rendered a significant ruling in Google LLC v. DRS Logistics against Google's claim of safe harbour protection under the Information Technology Act, 2000. This verdict concerns Google's immunity from liability for trademark infringement within its Ads Programme. The court asserts that Google's utilization of trademarks as keywords for its Ads Programme constitutes "use" under the Trade Marks Act. Consequently, Google cannot shield itself from liability through the "safe harbor" provision, marking a substantial setback for the tech giant's legal defense.
Court's Decision and Google's Appeal
During an appeal lodged by Google to contest a prior single-judge Bench's order from October 30, 2021, the Delhi High Court issued its pivotal decision. The original ruling stated that Google must take responsibility to prevent trademark infringement arising from the keywords used in its Ads Programme. The case emerged from DRS Logistics, which sought to prevent Google India, Google LLC, and Just Dial from employing its registered trademark "AGARWAL PACKERS & MOVES or DRS LOGISTICS" as keywords, meta tags, or trademarks.
Allegations and Google's Role
DRS Logistics alleged that Google actively encourages third parties to employ its registered trademarks as keywords, leading to the display of sponsored links on websites infringing on these trademarks. The company claimed Google profits from these infringements by ensuring that the ads appear prominently on the Search Engine Results Page (SERP) for relevant search queries. DRS asserted that Google's activities amount to trademark infringement.
Understanding the IT Act Aspects
Intermediary Liability
Intermediary liability pertains to the situation where technological intermediaries like Internet Service Providers and websites could be held accountable by the government for unlawful content generated by users of their services. If these intermediaries fail to adhere to the revised 2021 Rules, they forfeit their safe harbour protection. This implies that anyone could legally challenge these intermediaries for illegal third-party content constituting violations, thus making intermediaries liable. To prevent such legal action and arbitrary penalties, the 'safe harbour' principle offers protection to these entities. They are shielded from responsibility as long as they are unaware of illicit content being communicated on their platforms.
Safe harbor provisions
Safe harbour provisions in India are outlined in Section 79 of the IT Act, 2000. It states that intermediaries won't face legal action for third-party information they host or provide, provided they don't initiate or modify message transmission. Thus, if a platform serves as a conduit for information transmission without interfering, it isn't held accountable. However, if an intermediary, upon government or agency notification, finds that its platform is being exploited for unlawful acts and doesn't remove the material, it might face legal action.
Recent changes
The recent Rules under the IT Act aim to revise the immunity provided by Section 79. The law now mandates certain responsibilities for internet intermediaries to maintain their legal immunity. These responsibilities include establishing grievance redressal mechanisms, and takedown systems, appointing compliance officers, using filtering software, traceability for specific purposes, allowing account verification, providing a physical address for legal notices, and more. Non-compliance leads to loss of immunity.
"Active" v. "Passive" Participants
The "active participant" concept under safe harbor protection was discussed in the Christian Louboutin Sas v. Nakul Bajaj and Ors. The Delhi High Court differentiated between "active" and "passive" intermediaries. The court decided that an e-commerce platform's active or passive role determines eligibility for safe harbor protection under Section 79(1).
The court held that "active contribution" by the platform removes the protection or exemption that intermediaries have under Section 79. Thus, whether an intermediary satisfies the requirements outlined in Sections 79(2) and 79(3) should be examined before claiming exemption from liability under Section 79(1), which states that intermediaries won't be liable for third-party information provided by them.
Court's Verdict and Analysis
The division bench, comprising Justices Vibhu Bakhru and Amit Mahajan, aligned with the single judge's conclusion. The bench underscored that Google's use of trademarks as keywords constitutes advertising under the Trademarks Act. The judges highlighted that Google's involvement goes beyond mere intermediary status, as its Ads Programme actively suggests keywords to optimize click-through rates, indicating a proactive role in keyword selection.
The division bench's recent order dated August 10 firmly stated that Google is an "active participant" in employing trademarks. It expressed skepticism about exempting Google from liability under Section 79 of the Information Technology (IT) Act for trademark infringement through the use of keywords in its Ads Programme.
Implications and Accountability
The court's decision directs Google to actively monitor and remove ads that violate trademark rights. This landmark verdict holds Google accountable for ensuring that the keywords used in its Ads Programme respect trademark protections. The ruling could reverberate throughout Google's operations in India, potentially necessitating the implementation of more rigorous screening mechanisms to prevent trademark infringements. The court's interpretation has set a new precedent for the tech industry's liability in safeguarding trademark rights within digital advertising platforms.