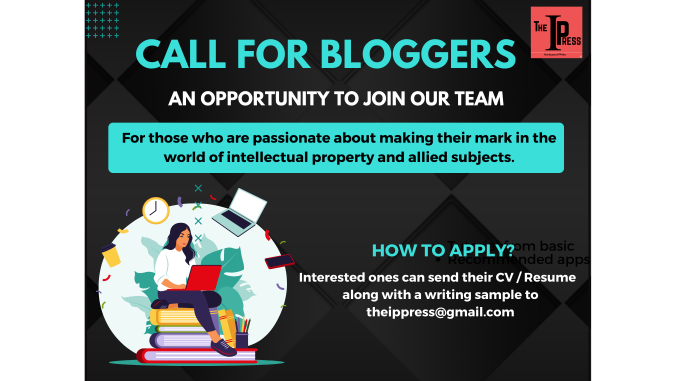 We're excited to invite all passionate writers and IP enthusiasts to join our team of IPHolics.
About The IP Press:
We believe writing and digitalization are two ultra-modern weapons of today and torch-bearers for tomorrow. With our thoughts penned down on this blog, we bring you our opinion on the emerging issues in intellectual property (IP) laws.
The IP Press is a team of IP-Holics, who started this blog to ensure access to the latest intellectual property (IP) issues for all the IP hopefuls. Our focus would be to address the IP concerns of stakeholders, students, academicians, researchers, start-ups, etc., and guide them to attain and enforce their IP rights.
We, not only hold expertise in law and IP, but our team of technically skilled professionals, IP specialists, and patent agents gives us a better understanding to deal with technical issues in IP. To focus on national and international issues, we are supported by international IP experts as well.
Below is an insight into the objectives of starting this blog:
Spread awareness on the latest IP issues;
Conduct workshops for the IP professionals;
Seminars and video lectures for the IP aspirants;
Review and comment on the IP policies;
Encourage and foster the IP culture;
Career counseling for students who are interested in building their career in IP;
Motivating stories of the IP professionals; and
A team of academicians to provide advice on IP disputes.
If you are interested in intellectual property law or want to explore IP-related topics, this is your chance to shine! The theme for the blogs is intellectual property rights and its aligned areas like cyber law, media entertainment law, sports law, fashion laws, fintech laws, etc.
Visit our website to know more about us: www.theippress.com
Why to apply?
Blog Publication
An opportunity to interact and learn from IP lawyers.
Certificate of Appreciation.
Career guidance from renowned experts
Exclusive discounts on our upcoming courses
How to apply?
Send your CV/Resume to theippress@gmail.com along with a writing sample.