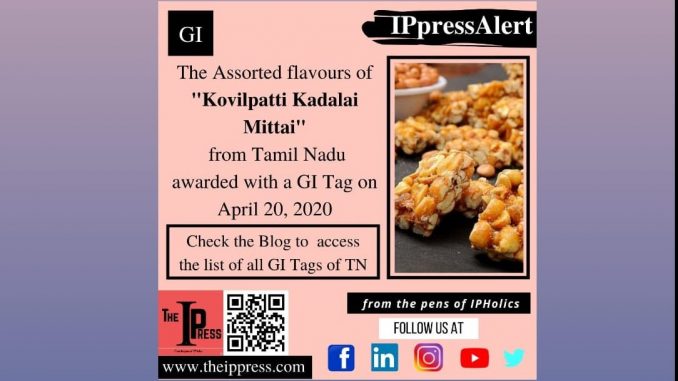 Tamil Nadu's renowned peanut sweet known as Kovilpatti Kadalai Mittai was awarded with a GI tag certificate on 20th April 2020 with the seal of the Registrar of Geographic Indications. The Application for the same was admitted by the Kovilpatti Regional Kadalaimittai Manufacturers in the year 2014.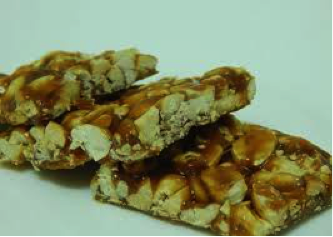 In the year 1940, Poonambala Nadar who runs a small store in the small town of Tamil Nadu chose to utilize peanuts, sugarcane and organic jaggery to make peanut candy. Kovilpatti Kadalai Mittai is being produced in Kovilpatti and nearby villages situated in Thoothukudi district during the festivals. The mittai obtains its unique flavor from the use of the special Theni Jaggery which unlike the regular jaggery which is brown, hardened and round lumped, is fresh, pale, soft triangular block. The Kovilpatti kadalai mittai is topped with grated wisps of coconut dyed pink, green and yellow. It makes use of only natural ingredients thus making it a healthy dish with it being laden in proteins, vitamins and minerals, making it nutritious and energetic food.
The molding of Kovilpatti is done in a solitary rectangular piece which is fixed in groups and regular fixings like traditional "vellum" (jaggery), groundnuts, and water from the Thamirabarani River are utilized in the creation which redesigns the flavor of peanut candies. The trade of this mittai does not rest in the boundaries of Tamil Nadu or India but it is also traded globally with many other countries.
Tamil Nadu holds in total thirty eight GI tags including the Kovilpatti Kadalai Mittai (Newest GI tag) here.
For the entire list of GI Tags of Tamil Nadu click here